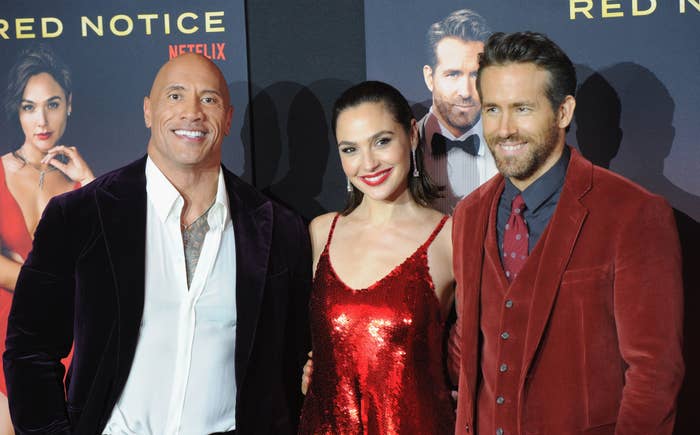 Following the huge success of Red Notice, Netflix is reportedly planning to shoot two sequels to the film back-to-back next year.
Deadline reports that writer-director Rawson Marshall Thurber has started working on the scripts for the sequels, which have yet to be officially announced. Dwayne Johnson, Gal Gadot, and Ryan Reynolds are expected to return, but the streaming giant hopes to expand the cast of characters with the follow-ups. 
The team behind the project is hoping to start production early 2023, but that will depend on the schedules of the cast and any deals that need to be signed. Johnson only has one live-action movie scheduled for this year so far, with DC's Black Adam, while Reynolds has two movies including The Adam Project in post-production. Gal Gadot, meanwhile, has three projects in pre-production, including a film about Cleopatra and the third Wonder Woman.
It's not particularly common for studios to show enough confidence in a franchise that they're willing to shoot multiple movies back-to-back. Some of the most notable examples include the Lord of the Rings trilogy, the second and third Back to the Future films, and more recently, Avengers: Infinity War and its follow-up Endgame. 
When the first Red Notice debuted on Netflix in November, it quickly became one of the biggest original Netflix movies of all-time. Critical response was mixed, but it immediately brought in a big audience. During its first month alone, according to data from Netflix, viewers logged over 277 million viewing hours. That's the second-strongest hourly 28-day debut in the history of Netflix, just shy of Bird Box and its huge debut.