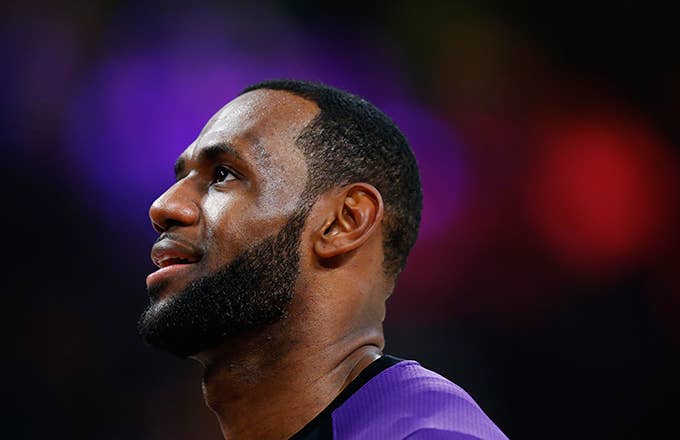 Time has shared the 2019 edition of its annual 100 Most Influential People list, and there's some exciting names in there. The list of pioneers, leaders, artists, titans, and icons includes LeBron James, Ariana Grande, Michelle Obama, Dwayne "The Rock" Johnson, and Surviving R. Kelly filmmaker dream hampton among many others. The list boasts more diversity this year, with 48 women featured.
In a tribute written by Warren Buffet, LeBron is praised for his philanthropy and success on and off the court. "As great as he has been so far—on and off the court—you're just seeing the start of LeBron," Buffet explained. In a show of his appreciation for Ariana Grande, Troye Sivan praised the pop star for "breaking the rules" and adapting to "how music should work in 2019."
Perhaps most exciting, however, is Beyoncé's tribute to Michelle Obama. "Loving Michelle Obama wasn't much of a choice," she explained. "She would've been impactful simply by being in the White House, the first African-American First Lady. But she also used her position of power to improve the world around her. ... I am so grateful that my daughters and my son live in a world where Michelle Obama shines as a beacon of hope who inspires all of us to do better and to be better."
Dwayne Johnson's Red Notice co-star Gal Gadot, meanwhile, complimented the charismatic actor's ability to work almost nonstop. "Dwayne always makes sure people feel their best when he is around," she added.
Also included are Chrissy Teigen, Khalid, Emilia Clarke, the unstoppable BTS, Brie Larson, Mahershala Ali, Rami Malek, Nancy Pelosi, Donald Trump, Alexandria Ocasio-Cortez, Taylor Swift, Spike Lee, and Lady Gaga. The extensive list can read here, with essays and tributes provided by the likes of Robert Downey Jr., Jordan Peele, Shawn Mendes, Leonardo DiCaprio, Hillary Clinton, Bill Gates, Tessa Thompson, and Octavia Spencer.
To coincide with the launch of the list, Spotify has shared a playlist with motivational songs selected by those featured.