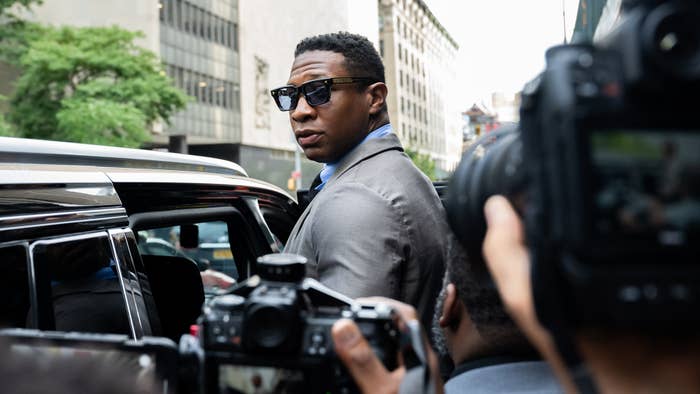 Social media users are suggesting that Jonathan Majors staged a PR stunt to break up a fight between two high school girls to garner public sympathy ahead of his domestic violence trial.
On Tuesday, Sept. 12, it was reported that Majors intervened when he saw two students getting into an intense scrap outside an In-N-Out location near Hollywood High School.
When the 34-year-old spoke with TMZ about it that same day, he suggested he just didn't want to see anyone get hurt. But when footage of the incident surfaced on Thursday, the day before his domestic violence trial was set to begin in New York, some weren't too convinced the fight was legitimate.
In the video, the actor can be seen running over to the two girls after they attacked each other. At one point he says "it's not that deep" and tells them it's "OK" as he repeatedly holds them back from one another.
Hundreds of people shared their reactions to the footage on X, the social media platform formerly known as Twitter, to indicate they weren't buying it. Desus Nice, for instance, suggested the Creed III star hired the same PR team as those representing the fumbling Alliance of Motion Picture and Television Producers amid the dual actors' and writers' strike.
Others hilariously compared Majors intervening to that of Michael Jackson lowering the weapons of soldiers during a performance, and the moment MJ got gangs to stop fighting in the "Beat It" video. "Hilariously staged," wrote one user, who suggested Majors might have crossed the picket line in the 2023 SAG-AFTRA strike by "acting."
On Friday, Majors' legal battle with an ex-girlfriend he allegedly assaulted is set to start. The 34-year-old Marvel Cinematic Universe actor was arrested for misdemeanor assault, aggravated harassment, attempted assault, and harassment in March by the NYPD following an alleged physical altercation with the woman in the back of a taxi. He has maintained his innocence. The trial has been delayed multiple times.
Despite the allegations, World of Reel reports that movie studio MGM has submitted Majors for Best Supporting Actor consideration for his performance in Creed III. He's also set to appear in Season 2 of Loki as a Kang the Conqueror variant by the name of Victor Timely, as the first trailer for the show's long-awaited return revealed.