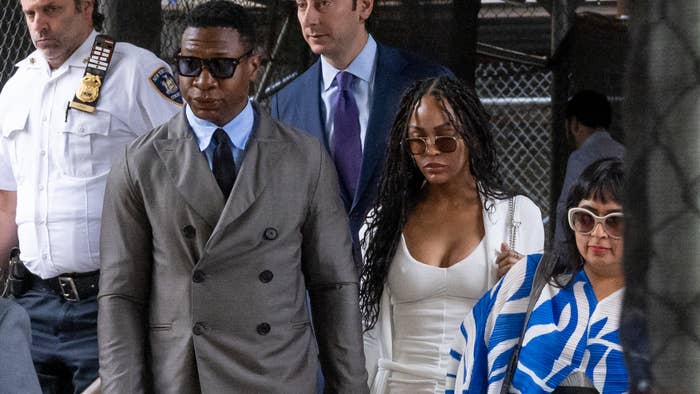 Meagan Good is standing by Jonathan Majors' side in his assault case.
The couple were seen holding hands while heading to a New York City courtroom again on Thursday morning, where a judge accepted a motion from Majors' attorney to delay the trial until Sept. 6, People reports. Majors' case was set to start on today.
"For an excruciating four months, Jonathan Majors, the real victim in this shameful ordeal, has had his life, career, and reputation torn apart," lawyer Priya Chaudhry told the magazine in a statement. "Yet he remains unwavering in his determination to be absolved from this harrowing ordeal."
This is the second time Majors has appeared in person for court. He and Good were previously seen heading there together on June 20.
The 33-year-old was initially arrested on March 25 for multiple misdemeanor assault and harassment charges, stemming from an alleged domestic dispute with his then-girlfriend Grace Jabbari. In late June, Majors' legal team filed a counter-complaint, claiming that Majors was the actual victim in the case and provided evidence in support of those allegations.
Majors and Good have been romantically linked since mid-May, and have been seen together on multiple occasions, including at Los Angeles International Airport and on an outing with her family at Red Lobster.