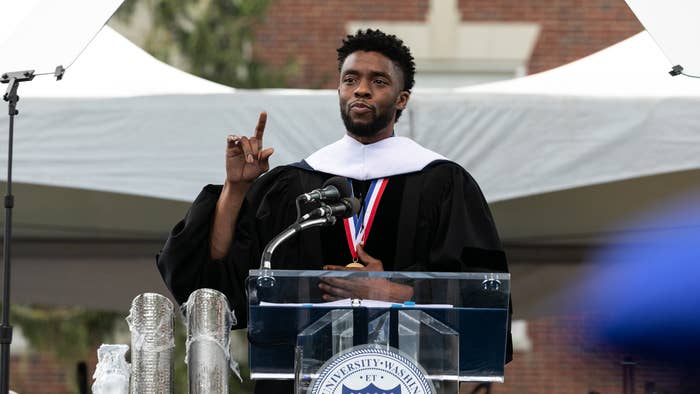 In honor of Black Panther star Chadwick Boseman, Howard University and Netflix have teamed up to offer a $5.4 million scholarship named after the late actor.
Per the Hollywood Reporter, the Chadwick A. Boseman Memorial Scholarship fund was announced on Monday, and will cover four years of tuition at the school's College of Fine Arts. The program aims to help budding artists attend a four-year university course without paying any of the funds otherwise required, and will focus on "students who demonstrate financial need and who exemplify exceptional skills in the arts reminiscent of Boseman."
The scholarship is scheduled to begin this Fall, and four students across graduating classes will be awarded the funds. 
"This scholarship embodies Chadwick's love for Howard, his passion for storytelling and his willingness to support future generations of Howard students," said Howard president Wayne A.I. Frederick. "I am thankful for the continuous support and partnership of Chadwick's wife, Mrs. Simone Ledward-Boseman, and to Netflix for this important gift."
Earlier this year, Howard University announced that its re-established college of fine arts would be named in honor of Boseman. Led by former professor Dean Phylicia Rashad, who personally knew and taught Boseman during his time at Howard, the school was named the Chadwick A. Boseman College of Fine Arts. More recently, it was reported that the school was planning a masterclass inspired by Boseman.
"While [Boseman] was taken from us too soon, his spirit is with us always in his work and the good that he has inspired," said Netflix co-CEO and chief content officer Ted Sarandos. "He always spoke of his time at Howard and the positive way it shaped his life and career. Now, we will have the opportunity to give many future superheroes a chance to experience the same. We are grateful to Simone and Chadwick's whole family and our partners at Howard University for making this possible."