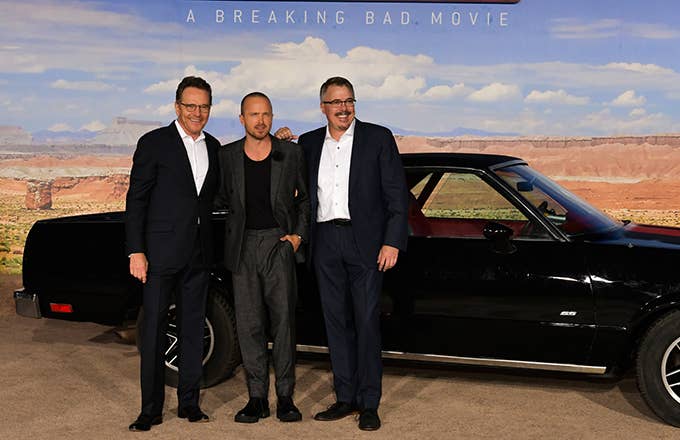 El Camino: A Breaking Bad movie already hit Netflix and theaters last year, but it will officially debut on AMC next month. Ahead of the premiere, AMC will air a marathon of all five seasons of the beloved show. Better yet, the premiere of the movie on TV will also lead into the long-awaited fifth season of Better Call Saul.
The critically acclaimed series will kick off with Season One on Jan. 19, followed by Season Two on Jan. 26. Season Three, Four, and Five will start on Feb. 2, Feb. 9, and Feb. 16 respectively. El Camino: A Breaking Bad Movie will make its TV debut on Feb. 16 at 8 p.m. ET, following the consecutive Sunday marathons. Better Call Saul, which received a premiere date for Season Five last November, will premiere on Feb. 23 at 10 p.m. ET.
Breaking Bad has often been considered to be one of the best TV shows of all-time, so it would make sense for AMC to once again remind fans why that is. The story of Walter White has remained popular, despite coming to an end with Season Five in 2013. Complex recently named Season Four the third best TV season of the 2010s, despite some stiff competition from Game of Thrones, Mr. Robot, The Americans, and Atlanta. 
Better Call Saul, meanwhile, has also received critical acclaim. Without the core cast of Breaking Bad, most notably Bryan Cranston and Aaron Paul, the show focuses on Bob Odenkirk's Jimmy McGill, also known as Saul Goodman.