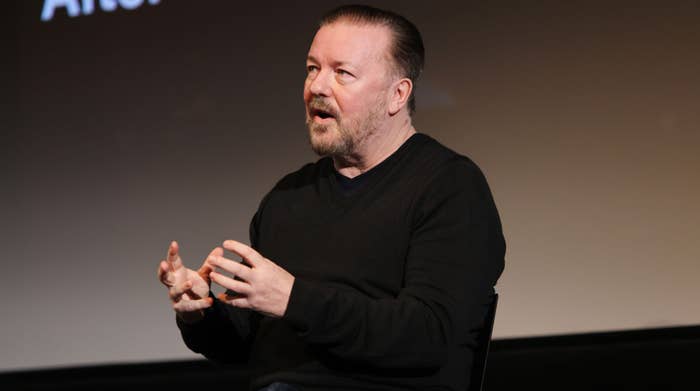 UPDATED 5/26, 1:55 p.m.: Ricky Gervais has taken a well-worn page out of the comedian playbook to explain his humor in the face of accusations of anti-LGBTQ material in his latest Netflix special. Speaking to theOne Show onBBC One, he said comedy is meant for "getting us over taboo subjects."
"I think that's what comedy is for, really—to get us through stuff, and I deal in taboo subjects because I want to take the audience to a place it hasn't been before, even for a split second," the 60-year-old opined. "Most offense comes from when people mistake the subject of a joke with the actual target. … [A stand-up bit] starts and they go, 'What's he going to say?' I tell the joke. Phew, they laugh. It's like a parachute jump—it's scary, but then you land and it's all OK."
Gervais reiterated he believes comedy is meant to render "taboo" topics to be "not scary anymore."
"So I deal with everything. And I think we second guess the audience too much," he said, affirming he thinks viewers can handle his work. "Of course they can. Real life is much worse. These are just jokes. They don't mean anything. They're just for you to laugh for an hour or so. So that's why I deal in taboo subjects."
See original story below.
The immediate response to Ricky Gervais' new Netflix special SuperNature might sound familiar to some.
The comedian—who said in the special that he "support[s] trans rights"—spoke about trans women just four minutes into the program, per Variety, when he called them the "new women we've been seeing" with "beards and cocks."
"Oh, women," he said. "Not all women, I mean the old-fashioned ones. The old-fashioned women, the ones with wombs. Those fucking dinosaurs. I love the new women. They're great, aren't they? The new ones we've been seeing lately. The ones with beards and cocks. They're as good as gold, I love them. And now the old-fashioned ones say, 'Oh, they want to use our toilets.' 'Why shouldn't they use your toilets?' 'For ladies!' 'They are ladies—look at their pronouns! What about this person isn't a lady?' 'Well, his penis.' 'Her penis, you fucking bigot!' 'What if he rapes me?' 'What if she rapes you, you fucking TERF whore?'"
As he explained later in the special, the joke was purely for shock value, and added that he supports trans people "in real life of course."
"I support all human rights, and trans rights are human rights," he said. "Live your best life. Use your preferred pronouns. Be the gender that you feel you are."
Gervais gave fans a heads up about the type of topics he'd cover in his new special when he caught up with Stephen Colbert on Late Night last week. During the discussion, the comedian said he wanted to give "smart" audiences something new, and that fans "get offended when they mistake the subject of a joke with the actual target, and smart people know you can deal with anything, particularly when dealing with something like irony."
"It's hard to reconcile the Ricky Gervais who created the perfectly lovely #AfterLife with this person who digs way down with ugly transphobic material," writer Tara Dublin shared. "Hot tip, you don't have to hurt other people for the sake of a laugh & I've seen you be better, so be better"
Netflix, according to Gervais, has already ordered his next show, Armageddon.