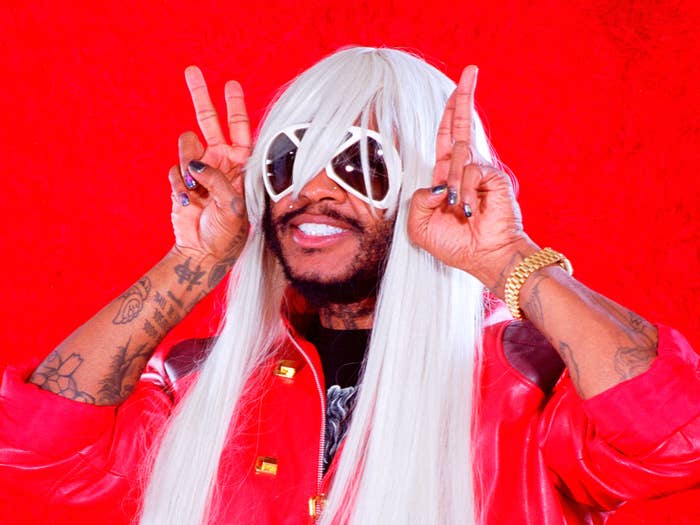 Thundercat is in repose. He's also in a pair of tiger print Chanel-branded cat ears. The eccentric musician lies on his bed at a sleek hotel in Lower Manhattan, in the midst of a promotional run for It Is What It Is, his fourth and most poignant solo album. Informed by major loss—especially the death of Mac Miller—and personal strife, the record sees him using his prodigious instrumental talents and crystal clear falsetto to reflect on how we move forward in a life filled as much with unjustifiable tragedy as affirming love.
"A lot of life took precedent in this last year and the process slowed down for me at the beginning of this year and throughout the course of [writing the album]," he says.
The phrase "It is what it is" is often a favorite of athletes and entertainers to give the illusion of  saying something while divulging no information, so leave it to a perpetual innovator like Thundercat to fill the ho-hum phrase with meaning.
"I had a very hard time coping with Mac's passing, and my conclusion with it was just that some things are bigger than your comprehension and not meant to be understood," he says. "It's just meant to be what it is."
Thundercat is relaxed and reflective on this bright winter afternoon, though momentarily stunned when I admit I don't recognize the video game he's been playing (the original Mortal Kombat). He says that he sometimes forgets the age gap between himself and many of his friends and collaborators, and it's true that the 35-year-old artist has somewhat quietly slipped into OG status.
He's bucked convention throughout his career, going from Suicidal Tendencies bassist to Snoop Dogg's touring musician to L.A. music stalwart to bona fide solo star. And Thundercat's never been more in control of his craft than on It Is What It Is, bringing together artists like Lil B and Ty Dolla $ign on the Mac Miller tribute "Fair Chance" and Steve Arrington, Childish Gambino, and Steve Lacy on "Black Qualls." His tour with Teejayx6 and Guapdad 4000 was postponed due to the coronavirus pandemic, though that may be for the best, as he jokes he would've ended the run with his credit score ruined.
Witty and eccentric, but also meditative, the Thundercat I speak with is very much the same one present throughout It Is What It Is. The album offers revealing personal glimpses for his diehard fans and oddball charm for anyone who still hasn't gotten hip to his work.
Ahead of the release of his new album, we spoke to Thundercat about his creative relationship with Flying Lotus, his recent jazz residency in New York City, and grappling with the loss of Mac Miller.
The phrase "It is what it is" appears on several songs here. Did you have the title in mind beforehand and it worked its way into the songs or did you realize the phrase kept appearing and then decide to make it the title?
Sometimes when you're writing music you may hear yourself do something and you go like, "Damnit, I did that again." I'm the kind of guy that embraces those moments and I felt like it did become a common thread more than just the notion where the title came from. It was definitely a recurring theme in the songs.
What does "It is what it is" mean to you specifically?
A lot of things come and go a lot of changes happen, sometimes slowly, sometimes rapidly. I think a lot of the time, we try to overcompensate for things that are really overwhelming. I always bring this up, but me and Mac Miller used to have this saying, we had it on a piece of paper on the studio wall. It said, "Sit down and let it happen." We always knew it was terrible advice. [Laughs] But the joke was that there's not a lot you can do about it.
I had a very hard time coping with Mac's passing, and my conclusion with it was just that some things are bigger than your comprehension and not meant to be understood. It's just meant to be what it is. That's part of life, death and all those things that we're going to experience at some point. The way you get introduced to them can be really abrupt and horrible. Mac Miller is an easy pinpoint in my life, and getting to the conclusion of that really was, "It is what it is. There's not a lot you can do about it."
I've seen you post "If life is but a dream, then so are we," which is a line from Mac's recent song "I Can See." Why does that bar hit you so hard?
I feel like Mac Miller is a dream now. That's the whole art imitating life thing. We always used to pose the question, "If art imitates life then what does life imitate?" We'd always go back and forth about stuff like that. It's Mac reminding me that this is what it's supposed to be. It sticks with me. He has a few different lyrics that are bigger than the music and strike pretty hard like that.
Is "Fair Chance" a Mac tribute?
Yeah.
Did you write all these songs after releasing Drunk or are some of them based on ideas you'd been kicking around for a while?
A mixture of both. A lot of life took precedent in this last year and the process slowed down for me at the beginning of this year and throughout the course of it. Some ideas are things that get fleshed out as time progresses, and some are newer ideas. 
I was very drawn to how you sequenced this album. You've got this lighter middle passage with "Funny Thing" and "Overseas" that is dreamy and goofy, but then the last five songs, from "King of the Hill" to "It is What It Is" are so existential and cosmic. Did you sequence it that way on purpose?
I think this is where Flying Lotus comes in as a major part of it, because a lot of the time we paint these pictures together. We mull over things and find different kinds of things and messages to convey. A lot of the time even within us working like that, it's one of those things where Lotus can see clearly because he's usually there with me. He can see the linear line and how this stuff is connected. He's a master at what he does. He can help me to convey that, a lot of the time. So that's what this winds up being, it's more of a genuine recollection or linear path sonically.
So he was pretty much there throughout the writing of this one?
Well, a lot of it starts with me writing the songs on my couch. I write by myself most of the time, or I work with someone like a Louis Cole or Mono/Poly. But usually it just starts with me on my couch. Sometimes, I feel like I wind up going to Lotus and giving him a giant work study book. [Laughs]
Do you find there's a strong connection between the collaborative work you're doing with others and your own solo stuff?
It's like any other relationship; you can't help but rub off on each other in certain manners. It's like how they say when you date somebody you start to look like them. There's no way that these things don't touch, but a lot of the time it's still you. I think that it's inevitable, especially when you work very closely with somebody.
Speaking of collaborations, I was curious about some of the groupings on these tracks. You have Steve Arrington and Steve Lacy and Childish Gambino on "Black Qualls" and Ty Dolla $ign and Lil B on "Fair Chance." Did those songs all come together at once or were you adding each of their parts in over time?
I worked with them a bit on an on-and-off basis kind of consistently. And a lot of these collaborations would happen in a natural manner. It's not something I would try to force or deliberately give a person some timeframe [to get their part done]. These are my friends in real life and we spend time together, [the music] is a byproduct of that friendship. A lot of people have known about the work I've done with Donald Glover. Steve [Lacy], this is one of our first endeavors as songwriters together, but I know there will be more in the future. It's all different. Me and Ty have known each other damn near since our early teens in real life.
I don't think there are many names that could be on a Thundercat project that would really make people say, "What the fuck?" 
[Laughs]One of these days I may do it just for the culture. Have Kanye and Weird Al Yankovic on a song together. 
How did you and Louis Cole get to know each other?
We met through a mutual friend who's now deceased named Austin Peralta. I think Austin had been out of high school by this point in time, but he always used to tell me about his friend that he went to school with who was this monster of a songwriter and an incredible musician, period. He was one of these guys—they went to this very astute music school in Los Angeles. Austin was always like, "You've got to meet Louis Cole. You've got to." I would be like, "Shut the hell up, Austin." I thought of him as Austin's wack friend who stays in the house all the time. [Laughs]
One day I was finally like, "Fine, let's go meet Louis Cole." So Austin tells me, "Louis has a show tonight at The Del Monte Speakeasy." I said, "Okay cool, we'll go check out Louis Cole's show at The Del Monte Speakeasy." I get there and we're waiting for the show to start; I had my bass in the car because we were possibly going to go do something else. I ask Austin, "When does the show start?" And he says, "Whatever time we get on stage."
I was like, "You son of a bitch! You just booked a gig and didn't tell me!"
That's a high-risk, high-reward play by Austin.
Honestly, that's kind of the only way you could get me to do something like that. I'm thankful to god that he did, because me and Louis are the best of friends now. The first time we met was sitting down and playing and getting a chance to understand the inner workings of how we each played… I don't even know how many years it's been, but Austin was a beautiful person for that moment. Bless his soul. Now, me and Louis Cole are always in each other's lives.
Speaking of performing live, last year you did a residency at the Blue Note, which is one of the most storied jazz clubs in New York. What did you learn from playing there?
It was one of the more beautiful experiences I've had. I've always had this weird thing about New York. Growing up with guys like Austin and my brother [drummer Ronald Bruner Jr.] and Robert Glasper, meeting different friends along the way, it was always this thing where New York was still considered the mecca of jazz. I always had this weird thing about the way people process you playing when you come to New York. You never know how things are going to translate.
I walk into a club, someone calls me out on my name once in a while. "Oh, what's your name? Thunderbird? Okay cool, whatever the fuck." I always have to remember, this city killed my favorite bass player, Jaco Pastorius. So I'm like, "You're not gonna fucking kill me." [Laughs] At the same time, when they said, "You want to do a week residency at the Blue Note?" I said, "Of course! Let's do this shit." It was three shows a night, I couldn't even open a fucking door by the end of the week.
On a very different live performance note, you're touring with Teejayx6 now. How'd you discover his music and what do you think of the lane he's carved out for himself?
He's one of a kind. When you see it, you recognize it. I got turned onto Teejay by Zack Fox. It's so funny, the line between inspired and insane. All these different little weird things like that. But the more I'm listening, the more I'm like, "He don't really give a fuck about any of this shit."
The wheels are turning again and there are a bunch of new kids who are like, "Fuck everything. We're gonna do it this way." It's amazing to watch. One of my favorite tracks of his is "Evidence." It's just like, the level to which he doesn't give a shit is so perfect. Everyone's saying, "Man, this is horrible. These cats can't rap." But the reality is, it's not that they can't rap, it's intentional.
He's saying, "Why would I come here and play your game? What do I have to gain trying to make you feel like I can rap?" Another one of my favorite moments ever is Tyler, the Creator on Funk Flex. He walks in the studio and immediately talks about butt sex and Flex is like, "Why the fuck would you do that?" And Tyler's response is, "What the fuck do I have to prove to you?"
I hope you guys manage to get in the studio while you're on the road.
I'm coming on tour without anything of importance. I'm gonna show up in my shorts and some Chucks. I'm going to have to rent basses wherever I go. [Laughs]
Any other new artists you're into right now?
You fuck with 645AR?
I'm getting there.
It's just dope. I always call it the Pootie Tang shit. It's some real Pootie Tang-ass motherfucking music. You can see him. It's just those cats that live in their own world. It's beautiful, because there's a major disconnect in the business [and no one path for artists to take]—streaming is kind of the wild west right now. You have this weird no man's land that these kids are coming out of and they're just making their own rules to this shit. Lil B was an earlier iteration of this kind of self-made shit. People were like, "What the fuck am I supposed to do with this?" But there's nothing for you to do anything with.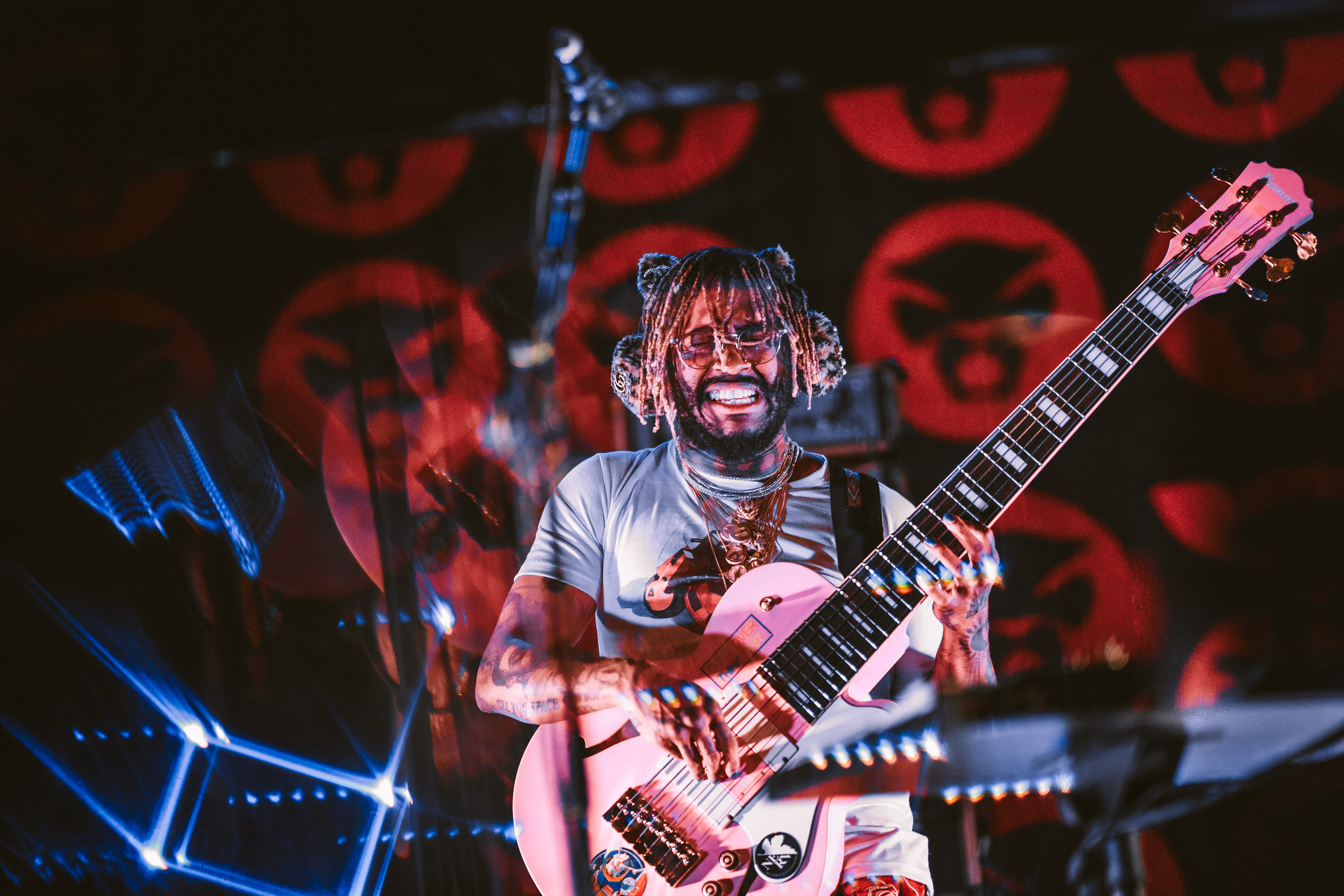 When you see Ariana Grande tweeting about how much she loves "Friend Zone," what does that make you think? How do you react to that?
There's a lot of mixed emotions that come to the top. I know where Ariana's heart is and I realize these moments that come about are very intense to process. She's dealing with a lot of love and loss, too. She's experiencing way more intense things than any of us. The first thing that comes to mind is the bombing at her show. I think [the tweet] was one of those moments where she was saying to me, "I feel your pain." That's the way that it translates. 
You've gone from being a touring musician to a full-fledged solo artist with loads of creative freedom. Do artists who were in your position 15 years ago come to you for advice on how to mirror your trajectory?
Sometimes that happens. But it's weird, I think a lot of my friends who grew up with me, they know that I'm not moving in a way where I'm thinking so much about stuff. Friends do ask sometimes, but it's a weird place because they'll have known me the whole time and there is no "What I did." I've just always been the same person. I'll be at somebody's funeral wearing cat ears.
Is there anything else you'd want to say about the new album or anything else while we're still recording?
I don't know what to say. Buy my album or I'll stab you.