Exclusive: The Notorious B.I.G.'s Legacy to Be Celebrated With 'Life After Death' 25th Anniversary Box Set
All year, the Estate of Christopher Wallace—in partnership with Bad Boy, Rhino, and Atlantic—will be celebrating what would have been Biggie's 50th birthday.
Publicist
Image via © Michael Lavine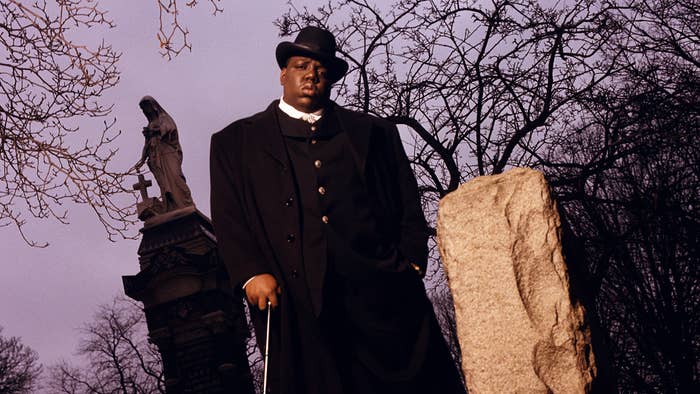 This year would have marked the 50th birthday of the Notorious B.I.G., who was fatally shot at the age of 24 in 1997. To celebrate Biggie's sustaining legacy, a year-long campaign is taking place that will include the release of a 25th Anniversary Super Deluxe Box Set edition of the Life After Death album.
The Sky's the Limit: A Year Celebrating the Legacy of the Notorious B.I.G. campaign marks a partnership with the Estate of Christopher Wallace, Bad Boy Records, Rhino, and Atlantic. Starting March 25, fans can expect to begin seeing a number of Biggie-honoring developments, ranging from a 4K upgrade to the "Mo Money Mo Problems" artist's video catalog to online events.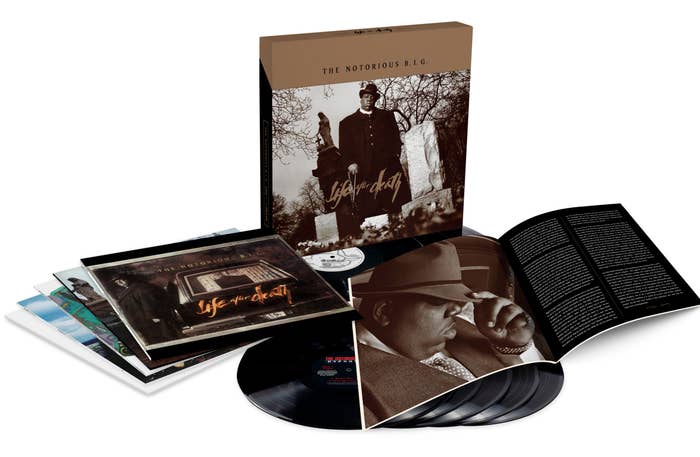 The Life After Death 25th Anniversary Super Deluxe Box Set, meanwhile, is set to launch on June 10 and is designed as an 8-LP experience that retails for $179.98. Collectors will be treated with a special commemorative booklet that features rare photos from the cover shoot and liner notes from music writer and editor Sheldon Pearce, as well as contributions from a number of people who were involved with Life After Death's initial 1997 release.
Below, see a full tracklist breakdown (as well as info on the included 12-inch entries) for the box set. Meanwhile, the Life After Death (2022 Remaster) 3-LP Silver Vinyl edition will launch as a Target exclusive this year for $59.98. For more info on the Super Deluxe, click here.
Life After Death

A1. "Life After Death"
A2. "Somebody's Gotta Die"
A3. "Hypnotize"
A4. "Kick In The Door"

B1. "Fuck You Tonight
B2. "Last Day"
B3. "I Love The Dough"
B4. "What's Beef?'

C1. "B.I.G. Interlude"
C2. "Mo Money Mo Problems"
C3. "N****s Bleed"
C4. "I Got a Story To Tell"

D1. "Notorious Thugs"
D2. "Miss U"
D3. "Another"
D4. "Going Back To Cali"

E1. "Ten Crack Commandments"
E2. "Playa Hater"
E3. "Nasty Boy"
E4. "Sky's The Limit"

F1. "The World Is Filled…"
F2. "My Downfall"
F3. "Long Kiss Goodnight"
F4. "You're Nobody (Til Somebody Kills You)"

"Hypnotized" 12"
A1. "Hypnotize (Radio Mix)"
A2. "Hypnotize (Instrumental)"

B1. "Hypnotize (Club Mix)"

"Mo Money Mo Problems" 12"

A1. "Mo Money Mo Problems (Radio Mix)"
A2. "Mo Money Mo Problems (Instrumental)"

B1. "Mo Money Mo Problems (Album Version)"
B2. "Fuck You Tonight"

"Sky's The Limit" 2x12"