Kanye West has declared that Future and Justin Laboy are his besties.
The Donda artist shared the fun fact via Instagram on Wednesday, suggesting the friendships are in contrast with his religious beliefs and role as a committed father.
"When you a Christian dad that will do anything to protect your kids but Justin Laboy and Future your best friends," he wrote on his Stories in all caps.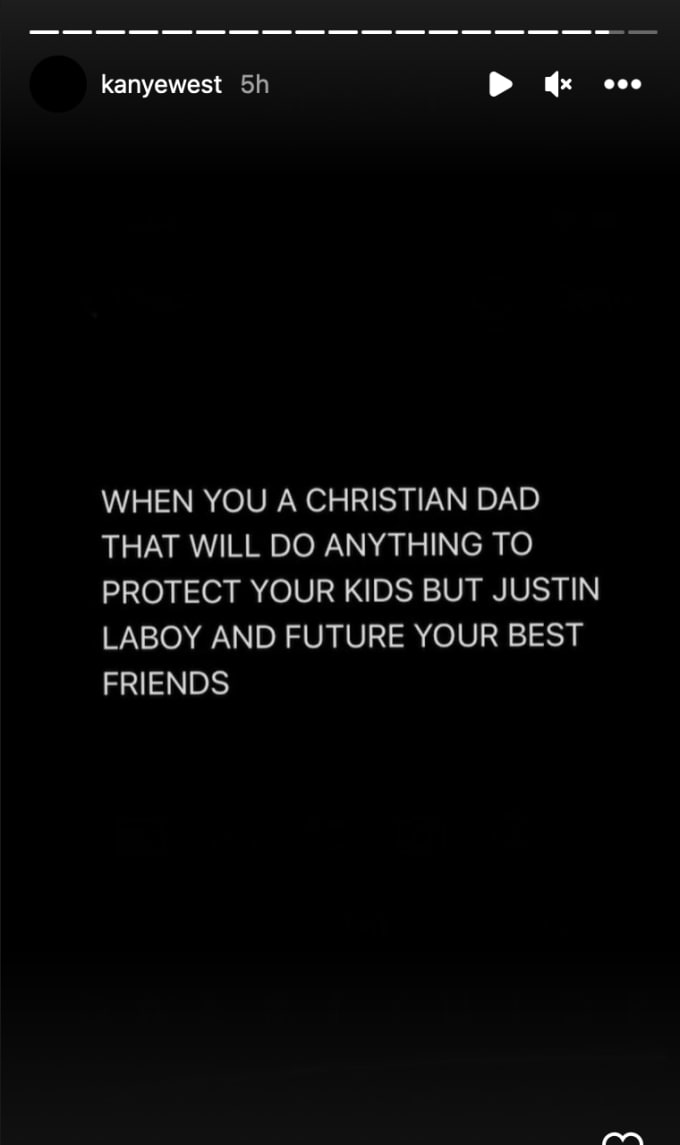 The sentiment was reshared via screenshot by Instagram user @TracyPhernetton, who received a comment from Ye himself.
"We all have sin to whom much is given much is required," he wrote, again in all caps. "I feel God calling us."
Laboy shared the screenshot on his own Stories, writing, "I'm Innocent 😈😂."
Kanye and Future's working relationship has been well documented over the years, as they've collaborated in the studio and hit the stage together on multiple occasions. Future recently confirmed their friendship isn't strictly business-related.
"Me and Kanye always had a relationship," Future told GQ earlier this year. "But it's hard for people to understand, because I don't put everything on Instagram. Kanye flew me to Paris in 2011 or 2012 to work on music. [Discussing] his clothing line before it came, his shoe business before it came. People don't know I've been able to go to his house, and pull up right into the crib. We just never talked about it."
The comments were published about five months after Kanye's Drink Champs interview, in which he crowned Future "the most influential artist of the past 10 years."
"When he said that, I understood why he called me to Paris, even though I didn't understand it at that time," Future said. "I understood why we had certain conversations. I understood him being a part of 'I Won.' Even him having me write on certain [Kanye] albums that people don't even understand I wrote on."
Laboy's friendship with Ye is a bit more behind-the-scenes. Though it's unclear how the two formally met, Laboy has become a key member of Ye's inner circle. Not only has he been seen hanging out with West at sporting events and in the studio, he's also provided major updates on Kanye's music projects and mental health.