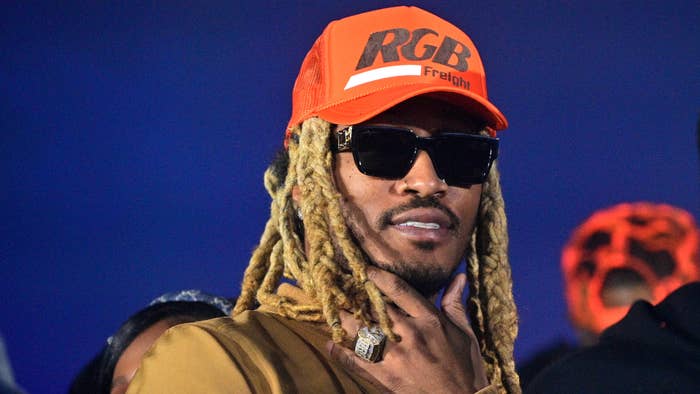 With a new album set to arrive later this month, Future is ensuring fans are well-fed in 2022. Adding to the assortment of offerings is a freshly unveiled GQ cover story, complete with some insight on the artist's idea of happiness, as well as what fans can next expect from him musically.
A chunk of the discussion in question takes place at the Jungle City studio in Manhattan, where Future previews his next chapter for interviewer Elliott Wilson. Addressing the period of time that's passed since his last solo full-length release, Future cited a newfound happiness as having inspired the pause.
"That's because I'm happy," he said. "I'm genuinely happy with life. And there was a time where I was only happy when I was on the stage, and in the studio. Like it was my escape."
Later, Future touched on the vulnerability and versatility he's bringing to his new songs, while Wilson teased the tracks as showing more reliance on "aggression" than hooks.
Future's collaborative mastery also receives a good bit of attention here, with Drake quoted in the piece as touting his What a Time to Be Alive co-crafter as a "relentless, spontaneous workhorse" whose "free-flowing genius" mixes well with Drizzy's more calculated approach.  
"Anytime we work in the studio, the level, the energy—we're trying to perfect this shit but still stay raw, still stay gritty, and still be moving at the speed of the universe," Future said of his work with Drake, which includes the No. 1 Certified Lover Boy single "Way 2 Sexy" with Young Thug. "It's something that you have to work at, but it's something that you have to find too."
Future's relationship with the artist formerly known as Kanye West is also detailed, with the Freebandz founder noting that he and Ye have been close for years. In fact, he pointed out, Ye flew him to Paris "in 2011 or 2012" to work on music together. More recently, of course, Future was enlisted by Ye to serve in an executive producer capacity on his Stem Player-exclusive Donda sequel.
As fans will recall, Ye declared Future "the most influential artist of the past 10 years" during a November 2021 Drink Champs interview. Responding to these words of well-earned praise, Future explained how West's remarks helped him gain a new understanding of why he was flown to Paris more than a decade ago.
"When he said that, I understood why he called me to Paris, even though I didn't understand it at that time," he said. "I understood why we had certain conversations. I understood him being a part of 'I Won.' Even him having me write on certain [Ye] albums that people don't even understand I wrote on."
Naturally, the frequently Future-adjacent topic of toxicity was also broached, with the rapper briefly pushing back against his association with the word. First, Future revealed he was not actually aware of Kevin Samuels' work prior to him serving as a guest in this year's "Worst Day" video. In fact, Future claimed, such knowledge beforehand would have resulted in him "probably" not selecting him for the appearance.
Speaking more generally on the "toxic" label, Future said, "People have their own definition of what toxic is. [These women] all were toxic to me. They just don't want to admit it."
For the full GQ x Future experience, including photography from Gregory Harris, head here.
Following the February release of the aforementioned "Worst Day," fans can expect a new full-length from Future on April 29. Confirmed to be making appearances on the as-yet-untitled release are Ye and BabyFace Ray. In July, Future is headlining the 2022 edition of Rolling Loud Miami. While he's the headliner for Saturday (July 23), Ye will headline Friday's lineup, and Kendrick Lamar—who also has a long-teased new album on the horizon—will headline Sunday.