Nobody who's followed Drake's celebrity crushes over the years should be surprised to learn it's Halle Berry in the 2012 image, though it ultimately didn't end up being used as the cover on streaming platforms. That honor goes instead to Adonis Graham's For All the Dogs art.
Nickelodeon slime references are not a new addition to the Drakeverse, as the "Summer Games" sequel denier rapped "slime on your head, Nickelodeon time" on Young Thug's Business Is Business opener "Parade on Cleveland" in June. Drake continues the Nick nods on "Slime You Out," singing in the first verse, "I'm slimin' you for them kid choices you made." Later, SZA offers a retort by declaring she has "too much pride" for someone aiming to "slime me out."
In addition to the 6 God and SZA teasing the new song in an IG Stories update prior to its rollout, as seen below, Drake also previewed the track at the latest stop on his and 21 Savage's It's All a Blur Tour in Texas on Thursday night.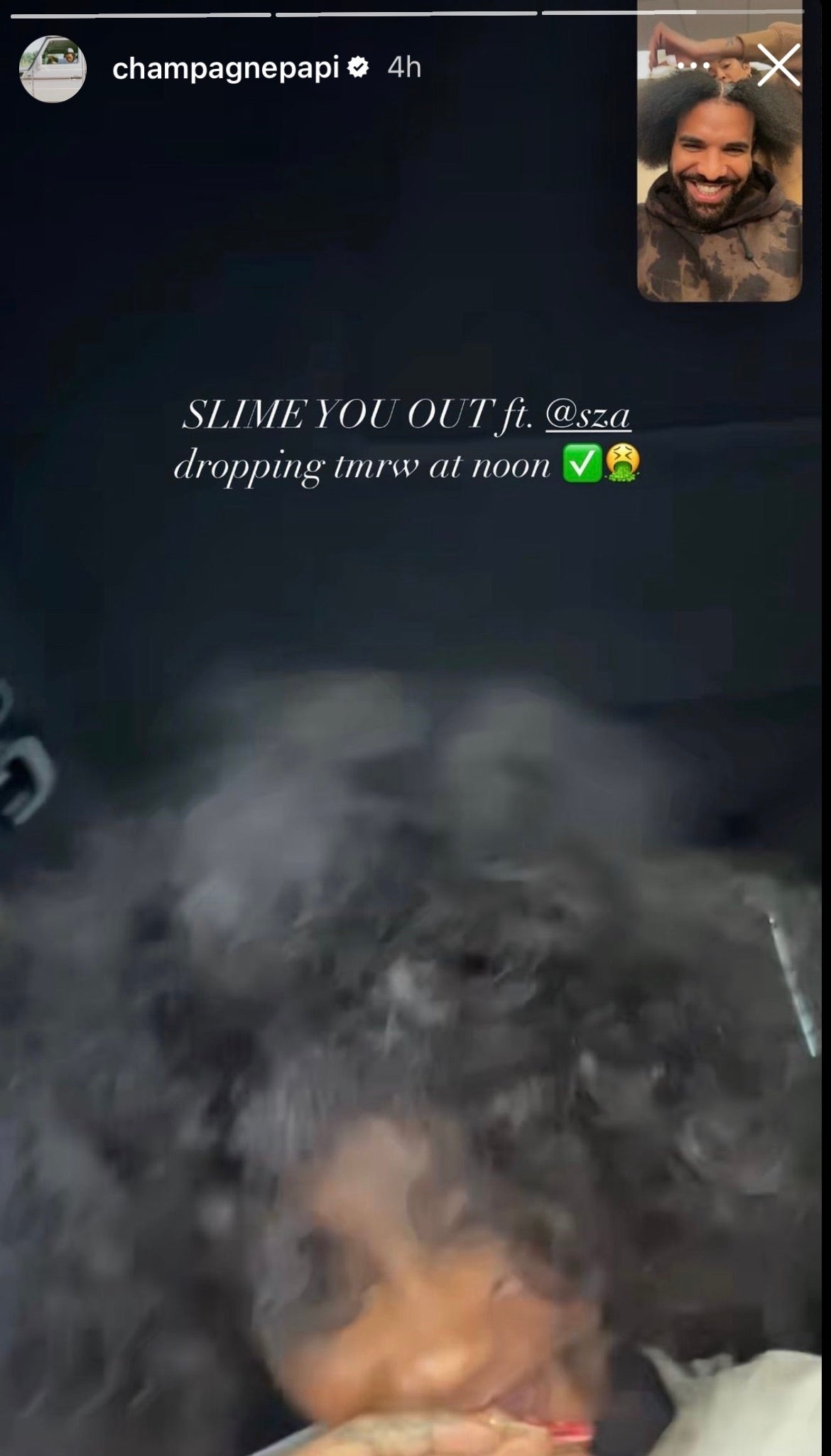 After weeks of speculation, not to mention a playful callout from Lil Yachty about the pitfalls of conclusion jumping, For All the Dogs recently got an official release date (Sept. 22) from Drake himself. He isn't alone on that drop date, however, as it's also the same day we get Doja Cat's Scarlet album.
Ahead of the Dogs launch, fans have been given some generous insight in terms of what to expect from Drake this time around. Yachty, for example, said the album boasts "some of the best Drake verses that I ever heard" and "deals with some controversial things." Meanwhile, Drizzy's dad Dennis Graham described the album as "some of the best music that I've heard him do."
Listen to the five-minute-plus "Slime You Out" on Spotify or Apple Music, or via YouTube up top. The final verse sees Drake sequentially running through an entire year of a relationship through month-by-month observations, starting with January ("January, you pretend to see life clearly") and journeying all the way to December ("December, the gift-givin' month, and now you wanna rekindle").
Joining the For All the Dogs cut among today's slate of new releases is the Justin Bieber-featuring acoustic remix to SZA's "Snooze," available here.