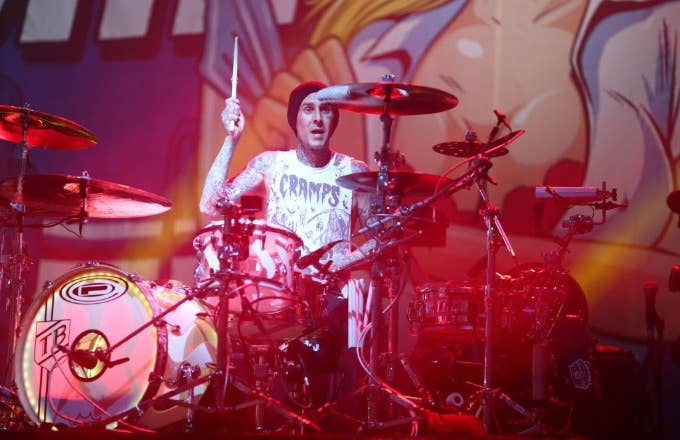 Travis Barker has shared a reworking of Lil Peep and XXXTentacion's posthumously released collab "Falling Down" that takes dynamic cues from a classic blink-182 song.
In a teaser clip shared ahead of the fitting remix's arrival, Barker explained how the 1999 Enema of the State cut "Adam's Song"—which peaked at No. 2 on the Billboard Alternative Songs chart—served as inspiration for his remix of the ILoveMakonnen-assisted Come Over When You're Sober Pt. 2 bonus track.
"I still really really love the original," Barker said of the Peep and XXXTentacion song, which was also released in its original form last year with vocals from aforementioned co-writer Makonnen. "It just puts you in a mood, you know? You never listen with those ears, like, 'What if i was gonna remix this?' But you just hear the potential of so many other things it could be."
Adding that his remix process was "really inspired" by the same blink ballad he recently looked back on in an extended interview with Kerwin Frost, Barker said he made similar arrangement choices with "Falling Down" including heavy toms in the verses and "bigger choruses."
Stream Barker's "Falling Down" remix below via Apple Music.
And here's the remix's official video, directed by @getmezzy:
Travis Barker, Mark Hoppus, and Matt Skiba (who joined the band in 2015 following the exit of founding member Tom DeLonge) are currently on the road with Lil Wayne celebrating the 20th anniversary of "Adam's Song" and the rest of Enema of the State.
Peep, of course, was a known fan of the band's work, having covered their 2003 track "I Miss You" at his own shows and notably featuring a sample of an unused DeLonge riff on the Hellboy track "The Song They Played (When I Crashed Into the Wall)."