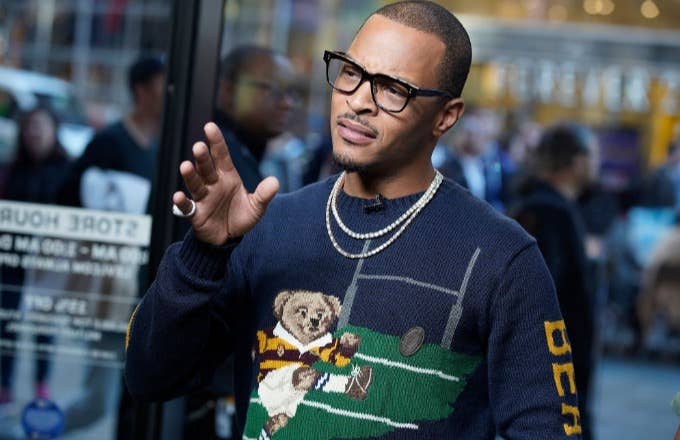 None of us wanted to wake up on this fine Wednesday morning to hear T.I.'s thoughts on the hymen, but here we (very reluctantly) are.
During a recent appearance on Nazanin Mandi's Ladies Like Uspodcast, the Rhythm + Flow judge claimed he accompanies his daughter to the gynecologist "to check her hymen," a sentiment which is presently being met with exactly the sort of knowledge-supported pushback one might expect when reading such a thing. You can listen to the audio over at TMZ. 
Idk who needs to hear this but virginity is a made-up social construct, and it has absolutely nothing to do with your hymen.
"This is the thing," he said, perMadameNoire. "Deyjah's 18, just graduated high school now and she's attending her first year of college, figuring it out for herself. And yes, not only have we had the conversation, we have yearly trips to the gynecologist to check her hymen."
Per the transcript, T.I. went on to recall a specific visit occurring around his daughter's 16th birthday and also detailed how he reacts when reminded by medical professionals of certain hymen facts.
"So I say, 'Look doc, she don't ride no horses, she don't ride no bike, she don't play no sports. Just check the hymen please and give me back my results expeditiously,'" he said, later adding during the publicly available podcast discussion that "her hymen is still intact."
And that's enough of that. Here's the Planned Parenthood info page on this topic, and below you'll find a selection of tweets in which T.I. is being passionately called out for his preposterous comments:
T.I.'s daughter Deyjah Harris also took to social media to like several tweets criticizing her dad while Iggy Azalea sent out a since deleted tweet saying he "has some serious control issues with women in all aspects of his life & needs therapy."