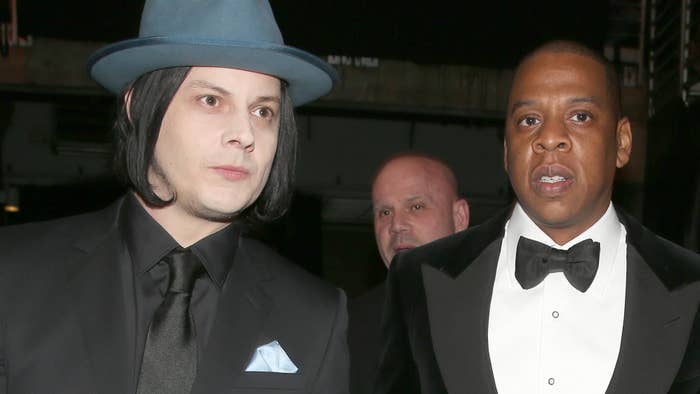 Ahead of this Friday's release of his new album Fear of the Dawn, Jack White sat down with Zane Lowe for an Apple Music discussion during which the Third Man Records founder was asked about his vault of unreleased music. 
As seen in the clip below, Lowe proposes a self-described "cheeky question" about vault matters, as well as "the other rumor" of White and Jay-Z having some "heat" the public hasn't heard. After Lowe closed out his inquiry with a more generalized mention of "all kinds of things you've got kicking around," White offered a response that touched on how every artist works differently.
"That's true, but it's not me who doesn't finish stuff," White said. "So it's, uh…I'm not that guy. No, I'm just teasing. But I'm more the personality, like, I'll be there tomorrow, you know. So it's different working styles. So some of that stuff I think will see the light of day when those guys aren't busy with other projects and stuff."
From there, Lowe asked White if it was "fun" to work with Jay, prompting a deeper dive about how collaboration can often spur the gaining of new artistic knowledge for all involved.
"Yeah, it was," White said. "It's so different, you know, because when I went into the studio with him, there was just one microphone which is, I kind of was [like] 'Whoa, what? Where are the other microphones?'"
Once this aspect of the recording atmosphere clicked for White, the two were able to learn from other's respective processes. "So Jay was learning about the way I did it and I was learning about the way he did it," recalled White, who famously lent guitar to Beyoncé's "Lemonade" cut "Don't Hurt Yourself" as well. "I just like seeing anybody use a method. If you see anyone using any method, it's really, really interesting."
See more, including a mention of Q-Tip ("He loves music and he knows it very, very well"), via the clip above. The full interview debuts Wednesday on Apple Music 1 at 1 p.m. ET.
White has spoken about his work with Jay before, including in 2018 when he credited the recent Pusha-T collaborator and the artist formerly known as Kanye West as having inspired his then-recent album Boarding House Reach. Ahead of that record's release, it was noted in a Rolling Stone feature on White that the song "Over and Over and Over" was, at one point, planned to be part of a "scrapped Jay-Z collaborative project." The song had also previously been attempted as both a White Stripes and Raconteurs release, with White saying at the time that he considered this particular composition his "white whale."