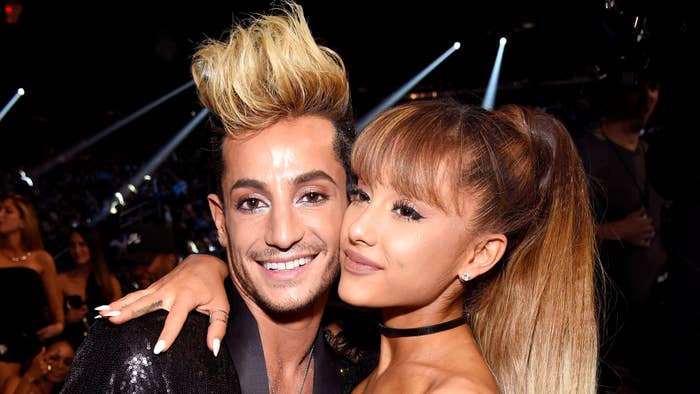 Ariana Grande's brother Frankie Grande has addressed a rumor involving his sister that was recently shared on Instagram by the artist formerly known as Kanye West.
As Ye fans will recall, the Donda 2 rollout took a detour over the weekend in the form of a number of since-removed IG updates, including a post that included a screenshot of a tweet purporting that Pete Davidson had "sent intimate photos with Ariana" to Mac Miller.
Asked about the Ye-shared rumor when leaving Crossroads Kitchen in Los Angeles on Monday, Frankie—Ariana's older half-brother—stated he had "never heard of" any such thing.
"I mean, listen, I've never heard of that in my life," Frankie said, as seen in TMZ-shared footage. "But listen, Kanye loves to stir the pot so nothing that he says ever surprises me at all. I wish nothing but the best to him, to his family, to Pete, and to everyone involved. Especially on today, which is Valentine's Day, which is such a good day to spread love."
From there, Frankie—who recently shouted out Ariana when commemorating his 39th birthday on IG—noted that "people love to make things up" before sharing a more general take on the situation.
"My philosophy is, I'm never gonna tell anyone how to live their life or what to do," Frankie said. "All I can do is lead by example in my own life and say that I would never spread rumors about people or say anything or open my mouth somewhere where it doesn't belong." 
Davidson, of course, is currently romantically linked with Kim Kardashian and was previously engaged to Ariana. The "Just Look Up" artist and the late Mac Miller, meanwhile, were in a well-publicized relationship that lasted roughly two years.
Asked to give his thoughts on claims that Pete is only with Kim for clout-related reasons, Frankie deemed such suppositions "silly" for a multitude of reasons.
"I mean, honestly, Kim Kardashian is one of the hottest people on the planet," Frankie told TMZ. "I love her with my entire heart. There are a billion reasons to date Kim Kardashian, so I think that that is silly. There's a lot of good reasons to date Kim. I mean, I'm gay and I would date Kim, you know what I'm saying?"
See more from Frankie below.
As for Ye, a repeatedly teased Donda sequel is set to be unveiled this month, including as part of a listening experience slated for Feb. 22 at LoanDepot Park in Miami, Florida. Serving as executive producer on the new album is Future, who's currently fresh off the release of his "Worst Day" single and video.