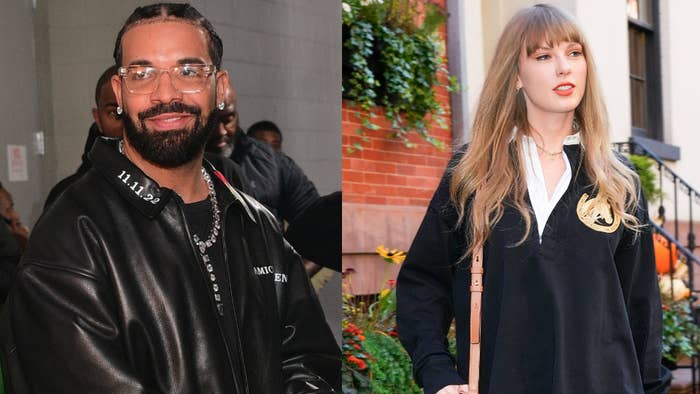 Taylor Swift is the only artist who could inspire Drake to push back a release date, so says the 6 God himself.
The moment occurs on "Red Button," the first song on Drake's six-track Scary Hours expansion of For All the Dogs. At the top of the Ovrkast and Lil Yachty-produced track, the "Summer Games" sequel denier assesses his "decimated" competition from the perspective of being "the most decorated." A few lines later, Drake's extensive Billboard charts success is touted, a boast that naturally leads to Swift being favorably brought into the discussion.
"Taylor Swift the only n***a that I ever rated," Drake raps, adding that Swift is also the only artist who could "make me drop the album just a little later." By comparison, he adds, he treats everyone else like they "never made it."
"Taylor Swift the only n***a that I ever rated
Only one could make me drop the album just a little later
Rest of y'all, I treat you like you never made it
Leave your label devastated
Even when you pad the stats, period, I never hated
Even when you stab me in the back, the vest is metal-plated
Tryna see a B inside my circle like I'm gettin' graded
Man, all this luggage in the lobby like I'm gettin' traded"
Swift's most recent release, the Taylor's Version re-recording of 1989, enjoyed some career-best charts feats upon its release in October. For example, the album gave Swift the single-largest album sales week of her entire discography thus far. It also bagged the biggest opening week for any album, regardless of artist, since Adele's 25 back in 2015.
Drake, meanwhile, is also fresh off an extensive run of headlines-making chart moves in 2023, including his tying of a Michael Jackson record with the J. Cole-featuring "First Person Shooter."
Both Swift and Drake are among the recently announced 66th Annual Grammy Award nominees, with the former's Midnights up for Album of the Year and the latter's 21 Savage collab project Her Loss up for Best Rap Album.