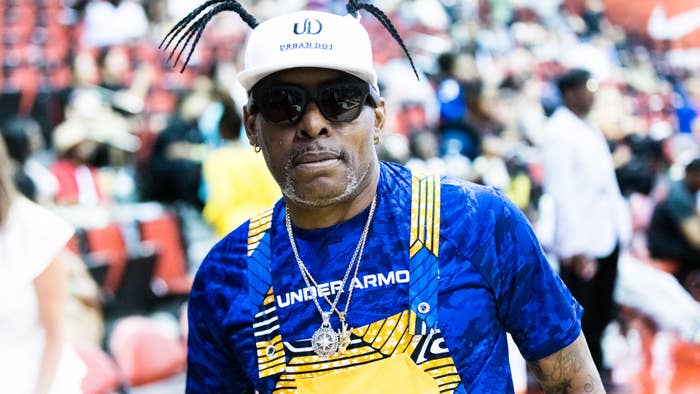 Coolio's cause of death has been made public.
TMZ reports the 59-year-old died from fentanyl poisoning. Family spokesperson and longtime manager Jarez Posey confirmed the news to the outlet, and said heroin and methamphetamines were discovered in his body as well. To make matters worse, the rapper had serious asthma and was a longtime cigarette smoker, which contributed to his death.
Back in September, Coolio was discovered on the bathroom floor of a friend's house in Los Angeles. The individual dialed paramedics but Coolio was later declared dead at the scene. It was speculated that he had suffered from cardiac arrest. Authorities looked into the MC's death but found no signs of foul play or drug use/paraphernalia.
His kids will be looking to commemorate their father and celebrate his career with documentaries and film. The Compton native left behind six children and a vast musical legacy, beginning with his first single "Whatcha Gonna Do?" in 1987 and his debut 1994 solo album It Takes a Thief. That record spawned the songs "Fantastic Voyage," "Smokin Stix," and "Sticky Fingers," the latter of which appeared in Poetic Justice.
However, his best-known hit was "Gangsta's Paradise" from his 1995 sophomore album of the same name, which later appeared on the soundtrack for Dangerous Minds starring Michelle Pfeiffer. The song earned Coolio a Grammy for Best Rap Solo Performance and an MTV Video Music Award for Best Rap Video.
A posthumous collab called "Tag 'You It'" featuring Too Short and DJ Wino was released last month.