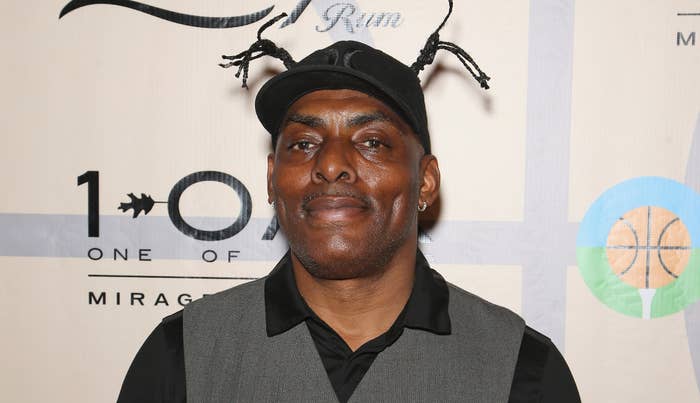 Coolio has died at age 59.
Longtime manager Jarez confirmed the news to TMZ on Wednesday, just hours after Coolio was pronounced dead. Jarez told the outlet that the legendary artist was at a friend's home in Los Angeles when he went to use the bathroom. After the friend noticed Coolio had not returned within a reasonable time, he began calling out to the rapper, but failed to get a response. The friend then found Coolio on the bathroom floor.
According to TMZ, the individual immediately called emergency personnel, who arrived at the home shortly after. Coolio—born Artis Leon Ivey Jr.—was declared dead at the scene.
Though officials have yet to confirm a cause of death, Jarez said EMTs suspect he died from cardiac arrest. Police said they are investigating the death, but have found no signs of foul play and did not find drugs or paraphernalia.
The Compton native and father of six children recorded his first single "Whatcha Gonna Do?" in 1987, and quickly made a name for himself in the L.A. rap scene. He went on to ink a deal with Tommy Boy Records in 1994 and released his debut solo album It Takes a Thief. The project included "Fantastic Voyage," as well as songs like "Smokin Stix" and "Sticky Fingers," which appeared in Poetic Justice.
But Coolio's biggest hit was, undoubtedly, "Gangsta's Paradise," the title cut from his 1995 sophomore album. The chart-topping track featured R&B singer L.V. and landed on the official soundtrack for Dangerous Minds starring Michelle Pfeiffer. "Gangsta's Paradise" went on to earn Coolio a Grammy for Best Rap Solo Performance, and an MTV Video Music Award for Best Rap Video.
Coolio reflected on the track in a 2015 piece for Rolling Stone, confirming he wrote the entire song in one sitting.
"'As I walk through the valley of the shadow of death/I take a look at my life and I see there's nothing left'—I freestyled that; that came off the top of the dome and I wrote that down," he recalled. "I thought about it for a minute, and then I wrote the whole rest of the song without stopping, from the first verse to the third verse. You know, I like to believe that it was divine intervention. 'Gangsta's Paradise; wanted to be born; it wanted to come to life, and it chose me as the vessel."
Coolio released six more solo albums throughout the years and appeared on both big- and small-screen projects. He made cameos in Batman & Robin, Get Over It, The Parent 'Hood, Kenan & Kel, Charmed, Futurama, and more.