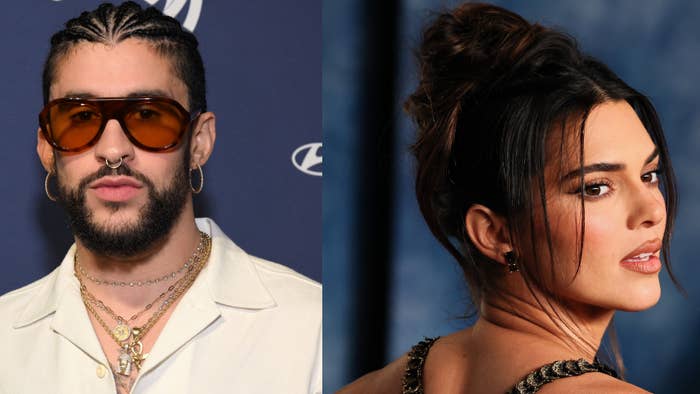 Bad Bunny and Kendall Jenner's rumored romance appears to still be blossoming.
TMZ reports that the pair were seen horseback riding together on Sunday at the Hidden Hills Equestrian Center. Photos show them riding together, where Jenner is in the front, holding the reins and snapping pics of them together, while the Latin superstar takes the rear. Other photos show them taking turns riding.
The two spent around 90 minutes riding horses together. Jenner is apparently an avid equestrian, while Bad Bunny has ridden horses in some of his music videos.
Speculation that the two celebrities are dating began in mid-February when the singer was seen kissing a "model sister" in Los Angeles. A few days later, a source told People that they are "spending time together" and enjoying each other's company. Then, about a month later, Bad Bunny and Jenner were seen leaving an Oscars party together.
Most recently, the artist seemed to take a jab at Jenner's ex, Phoenix Suns star Devin Booker on the song "Coco Chanel," a collaboration with Eladio Carrión. The veiled reference was made in the first verse, where Bad Bunny looks to aim for the Phoenix Suns athlete: "I'm not bad baby, that's a gimmick," Bad Bunny sings, "The sun in [Puerto Rico] heats up more than the one in Phoenix."