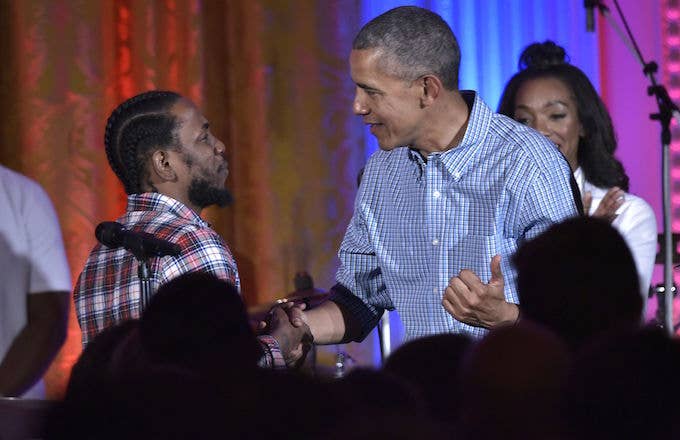 Now that he no longer deals with a demagogue unsuccessfully trying to prove he wasn't born in the United States, former president Barack Obama says he had "some extra time on my hands this year to catch up." As such, he continued the tradition of sharing a playlist of his favorite books and songs from the year.
"It was a nice way to reflect on the works that resonated with me and lift up authors and artists from around the world," Obama wrote in a Facebook post listing his selections. "From songs that got me moving to stories that inspired me, here's my 2017 list—I hope you enjoy it and have a happy and healthy New Year."
The omnipresent DJ Khaled got yet another presidential shoutout, with "Wild Thoughts" making the list. Regular White House visitors Jay Z and Beyoncé made an appearance, too, with "Family Feud." Chance the Rapper's "First World Problems" also popped up even though the song hasn't been officially released. Of course, Kendrick Lamar's "Humble" is one of Obama's favorites as well.
Like most of the country, Obama also found himself putting SZA's "Broken Clocks," Travis Scott's "Butterfly Effect" and French Montana's "Unforgettable" in heavy rotation. But the 44th president's playlist wasn't limited to mainstream fare, as "La Dame et Ses Valises" by Les Amazones d'Afrique, "Little Bit" by Mavis Staples, and Brandi Carlile's "The Joke" were also included. Click below for more of what Obama listened to (and read).