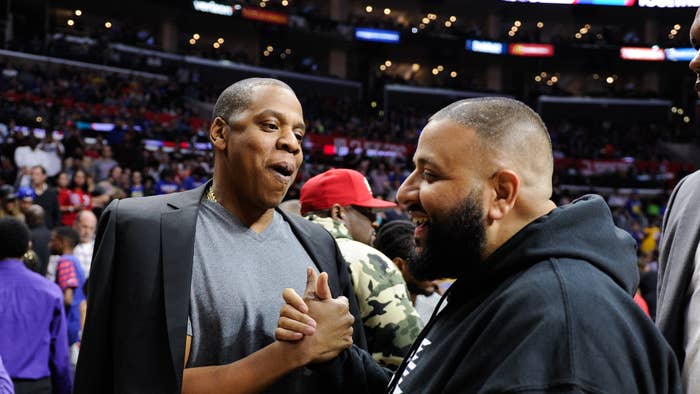 DJ Khaled confirmed in his signature highly energized fashion that he's secured yet another verse from Jay-Z for his forthcoming album God Did.
Khaled shared a carousel of photos on Instagram that included a pic of Roc Nation executive Lenny "Kodak Lens" Santiago, and a series of shocked reactions from the We The Best CEO after he heard the verse in question. SZA shared in Khaled's excitement by commenting, "oh my actual fucking God."
"HOV DID!!!" Khaled captioned the posts.
"HOV VOCALS IS IN! WOW...WOW #HOVDID #GODDID ALBUM COMING SOON !!!!!! @wethebestmusic @rocnation @kodaklens @youngguru763 !!!!!!!!!! HOV LOVE FOREVER BROTHER !!!!!!!!WOW! PLEASE SWIPE ! SO U YOU KNOW !!!!!!!!"
The Grammy award-winning engineer Yung Guru was also present when Hov's verse was delivered and added further hype to the moment by giving the Roc Nation head his flowers.
"HOV is the greatest of all time," he tweeted out. "This can't be debated anymore!!!"
The confirmed Jay-Z feature for Khaled's 13th studio album comes as no surprise considering how much time the pair have spent together recently. The "I Got The Keys" duo were photographed chilling in the studio a mere week ago, with Khaled once again praising Jay for all his support.
"They didn't believe in us, HOV DID," Khaled wrote. "And when HOV believes, more HISTORY is made. #GODDID. Thank you my brother for everything you do for US!! HOV DID!! ALBUM ALMOST DONE !!!!!!!!!!!"
Jay-Z has appeared on every Khaled effort since 2015, with a few highlights being "They Don't Love You No More," "I Got the Keys," and "Shining." He most recently appeared on "SORRY NOT SORRY" alongside James Fauntleroy and Nas on Khaled's 2021 project Khaled Khaled.
Aside from Hov, Khaled had previously teased that an incoming single off of God Did will feature Drake and Lil Baby, while collabs with Future, 21 Savage, Lil Durk, Gunna, and Quavo are likely on the way soon.