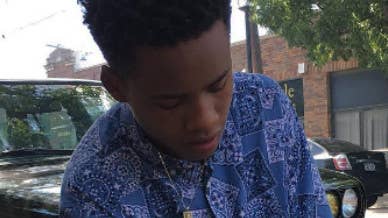 Tay-K is shedding more light on his time behind bars.
The 22-year-old rapper took to Twitter on Saturday, claiming a murder took place next to his prison cell. Tay-K—born Taymor Travon McIntyre—currently resides in San Antonio's Bexar County Adult Detention Center, where he's serving a 55-year sentence for murder and robbery charges. 
"Dude in the cell by me killed his celly wit a tray n stood on his head woah," he wrote, without providing any more details. "I'm locced up wit the hash slinging slasher."
It's unclear if Tay-K witnessed the alleged killing, or if he was simply relaying the information. Regardless, many Twitter users have slammed the rapper for the post, saying it was a flat-out snitch move.
This isn't the first time Tay-K has used social media to complain about his incarceration. Earlier this month, the Santana World artist wrote he felt "like a hamster in here" in prison was being treated "like a ferret." Tay-K also said he needed "1 chance at adulthood," and suggested his sentence would've been lighter had he been white.
"I bet if I was a lil white kid they wouldn't have gave me no 55 years for a crime I was alleged to play the most insignificant role in when I was 16….they woulda rightfully argued that my mind wasn't fully developed and gave me rehabilitation and a 2nd (1st) chance at adulthood," he tweeted. "[O]ne of my codefendants was a white girl who was 16 jus like me … they didn't certify her as an adult but they certified me n pimp as adults, pimp got 30, I got 55, she ended up getting 10 years of probation without no deal…that girl @ home rn."
In 2019, Tay-K was found guilty in the murder of 21-year-old Texas resident Ethan Walker. The rapper and six others were accused of breaking into a Mansfield home occupied by Walker and his friend Zachary Beloate. Prosecutors said Tay-K  and his accomplices brutally attacked the victims during a robbery, which ended in Walker's fatal shooting. Tay-K, who was a teen at the time, was convicted of capital murder.
Tay-K is now awaiting trial for the murder of Mark Anthony Saldivar, a 23-year-old who was shot and killed in 2017 in San Antonio.