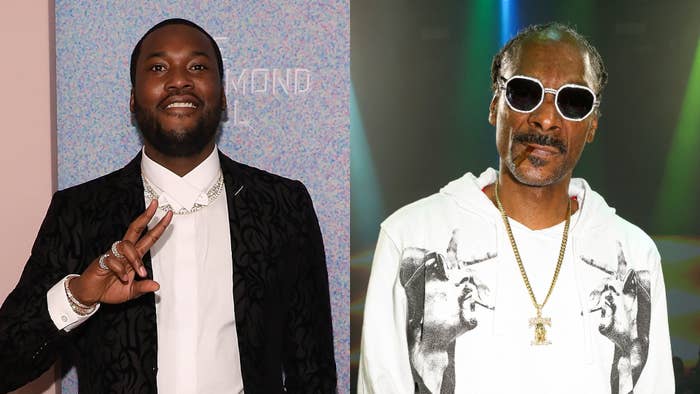 Meek Mill announced on Thursday that he will follow in Snoop Dogg's footsteps and "completely stop smoking."
Meek revealed his doctor not only informed him that he has "a lil bit emphysema," but also warned him about potentially cutting his "lifeline in half" if he continued smoking.
Meek's commitment to stop smoking comes nearly one month after he shared that his criminal record was officially wiped clean. He was placed on probation in 2008 for drug and firearms charges and given two to four years in prison when he violated his probation nearly a decade later.
Controversy surrounded his sentencing amid accusations of heavy-handed rulings from Judge Genece Brinkley. Meek wound up serving less than five months of his sentence.
Snoop Dogg delivered the stunning announcement that he was "giving up smoke" earlier today. The 52-year-old did not provide additional details aside from saying he reached this decision after "much consideration and conversation with my family."
Snoop has become synonymous with weed throughout the years. Comedian and actor Mike Epps shared on Jimmy Kimmel Live! last month that the Long Beach native had "a guy in Iceland." Snoop later confirmed his global reach, saying, "Well, last time I checked, I was the plug to yo plug; I'm the connect."
Snoop shared a video on Instagram in September showing how many blunts he smokes in a day.