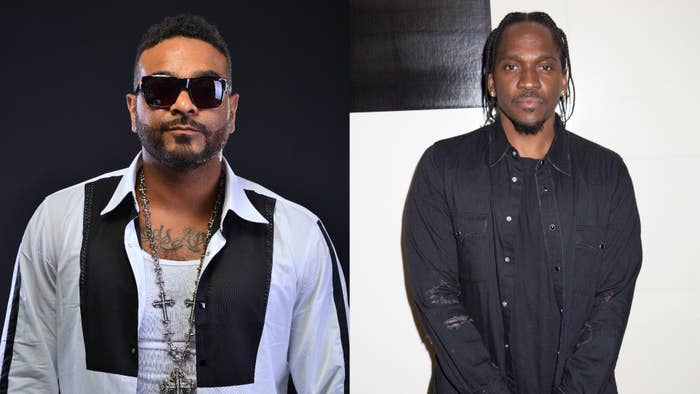 Jim Jones called into The Joe Budden Podcast Monday to discuss his ongoing "rap battle" with Pusha T.
Capo said he doesn't see their back-and-forth as anything more than "fun and games" and a "juvenile display of wordery." Budden wondered what happens if Pusha goes too far and Jim assures the rapper-turned-podcaster that he already knows how to handle that type of situation.
"Who's gonna spin the block for him?," Capo asked at around the four minute mark. "Is Pharrell gonna spin the block for him? Is Jay-Z gonna spin the block for him? Is Malice gonna say a prayer, or... Who's gonna spin the block for him?"
When Malice's name got brought up again, Jim called him a "preacher that works at Walmart." He later referred to Pusha as a "worker" and not a boss since he "has to answer to everybody in his circle."
Capo then established that he and Push are involved in a "rap battle" that's focused on "pure music and styling and he don't got it."
"You always wanted to be a New York n***a, you from VA, suburbs. You know how that go," Jones added around the 7:15 mark.
His appearance comes days after a video surfaced showing Jim delivering a few bars seemingly directed at Push. "The only beef you know n***a is Arby's or the Big Mac/When we drive through, we drive-by in the car with the big macs," he rapped. "That last shit you dropped was garbage take that shit back."
Capo's words were likely in response to an unreleased Clipse song that played during the Louis Vuitton Spring/Summer 2024 show in Paris last week. Pusha appeared to throw a few subliminal shots at Jim after he questioned the Virginia Beach native's placement on Billboard's Greatest Rappers of All Time list.