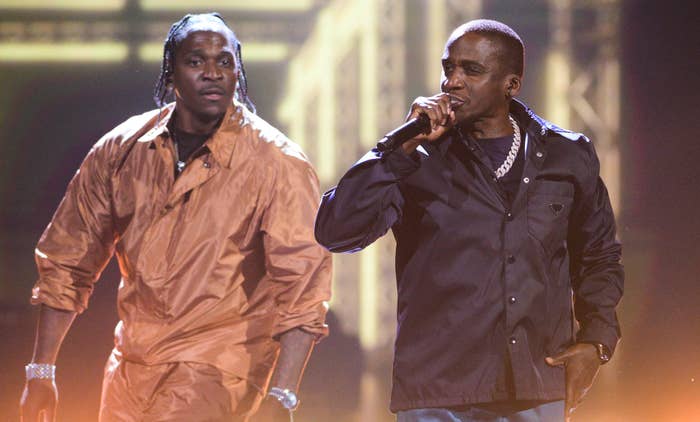 Pharrell made his official debut as Louis Vuitton's new men's creative director in Paris on Tuesday, unveiling pieces from his Spring/Summer 2024 Collection.
The fashion show at Paris' historic Pont Neuf bridge featured A-list celebrities like Beyoncé, Jay-Z, Rihanna, ASAP Rocky, Tyler, the Creator, and Zendaya taking in the highly anticipated presentation.
During the event, Pharrell premiered a handful of new songs, including an unreleased track with longtime collaborators Clipse. Footage of the song has since gone viral, with clips circulating on social media that feature Pusha-T and No Malice rapping over production courtesy of the Neptunes superproducer.
"Beware of my name, that there's delegate/You know I know where you're delicate/Crush you to pieces, I'll hum a breath of it/I will close your heaven for the hell of it," King Push raps above the above clip.
It didn't take long before Clipse fans posited that Pusha's verses included subliminal bars aimed at Jim Jones, who recently threw shade at the Virginia native, boldly claiming Push shouldn't be considered one of the greatest rappers of all time.
"You think it'd be valor amongst veterans/I'm watching your fame escape relevance," the 46-year-old raps. "We all in a room but here's the elephant/You chasing a feature out of your element/And those lab diamonds under inspection/The question marks block your blessings/It's no tombstones in the desert/I know by now you get the message."
The Clipse brothers weren't the only rappers to take the stage. Jay-Z celebrated Pharrell's debut by delivering an assortment of hits—several made and performed with P—including "Frontin'," "Public Service Announcement (Interlude)," "Change Clothes," "FuckWithMeYouKnowIGotIt," "On to the Next One," "N***as in Paris," and "U Don't Know," among others.
Pusha-T shared a variety of semi-lengthy clips of Hov entertaining the crowd on his Instagram Stories.
He also hopped on IG a few days ago to tease the event. "It's time," Push captioned a photo of Pharrell in Paris. "The colorful speedy 'dupes' are nuts…Take a bow in advance P. See you in Paris."