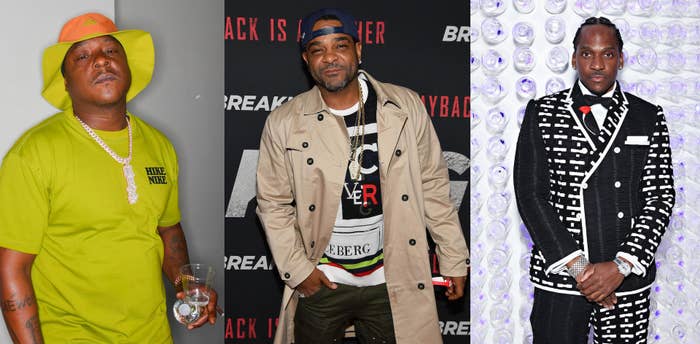 Jadakiss has shared his thoughts on the bubbling feud between Jim Jones and Pusha T.
During an interview with Bootleg Kev at the BET Hip-Hop Awards, Jada revealed he isn't a fan of their ongoing beef.
"I don't like the battles," Jada shared. "I'm not really vying for what's going on with that. If it was supposed to happen, that's cool, but I don't like… It's cool but it ain't cool for me. I don't like the matchup."
He continued, "They both legends. It's always dope when there's no extra additives… If it stays like that and if there's no lines crossed outside of rap, I'll love it. Just keep it rap."
Jim Jones and King Push's beef stems from an interview the former gave the Rap Caviar podcast in April, where he claimed Push has no business being on any "50 Greatest Rappers of All Time" list.
"What has he done that puts him in the greatest rappers of all time besides talk about coke that he probably didn't get himself?" he said at the time. "He's nice as s**t. He could rap his ass off, but what has he done? Nobody has dressed like him. Nobody wants to be like Pusha T. I don't remember nothing. And let's not be evil, but we don't talk about rap where the n***a that's popping the b*****s wanna f**k and the n****s wanna be like."
Last week, Push allegedly dissed the Dipset rapper on a new track that premiered during Pharrell's first Louis Vuitton show in Paris. Jones responded over the weekend by dropping a scathing diss track entitled "Summer Collection" which included the bars: "The only beef you know, n***a, is the Arby's or the Big Mac/ When we drive through, we drive-by in the car with the big macs/ That last s**t you dropped/ That s**t was garbage/ Take that s**t back."
Watch the video of Jones' Pusha T diss below.