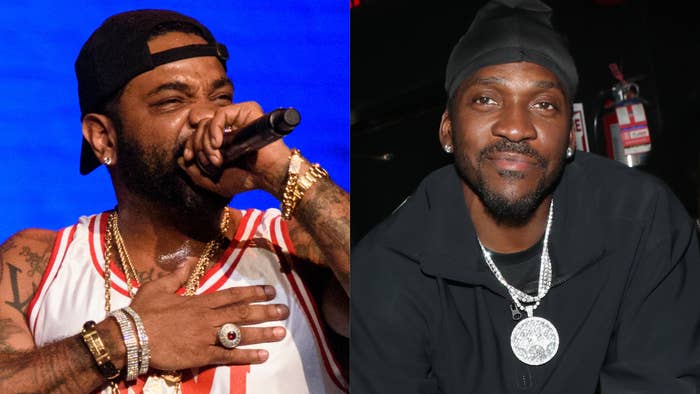 Jim Jones rolled his sleeves up and responsed to Pusha T, who dissed him on an unreleased song that premiered during Pharrell's Louis Vuitton Fashion Show.
On Friday, a video surfaced online of someone recording Capo rapping to a hanging microphone on what appeared to be a New York City sidewalk. Viewers can hear Jones drop a few bars that many think he's directing at King Push.
"The only beef you know n***a is Arby's or the Big Mac/When we drive through, we drive-by in the car with the big macs./That last shit you dropped was garbage take that shit back," Jim rapped in the video.
Jones also seemingly referenced Push's brother No Malice and Clipse's 2002 song "What Happened To That Boy." Another hint that has fans thinking Jim Jones is taking shots is that he's rapping over a beat that sounds very similar to the one that was featured in the Clipse's new song premiered at the Louis Vuitton show.
On Saturday, the full video dropped which you can watch below.
In the actual song, Jim Jones held nothing back as he flexed his lyrical muscles to throw the next blow in the war with Pusha-T. Right from the start, Jones claimed Pusha's diss was trash and criticized him for getting "gassed" by his fans making him think he's Jay-Z.
"That shit was trash we gonna let them get a do over/They got you gassed, they must think you're the new Hova/You a 4.0, n***a, I jumped in the new rover/Your brother still jumping on the bed, tell him 'Move over,'" Jim rapped.
He also poked fun at Pusha's eclectic sense of fashion by calling him a "fly bitch" and addressing the claim that he allegedly dissed Push to secure a feature from Drake while mentioning Pharrell in the process.
"You be dressing kinda weird man you really need a stylist/Plus we all know what you identify with/Plus you kinda, sorta dress, n***a, you been a fly bitch/And then he said I was trying to chase a feature/N***a's a gorilla cause he got some apes in his features/All my gorillas got stones, I'll have these apes come and meet you," Jim added.
Lastly, Jones let King Push know he was offended by the shot he took at his diamond chains. According to the Harlem rap star, there's nothing cheap on him.
"Don't talk about my jewels that was a cheap shot/These is all VVS's this ain't the cheap rock/I don't know if you're a rapper, I should treat you like a street op," he rapped.
The tension started when Jones claimed Pusha was not a Top 50 MC back in April during a podcast apperence, things have picked up in recent weeks. The Virginia native seemingly dissed his New York rival on the new song premiered at Pharrell's fashion show for comments Jones made during an interview in April about Push not being a top 50 rapper.
Jim Jones shared a video of himself laughing and seemingly referencing Pusha-T's 2013 album My Name Is My Name shortly after the song made its rounds on the internet.
"Let me know if they serious cause my name is my name #Capo," he wrote before adding in his Instagram Stories, "Let me know when they really ready."
The Bronx-raised MC touched on the alleged attack once more in an Instagram video where he said Pusha's bars weren't even a "Top 50 verse."
"That was not a top 50 verse. Not at all. Still not in my top 50," Capo said while adding in the caption, "That verse did not make the list champ, it was cute."