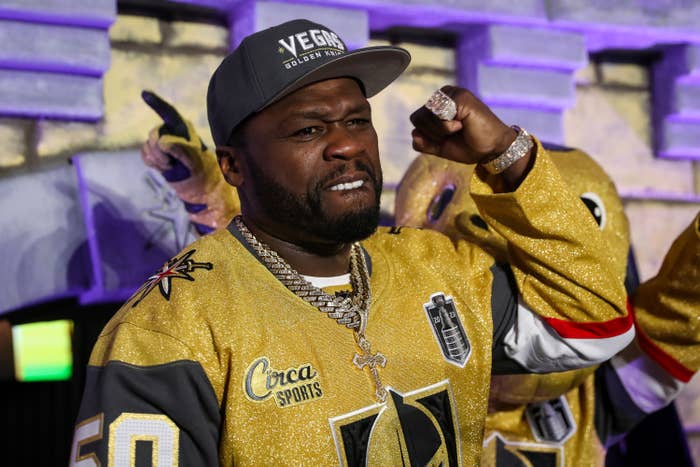 Twenty years since 50 Cent's landmark debut Get Rich or Die Tryin', a new revelation about the infamous Ja Rule diss "Back Down" reveals that the rapper had his eyes set on more than one target for the original song.
In a new two-hour-long video titled "How 50 Cent Got Rich and Nearly Died Tryin'" from investigative YouTube channel Diverse Mentality, the album's recording engineer Sha Money XL recalled the fiery session with producer Dr. Dre when laying down the track that would become "Back Down."
"We went to my crib, cut that shit. Fif had no filter," said the DJ, producer, and future president of G-Unit Records.
Quake, the new video's narrator, explains further that "not only did 50 Cent go at Ja Rule and Murder Inc. as a whole, but he initially took aim at Supreme, Jay-Z, R. Kelly, Nas, Cam'ron, and more." 50 even invited Dr. Dre to hop on the mic and curse out the powerful crop of rappers dominating the early 2000s.
While not much is known about the original version of this song, Quake did mention that he heard the original and remembered the bar targeting Cam'ron: "You're acting all gangsta and tough/You must've forgot when the director yelled cut," which referred to Cam's role as Rico in the 2002 film Paid in Full.
According to Sha Money XL, Dr. Dre had to act as a "filter" for 50 Cent, eventually convincing him to only take aim at Ja Rule and Murder Inc. in the final recording.
"Dre put the filter on him, like, 'Hold up, bro. Hold up, bro. Nah, bro. You goin' too far, man.' So, we had to re-record that shit."
50, who is known for his antagonistic personality, got a head start on that reputation with his widely publicized beef with Ja Rule that began around 2000. Both parties have different accounts of what started the feud. Despite seeming to publicly bury the hatchet in 2011, the tension was reignited after Ja Rule compared Drake and Meek Mill's issues with his and 50's.