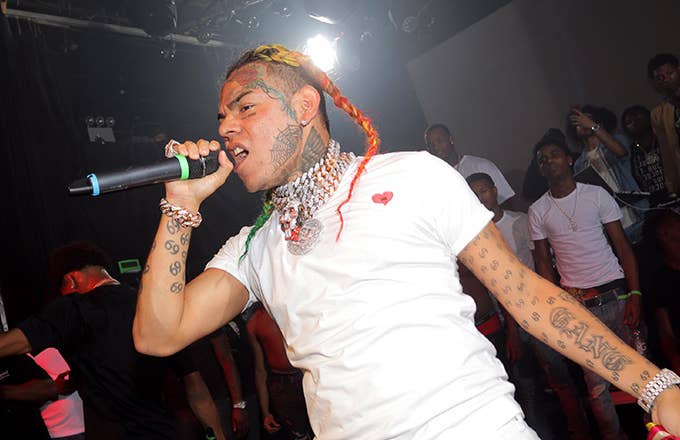 Well, Pornhub is releasing a Valentine's Day album because why listen to Marvin Gaye when you could be serenaded by Blac Chyna?
In collaboration with Create Music Group, the six-track album will showcase Tekashi 6ix9ine, PnB Rock, Lil AK, Lil Xan, Asian Doll, 24hrs, and MadeinTYO. And to kick it all off, Blac Chyna will deliver a sensuous interlude in which she details her erotic Valentine's Day plans. 
"To help ease the stress of planning the perfect Valentine's Day, we wanted to show our fans some love by curating an album so seductive that it would make Cupid himself blush—and is guaranteed to end your night with a bang," Corey Price, the Vice President of Pornhub, said in a press release. "With over 100 million people visiting Pornhub daily, we know what gets people in the mood. When you feel like the night is about to reach its crescendo, dim the lights and throw this album on. You'll thank us later."
In Lil Xan's track "Shake It," the rapper reminds his fans that she is in fact a bad hoe. "I knew this song was the perfect fit for Pornhub's first album," said Xan. "I love what they're doing with this." Pornhub Records has released several collaborative projects since its inception in 2014. In addition to Kanye's numerous contributions, the label has worked alongside well-known artists such as Waka Flocka Flame and Flo Rida. 
And as if getting it on to the sound of PnB Rock wasn't enough, the entertainment platform will be offering free access to Pornhub Premium this Valentine's Day.