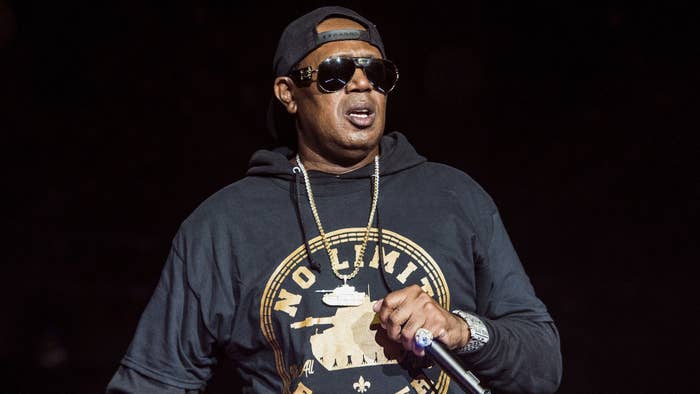 UPDATES 8/22 at 3:25 p.m. ET: On Friday, Master P took to Instagram where he stated that he has "no beef" with Monica, explaining that the singer just "got caught up into some family drama."
"We're doing too much positive to have to deal with the negative. I have no beef with @monicadenise She got caught up into some family drama that we have to fix and I am man enough to admit that," P captioned a video. "No family is perfect, we all go through turmoil but with God all things are possible. I love my brother and can't wait till he get home. We can't allow the devil to steal our joy. We are bigger than this!"
In the post, Master P touches on his overall frustrations with the situation. 
"Imagine you helping your family, you did everything you need to do for people—even helped outside people—and it still ain't enough for people around you," P said. "I know Monica got thrown into this and I apologize to shorty because I really don't know you like that and I hope you have the right agenda and right heart to help my brother because he needs it."
This comes after Master P questioned Monica's involvement in his brother's fight for freedom in a previously deleted post. 
"Speaking the truth is not being disrespectful, it's just reality. @monicadenise I don't know you and I ain't trying to get to know you, just for the record. You stated you have been on C's visiting list since Parish, that's over 18 years and how long have you known KimK, you just now got your bff to send out a tweet," P wrote in the now-deleted post. "I guess better now than never.. and you've been married twice during that time.. so you are his ride or die. You or any other woman don't have to prove y'all loyalty to our family, if y'all agenda is real and it's to help get him out then do it and stop talking."
See the original story below. 
Earlier this week, it was reported that Monica, in tandem with Kim Kardashian, was working to get C-Murder out of the life sentence he's currently serving for the fatal shooting of a 16-year-old. C-Murder (real name Corey Miller) has maintained his innocence of that crime, and he's previously appealed his conviction. He's currently incarcerated at the Louisiana State Penitentiary. 
After being questioned about Kim and Monica, who was previously in a relationship with Miller, and some high-powered lawyers taking up Miller's case, Master P sounded at least joyful at the prospect that this new effort could free Miller, who is younger brother. "My whole thing is getting my brother home," he said to TMZ a few days ago. "So, whatever anybody do that's going to spark that plug I appreciate it. ... I know that Kim Kardashian and all these other people are coming to the table. Whatever we can do to get my brother home, that's what it's about. It's just a blessing that people are understanding that my brother is innocent."
However, as of Friday afternoon, P struck a different tone that was equal parts emotional and frustrated in a new video posted to his social media. The No Limit founder expressed his frustration that his brother has allied himself more closely with his friends than his family during this ordeal, especially citing that he feels his parents and late grandmother have been inexplicably dragged through the mud by his brother. He continued to call out a perceived lack of gratitude on the part of C-Murder and expressed annoyance that his brother was quick to express thankfulness to Kardashian and Monica despite the amount of effort he and his family have put into his case. Previously, P expressed thankfulness for Kardashian's tweet and said that he hopes it leads to his brother being freed. He also said that social media posts put out by C-Murder didn't quite sound like him, along with the fact that he wasn't even aware that C-Murder had social media until recently.
Elsewhere in the video, the New Orleans native shared that he believes C-Murder's friends are the reason he's in prison and that he can't believe he hasn't called them out while simultaneously being ungrateful to his family. He went on to tag Kardashian, C-Murder, Monica, and P's other brother, Silkk the Shocker, in the post. 
As such, Monica responded to Master P's sentiments in the comments, HotNewHipHop reports.
"I have been respectful towards you and you have refused to do the same! You can NOT speak on me because you do not know me!" she responded. "I have only conversed with Silkk! This matter is between you MEN, you're brothers! Leave me out of this because my efforts have BEEN the same! I just didn't see the need to post it! Check the visiting lists from The Parish to Angola to Hunts or better yet ask his children! You responded before you READ! He's never not (been) able to hit me, my mother or brother, and get what he needs! FOCUS ON HIS FREEDOM!" 
See P's IGTV video explaining his sentiments below.