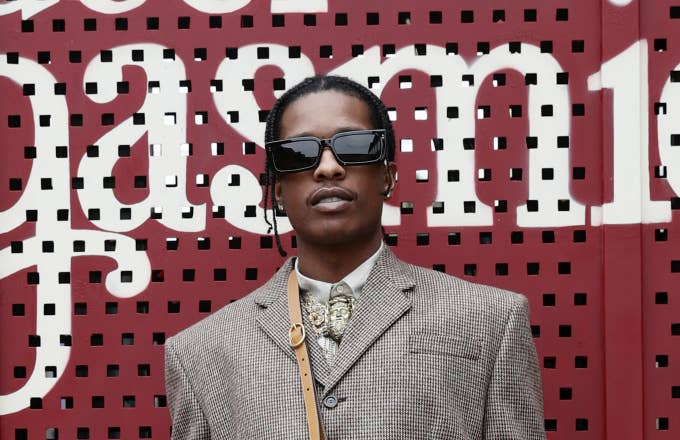 ASAP Rocky is known for his creative persona. Yet prior to finding his footing as a rapper, Rocky was just a kid that was trying to survive the neighborhoods of The Bronx and Harlem. 
Although he's alluded to his time on Rikers Island in previous interviews, Rocky used his appearance on Angie Marinez's Untold Stories of Hip Hop to detail the events leading up to his prison stay. Rocky painted a picture of his youth in Harlem. He explained to Martinez that he started selling drugs at an early age to provide for himself. This influx of cash combined with his demeanor made the 16-year-old Rocky a target of an older bully. "He tried to come at me in front of some ladies. And I was little. He was a little bit older than me," Rocky said 30 minutes into the episode.
After the exchange, Rocky and his cousin went to a woman's house where his bully was staying. Rocky and his cousin both had guns, but he said their intentions were to just talk to the man. "It's life, man," Rocky said when asked why they were carrying firearms. Eventually, their conversation turned violent and Rocky thought the man was reaching for a gun. This prompted him to react by firing his weapon. "I just started letting off," Rocky continued. "I ain't want to hit him."
This altercation resulted in Rocky's arrest. At first, he was hit with an attempted murder charge. But because of his age and the nature of the crime, the charges were reduced. Still, the rapper had to spend time on Riker's Island as he awaited bail. During this time, Rocky ended up meeting a kid that would become the rapper Casanova. Despite being only a year older than Rocky, Casanova had already been to Riker's multiple times.
In a 2017 interview on the Rap Radar Podcast, Rocky talked about how Casanova took him under his wing during his time on the Island. "That was my man. He held me down the whole time," Rocky said. "This n***a was definitely a real n***a and I was the only n***a he befriended."

For more episodes of Untold Stories of Hip Hop, be sure to tune in on WETV at 10 p.m. ET.