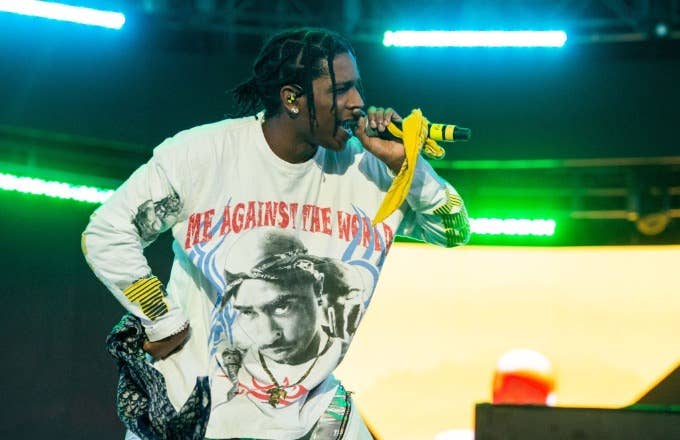 ASAP Rocky has reportedly been arrested in connection with the Stockholm, Sweden incident involving two men he says were following and harassing him.
Rocky and three other people were arrested late Tuesday night on suspicion of assault following a festival performance in Stockholm, per CBS News. No information regarding evidence for such claims has been released, with prosecutors saying in a statement that an investigation remained in the "initial" stages. Per regional law, Rocky can be held for as long as three days before appearing before a judge.
Following the release of footage purporting to show a fight between Rocky's team and the men Rocky described as "drug addicts" who are "not my fans," Rocky shared footage of his own showing the men following him. According to Rocky, the men had also been harassing him, as well as "slapping girls' butts" as they passed by on the street.
"We don't wanna fight y'all, we not trying to go to jail . . . It's OK, bro, chill," Rocky is seen telling the men in a clip he shared to his Instagram page Tuesday. A bodyguard, as also heard in the footage, was said to have been hit with headphones by one of the men.
"Look, just for the cameras, we don't want not problems with these boys [but] they keep following us," Rocky said in the clip, seen here.
Ahead of the reported arrest, Rocky shared an Instagram post captioned "STOCKHOLM" in which he's seen rocking a NOFX t-shirt. The California punk band subsequently gave Rocky a shout-out that included an invitation to pop in for their upcoming Punk in Drublic festival. Rocky, meanwhile, has been overseas for a run of performances including the Smash x Stadion festival.