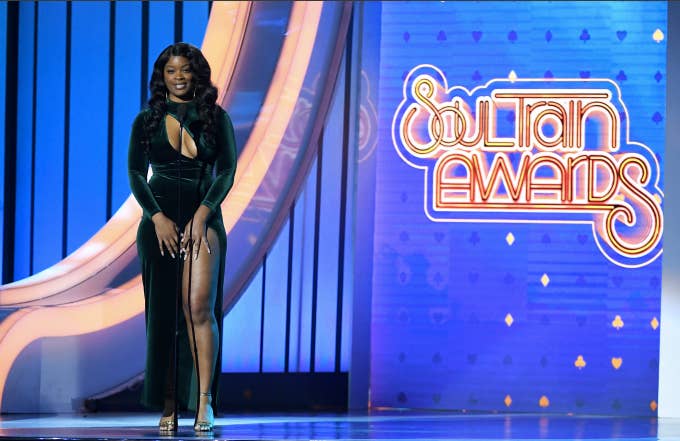 Ari Lennox took to Twitter on Monday where she vented about being snubbed at this year's Soul Train Awards.
Lennox started off with some now-deleted tweets in which she claimed her album Shea Butter Baby is "a soul album for black people." It became more obvious she took issue with the Soul Train Awards when she wrote, "I want this shit way more than it wants me. I'm learning I have to stop caring... Yea I'm hurt. I'm not built for these things lmao." 
Some fans responded by telling Ari she shouldn't take it to heart because the Soul Train Awards don't carry as much critical clout as other award shows. This prompted the singer to further explain her frustration. First Ari expressed reverence for the show and its history.
"It's not just an award. It wasn't any award show. It was the soul train awards," Ari wrote. "As you can see I'm big fan of soul music and huge fan of soul trains history."
Ari was nominated for Best R&B/Soul Female Artist, Album/Mixtape of the Year, and Best Collaboration Performance at this year's awards. She lost these categories to H.E.R., Lizzo, and Chris Brown featuring Drake. Because of her response, fans assumed she was taking objection to the artists who won the categories. Lennox explained she's actually upset about the reception Shea Butter Baby has received and not the people who won the awards. 
"My intent is never to annoy people who clearly don't fuck with me, I dont be asking these shady blogs to post what I write," she said before informing her fans that she's quitting music. "I'm not selling out. So I quit... I'll join the damn army." 
Ari continued: "Tired of being annoying tired of being annoyed. I just ain't built like the rest of them. This shit ain't for me... It's clear I'm not "cool" enough. Not trendy enough and I don't care to be. I don't strive for that. I'm not going to chase this shit ever again. No more fake shit on my part... It's not just the awards. SBB was slept on in so many ways. Im too emotional to pretend like I can play this game."
During the thread, some of her followers responded with claims of entitlement. They assumed she felt as though she deserved to win an award simply because she was nominated. Her followers tried to tell her that she's a new artist and her time is coming. To this, Ari explained that she's been working hard at her craft since 2009. Also, expressing herself and being vulnerable isn't the same as feeling entitled to an accolade.