Every year, dozens of people flood the ComplexCon floor to sift through a maze of exclusive products from coveted brands but, beyond that, it encapsulates the essence of Complex from top to fin—with music (this year, by way of Donavan's Yard and Soulection) filling the room throughout, and a concert on Sunday night that closes out the event. All the while, immaculate head-to-toe ensembles meet you at every turn of the eye. It's an experience that's just that—an experience.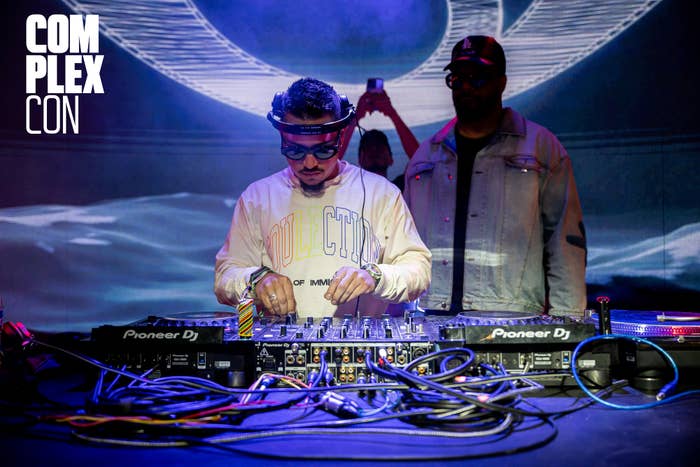 A lot happens at ComplexCon, but we've compiled the best moments, which include the best performance, the best booth design, the best appearances, and much more. Read on to see the standout ComplexCon moments that are worth commemorating.
Winner: The Clipse performing together
The king of coke rap was the second act of the night, following the Teriyaki Boyz, and he lived up to his title, positively knocking the wind out of the hip-hop heads in the room with tracks like "Brambleton" and the fresh "Diet Coke." Seeming to never bat an eye, Pusha T truly brought every ounce of energy to the arena, pacing to and from the center of the thrust stage while spitting some of his most infamous bars.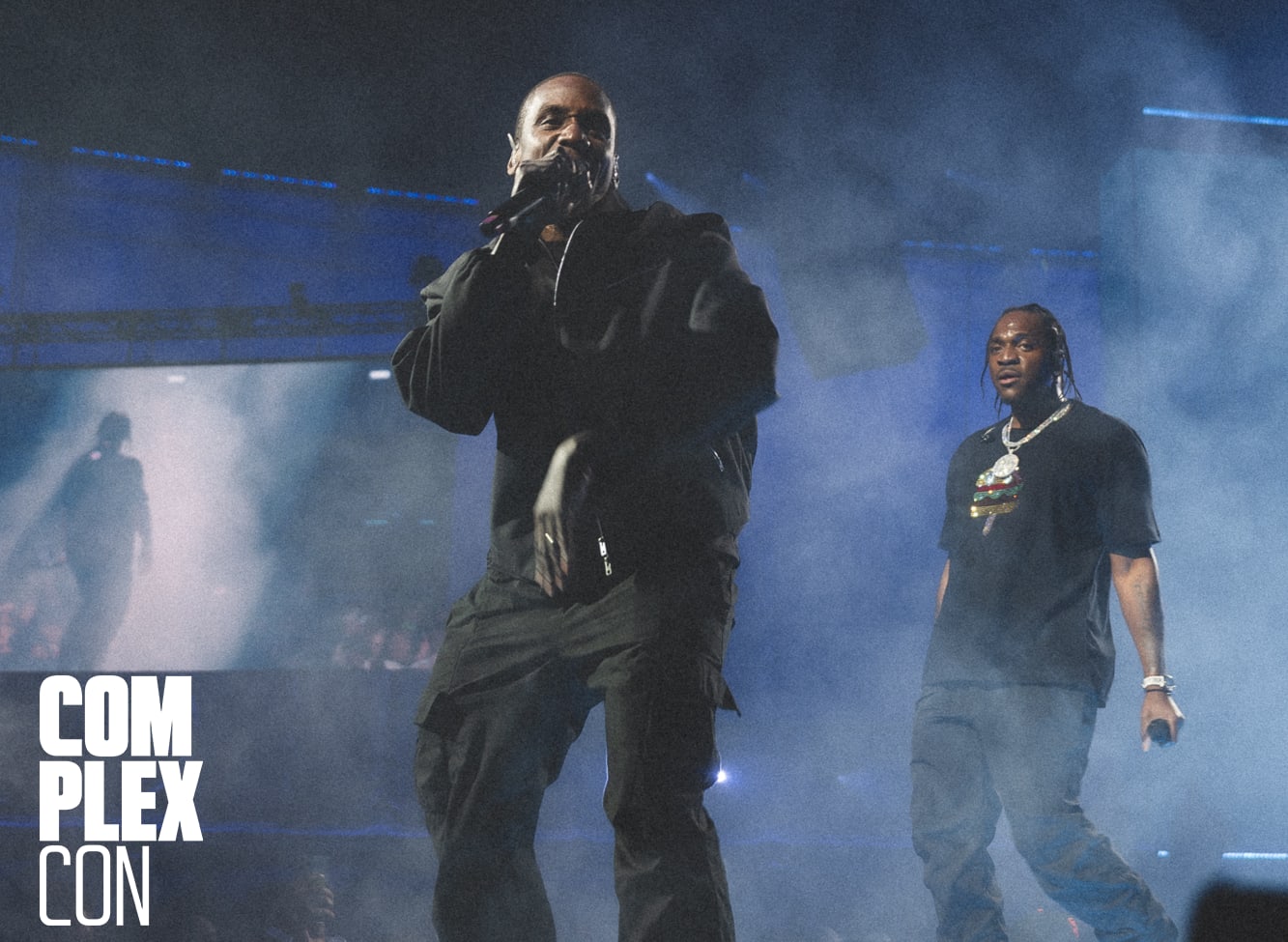 Pusha T, who spoke on the ComplexCon(versation) titled "20 Years of 'Lord Willin' With Clipse," was joined by No Malice mid-set for a rather epic Clipse moment that served as a sure highlight. The act was a thrill and tease for those who would like an official reunion album—which, according to the brothers—is neither here nor there. But, going by the optics and crowd reaction to the bounce of "Grindin'" off the Arena speakers, it'd be a sure hit.
This year, after a decade, the two took the stage together at Pharell's Something in the Water festival in Virginia Beach and then found comfort under stage lights once more at the BET Awards. "It's a new day."
Winner: Rico Nasty

Honorable Mentions: Nav; Tyler the Creator; Michèle Lamy
There were a slew of both expected (and unforeseen) guests on the ComplexCon floor this year. There was, of course, the unexpected casual and chaotic stroll through the Long Beach Convention Center from Kanye West mere minutes before Sunday night's concert.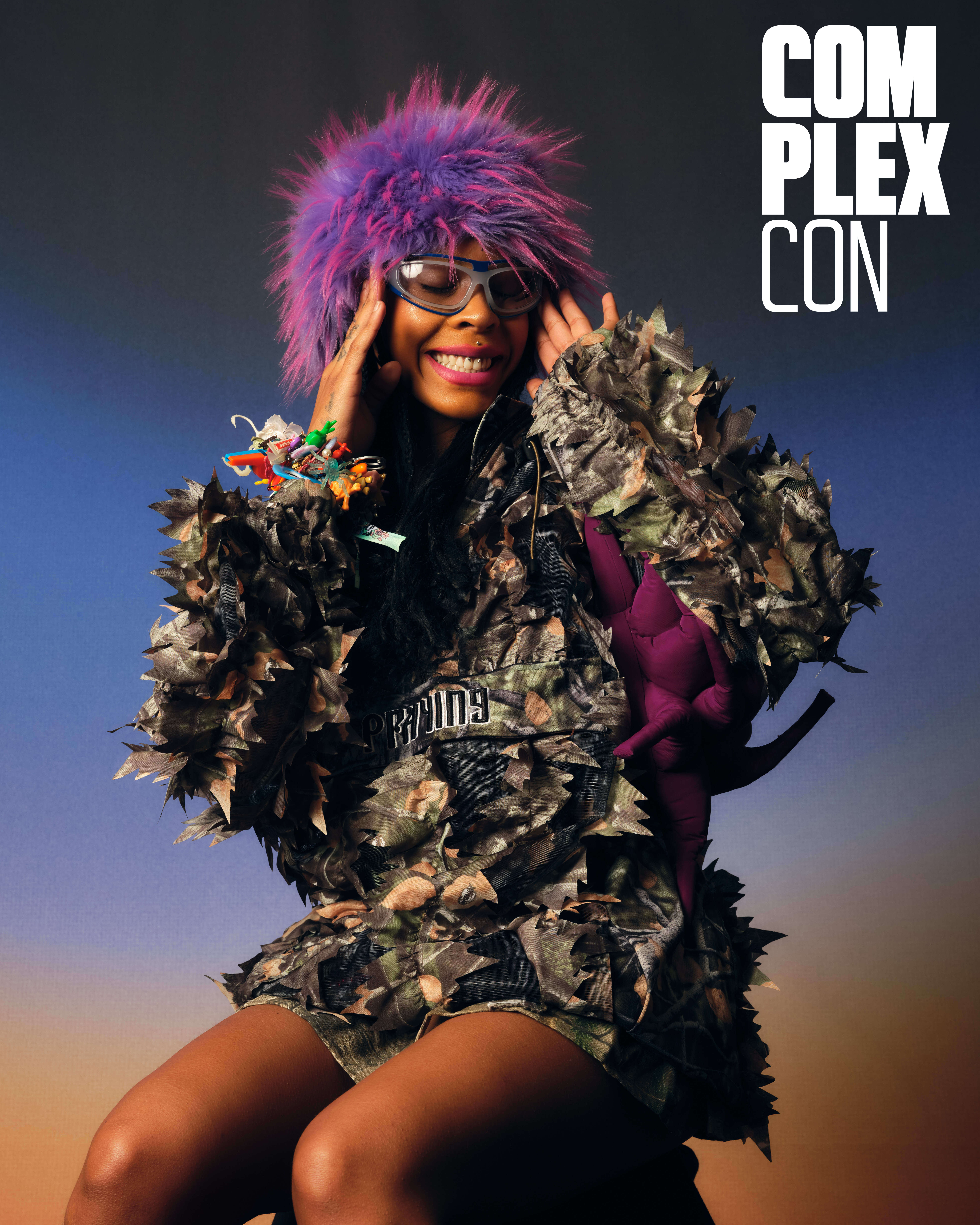 In lighter news, Tyler the Creator showed face (or rather hid it entirely), to show love to his friend and actor Jasper Dolphin at his Last Call booth. He then snapped a quick photo and walked the floor to peruse the brand booths like the rest of us. Nav also pulled up to the concert to enjoy and chat with us, and Rico Nasty made an appearance with her adorable mini-me. And fashion icon Michèle Lamy showed up, making her rounds and chatting with designers.
Winner: Lil Uzi Vert
Every one of Nigo's friends that showed up and showed out. But, Lil Uzi Vert reminded us how important it is to have a good kicker. The Philly-native was high energy on Sunday night as he sped through a few crowd favorites; so, when the rising Jersey club anthem "Just Wanna Rock" came on (to then be looped through twice more)? "That's my high."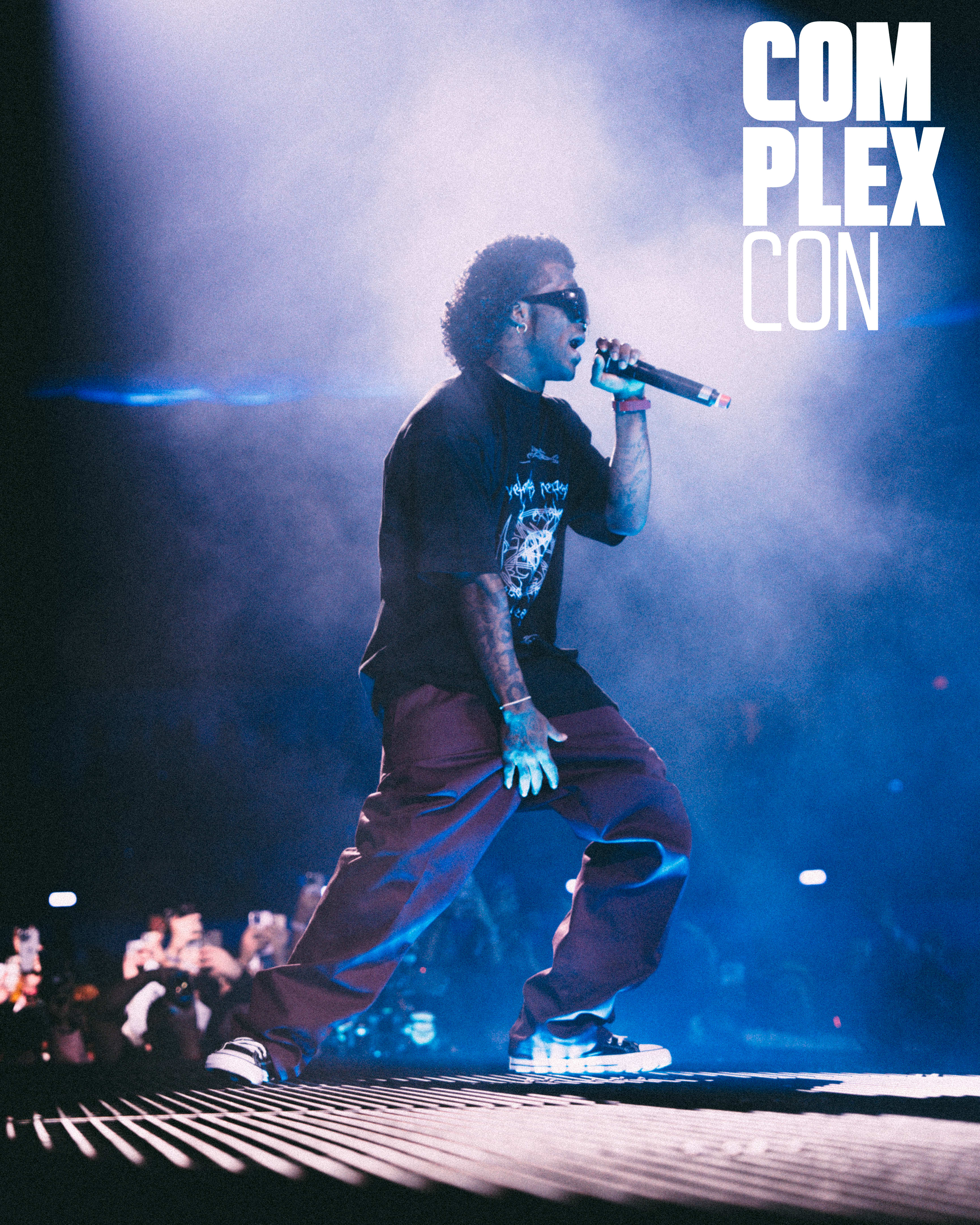 Winner: Michael B. Jordan revealing that Dreamville is executive producing the Creed III soundtrack
Saturday night was rife with insight into the mind of music greats—from a conversation with Hit-Boy to a discussion on the war on rap and, of course, a look back at the making of Lord Willin' in conversation with Clipse—there were many great takeaways. One of the more unexpected learnings came from a non-music-specific panel on Sunday night. At ComplexCon's Creed panel with Michael B. Jordan, the "Black Panther" actor, exclusively revealed that Dreamville is executive producing Creed III, out March 3, 2023.
Winner: Russell Westbrook

Honorable Mentions: Austin Ekeler
The stars were out in Long Beach for ComplexCon and one of the biggest names to grace the event was Los Angeles Lakers pro and former NBA MVP Russell Westbrook. The Lakers were luckily in town with a long homestretch so Westbrook took the opportunity to stop by and promote his clothing line, "Honor the Gift," which had its own booth at ComplexCon. Westbrook casually walked through the floor, donning his "Give Me My Flowers" shirt, as fans were in shock and surprised by his cameo. He eventually gathered a large crowd at his booth as he interacted with fans and hung out at the cash register while visitors shopped. 
Westbrook wasn't the only local pro athlete to pull up as Los Angeles Chargers running back Austin Ekeler came through as part of the Hot Ones x Chargers collab at the Eat Your Feed Fest at ComplexCon. 
Winner: How to fix the Los Angeles Lakers
While walking the floor at ComplexCon, various NBA fans unleashed their personal opinions on how they would fix the current Los Angeles Lakers in addition to how they'd rank LeBron, Michael Jordan, and the late great Kobe Bryant. And they held back no punches. 
"First of all, no disrespect to Patrick Beverley, but he gotta come off the bench," implored one fan when he spoke on how he would personally fix the Lakers. And while Beverley's name was mentioned often when it came to fixing the Lakers, most fans agreed that shooting and upgrading the back court were the two most glaring issues, with another fan claiming "see who is shooting the best in the G-League and call them up," while another also stated "get rid of Westbrook" as the ultimate solution to the Lakers woes. There were even requests for Dwight Howard to be brought back after his dominant debut in Taiwan.
But while the Lakers current roster was much maligned at ComplexCon, the love for one of the franchise's biggest icons, Kobe Bryant, didn't waver. In fact, Kobe received his flowers in abundance from Lakers fans in attendance, with most citing his desire and drive to win as their reasoning for him being the GOAT. "His mentality is just different from everyone else, so he's number one," claimed a fan in attendance.
There was no shortage of interesting opinions dressed up as facts at ComplexCon when it came to the NBA, but that's the beauty in everybody having a take.
Best Moments from the 'Creed III' Panel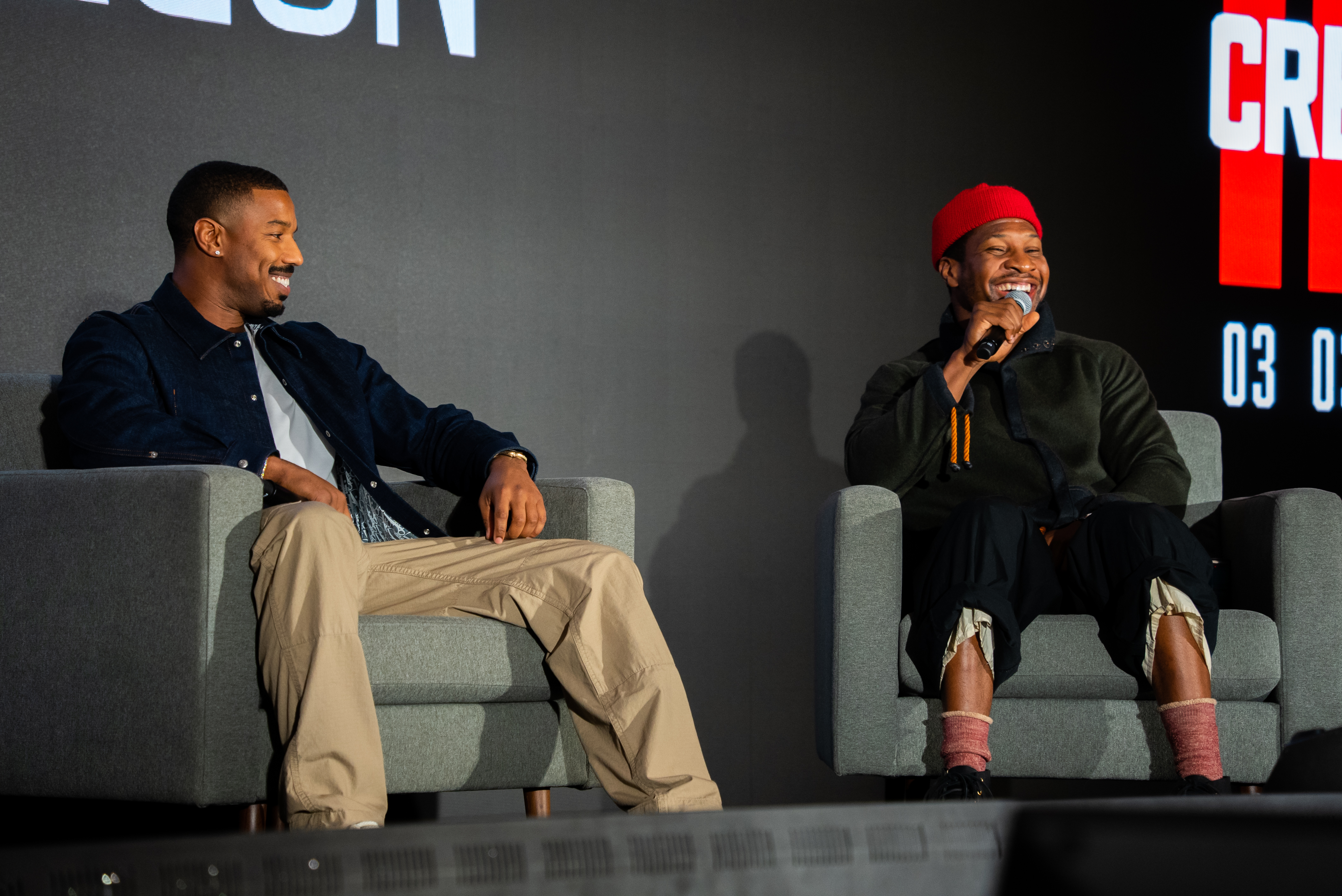 Winner: Dumbgood's American Psycho activation
Movie fans got to see a cult classic come to life this weekend. Dumbgood's activation this year was an ode to American Psycho, and they debuted a new collection inspired by the film exclusively at ComplexCon. The film, which starred Christian Bale as Patrick Bateman, was about a successful investment banker living in New York City who lived a double life as a menacing serial killer by night. 
The film has become a fan-favorite since its release for its examination of capitalism, misogyny, violence, and all the elements that made Patrick the monster he was. Dumbgood recreated his iconic minimalist apartment for their booth and included small details from the film throughout, like Patrick's "favorite album" Huey Lewis and the News' Fore! and reservations stickers for Dorsai, a restaurant that is mentioned frequently in the movie. 
"Dumbgood is all about pop culture," Dumbgood's co-founder and creative director Amelia Muqbel tells Complex. "We specialize in '90s and 2000s properties. We do all different types of genres but we really like to revisit movies like American Psycho, that we're showing today. Obviously, it's like a huge cult classic but I don't think they ever got their little merch moment back then." 
Fans who weren't in attendance will also have the chance to get their hands on some of these limited pieces online. "We worked really hard to secure the rights for this property, it wasn't as easy as some of the other ones but we finally got it so we brought it to ComplexCon to debut it first and it will also be available on our website Dumbgood.com," Muqbel added. "This is the first look at everything. It's a very limited edition collection, we won't be restocking it so everyone gets a chance to buy it here." 
Winner: Ezze Pawn Shop Curated by Buttery Pat

Honorable Mentions: Brain Slam Wrestling's ring, Awake NY's ode to NYC graffiti, Soulection's conversation pit, Vandy's burger joint, Cherry LA's diner, LRG x Round Two's treehouse
When it comes to the best booth at ComplexCon 2022, there were plenty of worthy contenders. It felt like every brand did their best to bring an experience to the table beyond just a rack of T-shirts and hoodies that really pulled attendees into their own respective worlds. And while there are certainly some more well-known names like Awake NY or Brain Dead that made sure to craft booths worthy of experiencing, the honor of "Best Booth" at ComplexCon 2022 has to go to one of the more under the radar exhibitors, Buttery Pat, and his collaboration with shopping app Ezze that turned Booth C7 into a retro pawn shop. The space housed a curation of 31 smaller brands like Chemist and Mauvais Garcon that were each given floor space to sell their assortment of reworked and vintage goods.
Entering the doorway of the 40' x 40' buildout felt like stepping into a time machine. Shoppers were transported into a shopping experience that felt more akin to a random mom and pop shop back in the '90s than ComplexCon. The space was lined with insane pieces like vintage Stussy letterman jackets hanging from the wall. The middle of the floor was populated by racks showcasing everything from exotic leather jackets to rare vintage T-shirts. Upcycled patchwork jackets and vintage copies of magazines like Complex and The Source were also up for grabs. One corner was home to sewers sitting at sewing machines creating pieces in real time. You could even get your own retro-inspired portrait taken if you wanted to, while old school glass display cases, cash registers, and handwritten signage further added to the retro vibe. Another surprise was a booth arranged right outside of the pawn shop disguised as a row of Porta Pottys. Anyone who stepped in was greeted by an elegant minimalist setup showcasing Buttery Pat's brand Trashmangrn complete with a live cello player. This attention to detail that couldn't be ignored and made us eager to see what Pat cooks up for ComplexCon next year.
Winner: Reissued Undercover 85 Denim 

Honorable Mentions: Awake NY x IRAK, Post Archive Faction x WADE's jacket, and Verdy x ComplexCon merch. 
The most exciting drop at ComplexCon this weekend was one you probably didn't even get a chance to see. On Saturday and Sunday, Undercover's booth was cleaned out in minutes for a pair of $2,550 jeans that were labeled by the Japanese brand on Instagram as "heavily distressed denim pants." When the jeans were first posted on Undercover's Instagram a week before ComplexCon, the hype was already clear in the comments. That's because Undercover decided to re-release its "85 Denim," one of the label's most sought after grails, in Long Beach this weekend. Originally released within Jun Takahashi's AW 05 'Arts & Crafts' collection, Undercover's 85 Denim were famously worn by Playboi Carti during his VFILES runway performance in 2016 and by rappers like Travis Scott. More than 15 years after they've released, these jeans continue to be sold on Grailed for as much as $7,000. The reissued versions jeans were limited to just 40 pairs, 20 for each wash, and are now listed on Grailed for as much as $12,000. But archivists should not fret. This writer heard that not all the jeans were actually released at the event. So stay tuned for what could be a very limited release in the near future.  
Winner: Fried Rice

Honorable Mentions: Brainchild, Savior Worldwide, Car Company
Outside of our Brands to Watch space, there are plenty of other young up and coming brands represented on the floor of ComplexCon. One of the best to return to ComplexCon for a third time this year was the rising New York City-based label Fried Rice, whose booth was swarming with attendees throughout the weekend. Founded by Maya Wang, Fried Rice is known for genderless and playful garments that puts emphasis on utilizing unconventional fabrics on unique workwear-inspired silhouettes. This year has already been a good one for the label. Fried Rice was a standout during New York Men's Day for New York Fashion Week's Spring 2023 shows and was also co-signed by Public School as an emerging New York City brand. Kendrick Lamar was even sighted wearing a Fried Rice reversible hooded down poncho while visiting Virgil Abloh's Figures of Speech exhibition at the Brooklyn Museum last month. So it's not surprising that fashionable basketball stars like Russell Westbrook also showed love to Wang's label at ComplexCon this year. The heart of Fried Rice lies within the creative community it implants itself in. So it's no surprise the clothes attracted the many creatives who call ComplexCon their home for one weekend every year.
Winner: Market

Honorable Mentions: Topps for its baseball card fishing setup; Soulection for its conversation pit; Kites Lab for its interactivity; and Brain Dead for its live Brain Slam wrestling matches

Market founder Mike Cherman has a long history with ComplexCon. He debuted his brand at the event in 2016 and he's been back each year ever since. He's known for his fun booth build outs, but this year he leaned into experience rather than product with a smaller booth space that didn't have a T-shirt in sight. Instead, when you walked inside the MKT Law Firm, you were greeted with a "lawyer" and his assistant who wanted to solve whatever "size" problem you were dealing with. After offering your size, the duo would present a clear tote bag covered with "Got Ya" (a take on the Nike SNKRS app's "Got Em" graphic, and a crocodile, which represented the remixed Crocs updated with a Nike check.  Market was giving them away as a gift with purchase. Buy the clear tote bag for $90 and you get the Crocs. Cherman called it performance art. We found it to be incredibly fun and engaging.