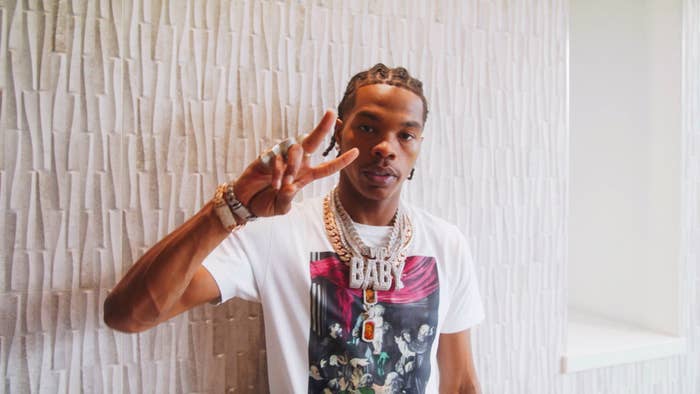 Lil Baby found himself in hot water last month, when he was taken into police custody in Paris on suspicion of carrying marijuana. He was released that same day, and thanked his friends and loved ones for checking in on him. "I'm good," he wrote on Instagram.
In a new Billboard cover story, the Atlanta native talked about how that experience could shape his career going forward. "The whole Paris experience let me know I got to get bigger overseas," he said. "Not saying to not go to jail for breaking the law, but for the police to know who I am."
It's clear that the rapper's legacy is on his mind. He has two sons, Jason and Loyal—and as Baby looks to the future, his focus is on his family. "Everything I'm doing is really for my kids," he explained. "I want more kids than I got because once you get older, you start to look at life differently."
"Where I come from, I'm the only one, so I have to build the generation up and keep the family going," Baby added. "I need more children to continue the legacy."
The interview also touched on Baby's support of George Floyd and his family. Last year, the rapper released his hit record "The Bigger Picture," which, at that point, was his highest-charting song. The track was a response to the police murder of Floyd and acted as a battle cry as protests swept the nation last summer.
"To make that song about social justice, and even talk about what happened to George, was phenomenal," Philonise Floyd, Floyd's younger brother, said. "I thank [Baby] a lot for that, because he let a lot of other people understand that, 'I might be from the streets, but I understand what's going on in this world.'" Philonise also commended the rapper for both attending and paying for Floyd's daughter Gianna's seventh birthday party in Atlanta.
Baby's meticulous business acumen has been noted by colleagues, particularly after his label 4PF landed a partnership with Motown Records, which allows him to sign and develop new artists. "I look at him, and I think a lot about Jay-Z and the way Jay put out music on a consistent basis at the beginning of his career," Motown Records chairman/CEO Ethiopia Habtemariam said. "Seeing where he came from—quiet in the back, but really pulling all the strings and making all the business moves and decisions—there's a lot of similarities there."
Baby's highly-anticipated, currently untitled third studio album is up next—and he's doing things differently this time. With this project, he's chosen to write out his lyrics rather than freestyling them, which he's done in the past.
"I'm in a whole different headspace than I was at with My Turn—I'm going to be at a different level every time I drop because I'm at different levels in life," he said. He also revealed that his dream collaboration with André 3000 is in the works. "I talked to somebody who be talking to him, and he's on it right now. We're in third-party communications."
Read Lil Baby's Billboard cover story in its entirety here.