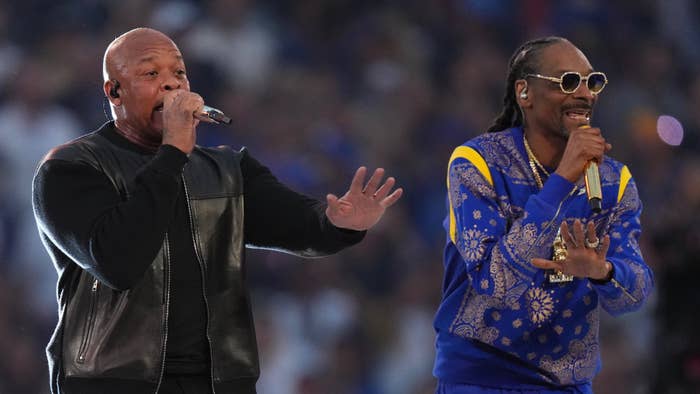 It's confirmed. Snoop Dogg and Dr. Dre have a new album on deck.
During an appearance on Stephen A. Smith's Know Mercy podcast, Snoop spoke about his bond with Dre and the evolution of their symbiotic relationship. After highlighting their early collaborations, the West Coast legend revealed he and Dre had started working on a full-length album over the summer. 
"You're the first one to hear this: Me and Dr. Dre have been working on an album for the past two months, and it'll be done in November," he told Smith (34:50). "And it's produced by Dr. Dre. It's our 30th anniversary to Doggystyle. And the name of the album is Missionary.
"Why that name?" the host asked.
"[Because] the first album was Doggystyle," Snoop responded.
Rumors of a Snoop and Dre joint effort began circulating earlier this year, after the two were spotted in the studio with figures like Saweetie, EPMD's Erick Sermon, and Eminem.
Snoop went on to tease the effort in a number of interviews with outlets like Rap Radar and ET Online; but he remained tight-lipped on what he and Dre had in store.
"We're cooking up a little something," he told the latter publication. "I don't wanna talk about it too much, but we're back together again. It's been 30 years since we worked on a record, and we're doing something, we're working on something."
After years with N.W.A., Dre kicked off his solo career with his 1992 single "Deep Cover," which marked his first collaboration with Snoop. They then joined forces on Dre's debut album, The Chronic, before teaming up on the aforementioned Doggystyle. Since then, Snoop and Dre have established themselves as one of hip-hop's most prolific and powerful duo.
Earlier this year, the two reunited for the Super Bowl LVI halftime show along with Eminem, Mary J. Blige, Kendrick Lamar, 50 Cent, and more. Snoop spoke about the performance during his sit-down with Smith. The host said he enjoyed the event, but wished Snoop and performed "Who Am I (What's My Name)?"
"It wasn't my show. It was Dr. Dre's. I was there to be the co-pilot ..." the rapper replied. "It was only 12 minutes of performance between Dr. Dre's catalog, Snoop Dogg's catalog, 50 Cent's catalog, Mary J's catalog, and Kendrick's—and Eminem's."
You can check out the full interview below.