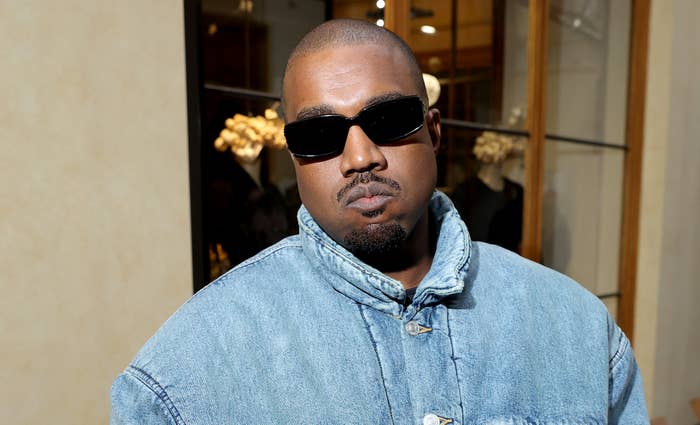 Kanye West took aim at Kwanzaa on Wednesday afternoon before making another harsh Pete Davidson reference and airing out some family drama.
After firing shots at Kid Cudi and Adidas' outgoing CEO, the multi-hyphenate returned to Instagram to question the secular holiday. Kanye claimed Kwanzaa was being taught to Black students at California's Sierra Canyon private school, which counts Kylie Jenner, Scotty Pippen Jr., Zaire Wade, Willow Smith, and Marcus Bagley among its alumni.
"What the fuck is Kwanzaa and who made that bullshit up?" Kanye wrote on Instagram. "Everyone lives in LA for the check anyway so no one really cares about their children being indoctrinated."
Though he didn't explain what prompted the post, Ye was clearly aware the take was provocative. "Let's see if I can get blocked by Mark again," he wrote in the caption, referring to Mark Zuckerberg, the founder of Instagram's parent company Meta.
Shortly after the post Kanye wiped his Instagram almost entirely clean (which he did a second time later Wednesday night), then added images of Serena Williams and the late Virgil Abloh followed by more thoughts on education.
"My kids going to Donda. They not going to Sierra Canyon. Charlemagne the God [sic]and Kris. Get your motherfucking popcorn," he wrote, captioning it "Hi Hilary Hi Mark You gonna take me off instagram."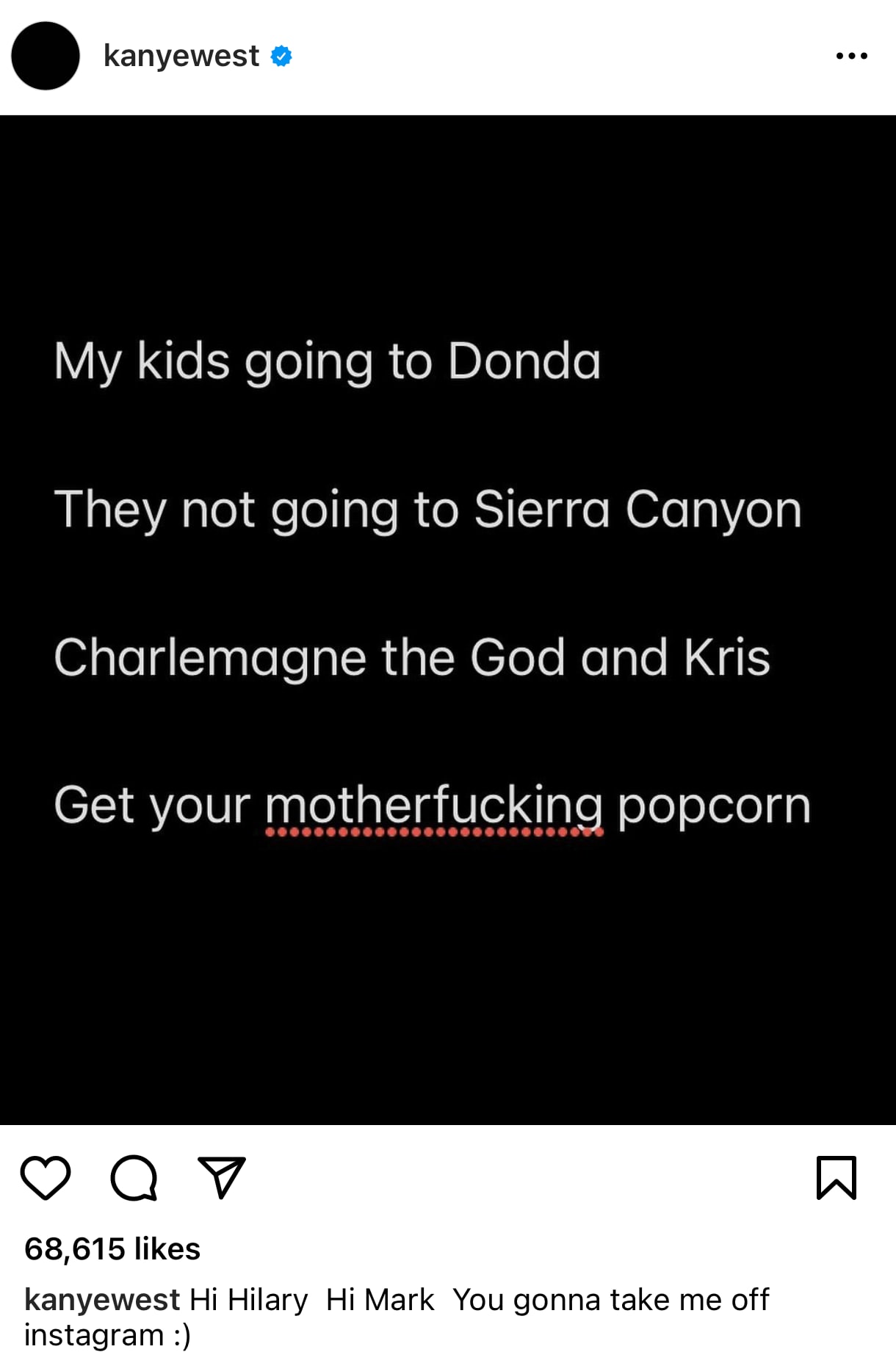 Kwanzaa was created in the 1960s by Black activist/scholar Maulana Karenga, who set out to celebrate the values, history, and community of the African-American and Pan-African cultures. Its name derives from the Swahili phrase "matunda ya kwanza," which translates to "first fruits" in English.
According to the National Museum of African American History and Culture, the annual celebration is centered around seven principals: Umoja (Unity), Kujichagulia (Self-Determination), Ujima (Collective Work and Responsibility), Ujamaa (Cooperative Economics), Nia (Purpose), Kuumba (Creativity), and Imani (Faith). It's observed from Dec. 26 to Jan. 1.
In 2021, West opened the doors to Donda Academy, a private K-12 Christian school located in Simi Valley, California. The school has adopted a project-based learning model that allows students to "grow in their faith and community through daily all-school worship and celebration at Sunday Service."
Yesterday Kanye posted a photo of Donda Academy students during their first day at school. The children were seen standing around tables rocking all-black uniforms consisting of Yeezy Foam Runners and long-sleeve tees emblazoned with the dove mascot.
Kanye also shared a screenshot of Victoria Villarroel's recent Instagram Stories post. Villarroel, who reportedly worked as Kylie Jenner's assistant for five years, was promoting the luxury handbag rental company Vivrelle.
"Don't let Kris make you do playboy like she made Kyle and Kim do," Ye wrote in the caption. "Hollywood is a giant brothel Pornography destroyed my family I deal with the addiction instagram promotes it Not gonna let it happen to Northy and Chicago."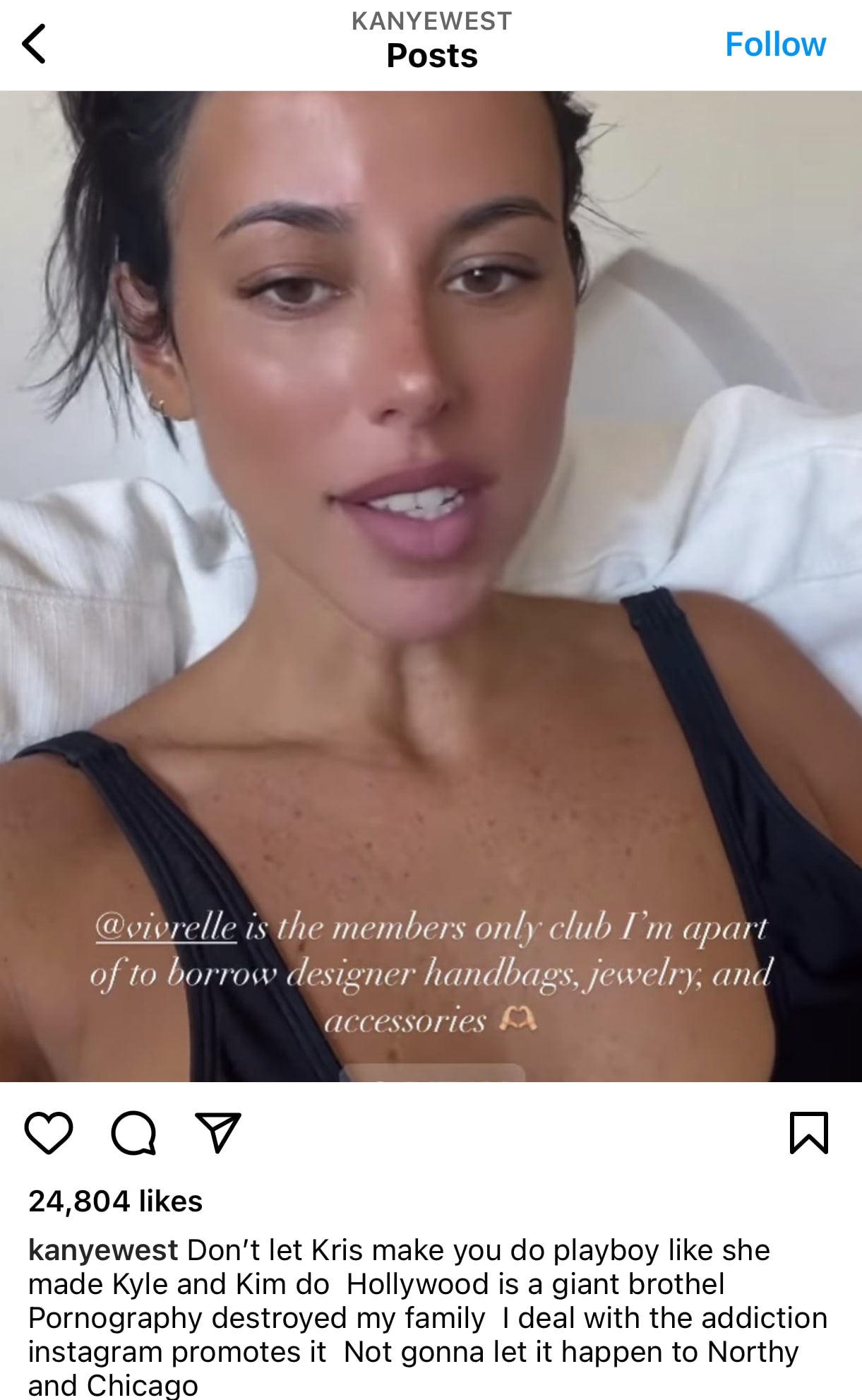 He also revealed a text message exchange with an unknown person asking "Can u please stop." Ye replied, "No. We need to talk in person. You don't have say so of where the kids go to school. Why you get say say. Cause you half white?"
That was followed by another text screenshot with who would appear to be one of Kris Jenner's children—Kim would be a safe bet—passing along a message from the matriarch. It reads, "From my mom- PLEASE. Tell him to please stop mentioning my name. I'm almost 67 years old and I don't always feel great and this stresses me to no end."
Ye defiantly replied, "Y'all don't have so so over my black children and where they go to school. They will not do playboy and sex tapes. Tell your Clinton friends to come get me. I'm here."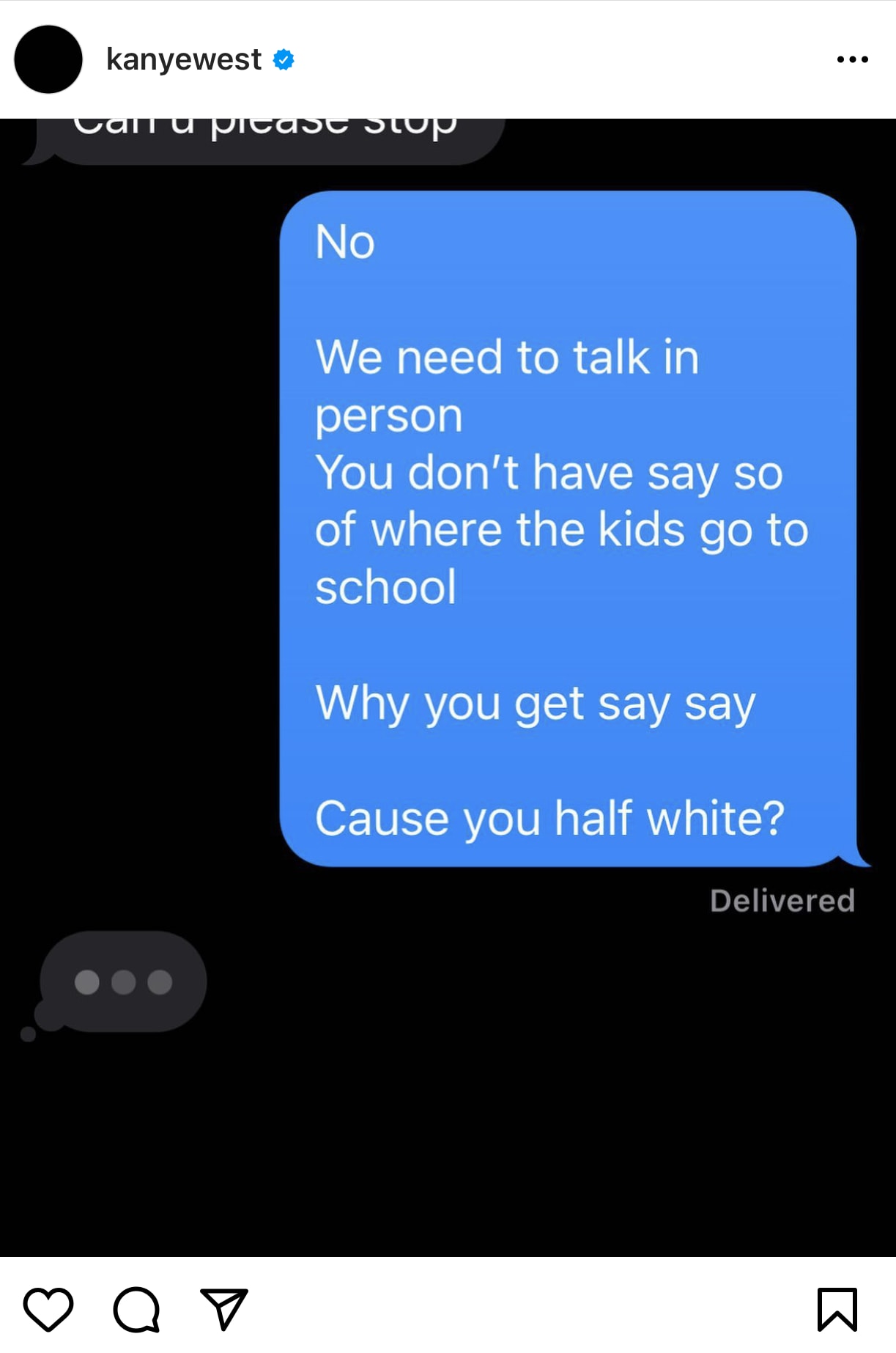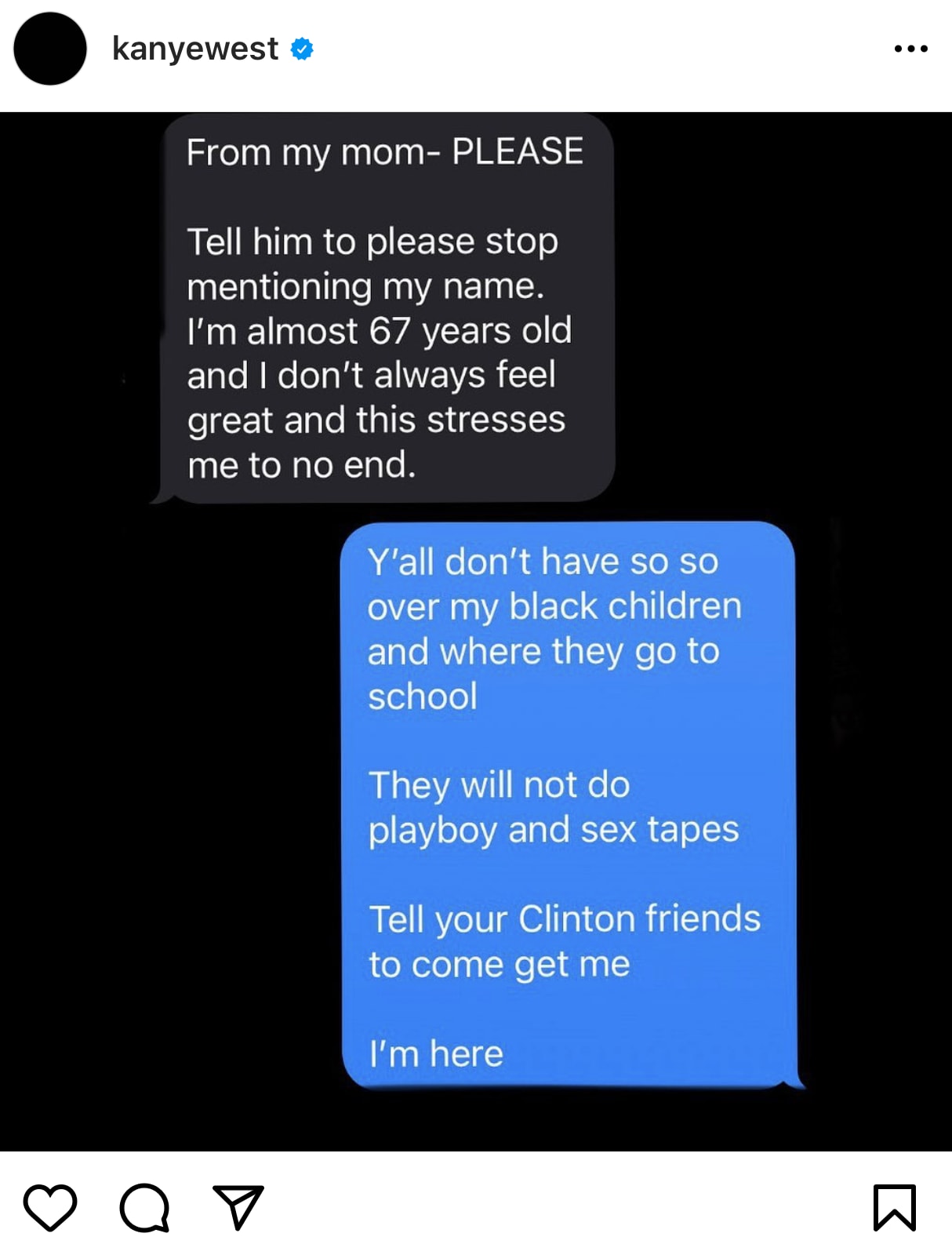 West then posted a screenshot of the names Tristan, Trav, and Scott—which he clarified meant Travis Scott—plus a google search about sperm donation, captioning it, "Calling my fellow cum doners We in this 2gthr."
Just before 9 p.m. he posted again, addressing people who think he's "spiraling when I express the undeniable truths."
"Y'all not finna keep discriminating on me while the organizations use me and use us all," he captioned the message, part of which read, "'Oh Ye crazy' is basic as fuck at this point. I'm simply right. I know girls who sell pussy that don't agree with how my daughters are displayed."
He followed that with another post asking fans to "imagine not having any say so on where your kids go to school."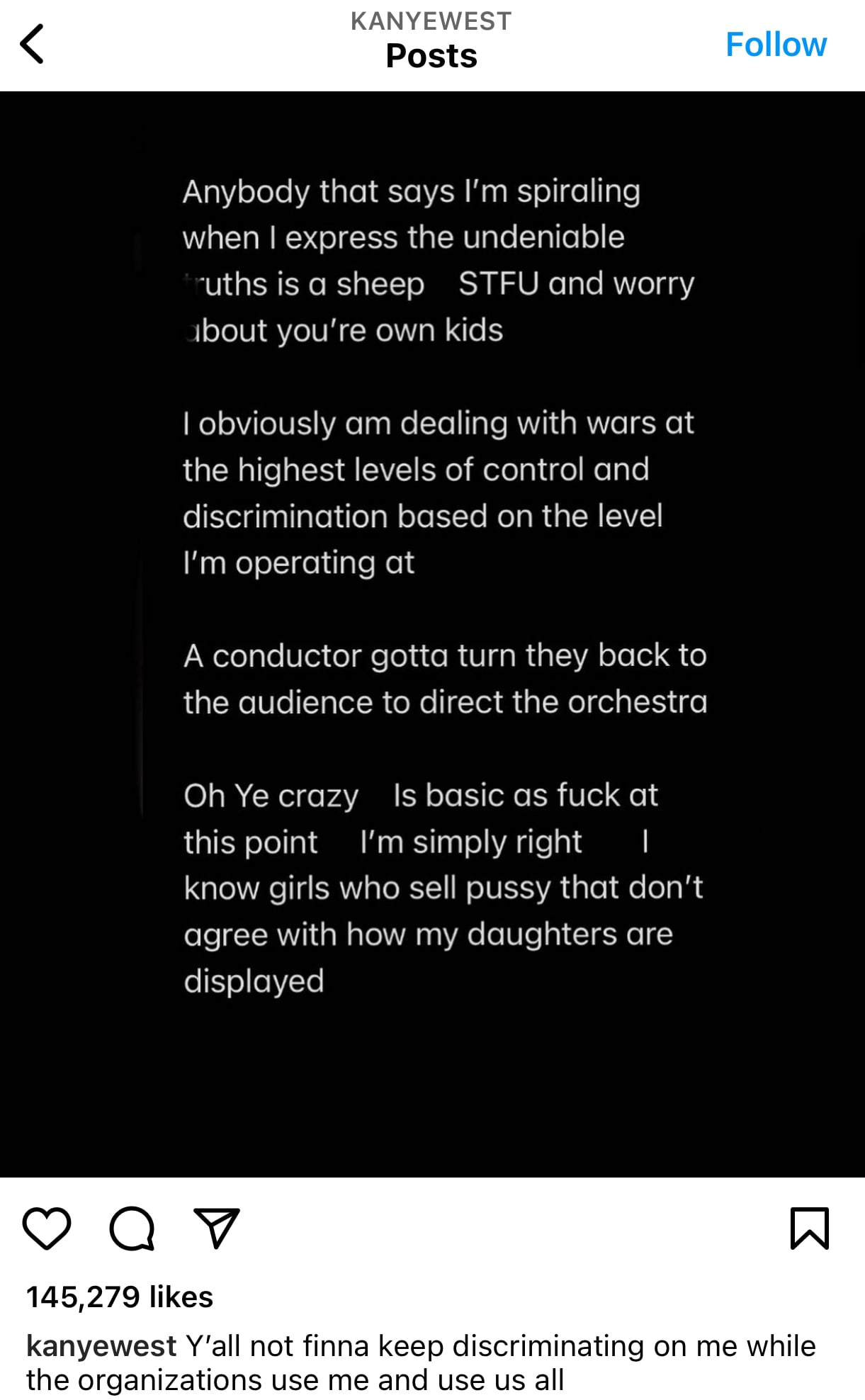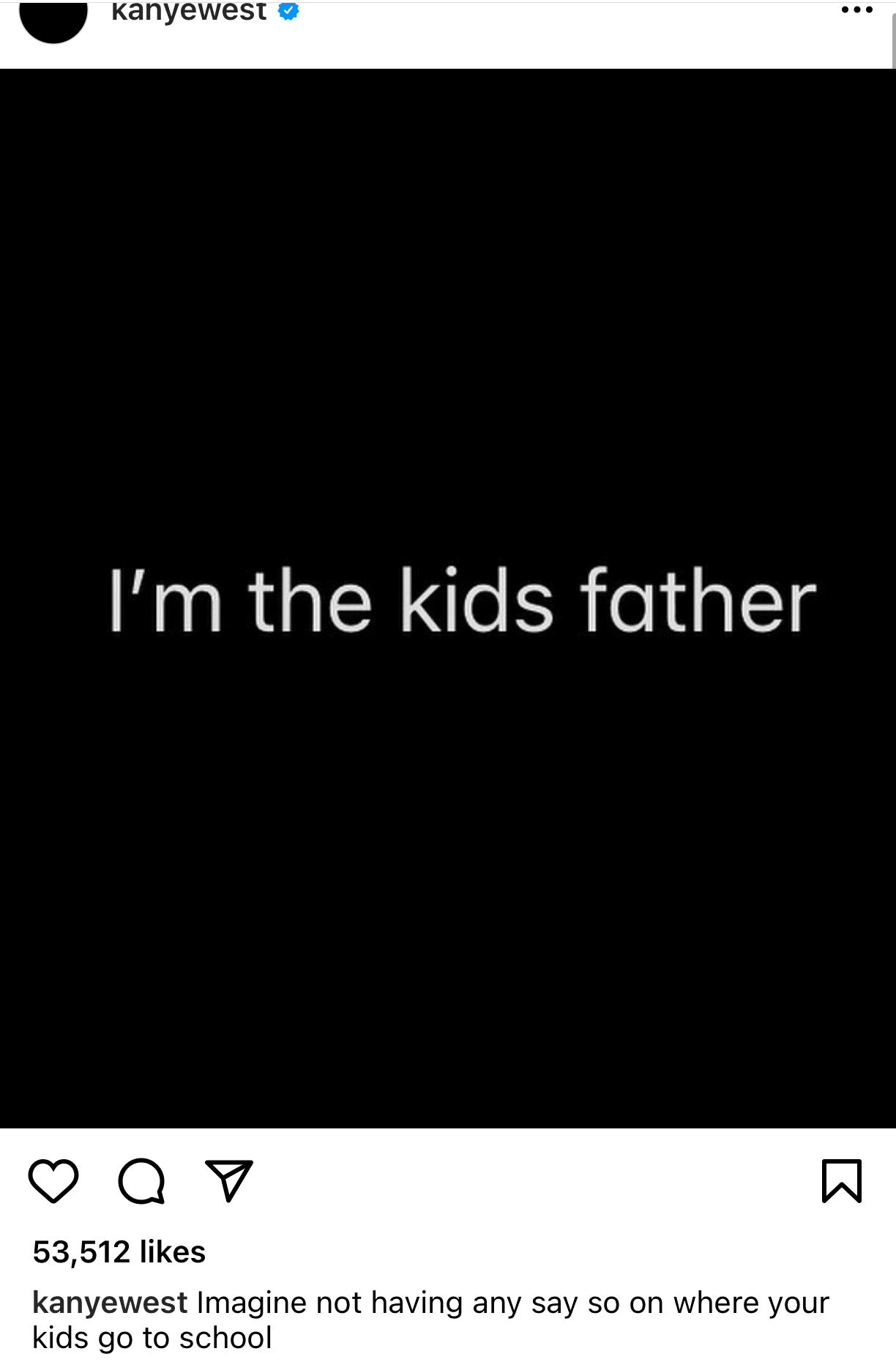 As he continued the family and parenting train of thought, Ye slid in another out-of-pocket diss about Pete Davidson's mental health and rehab history, writing, "Ask Pete how those tattoos of my kids doing in the trauma unit."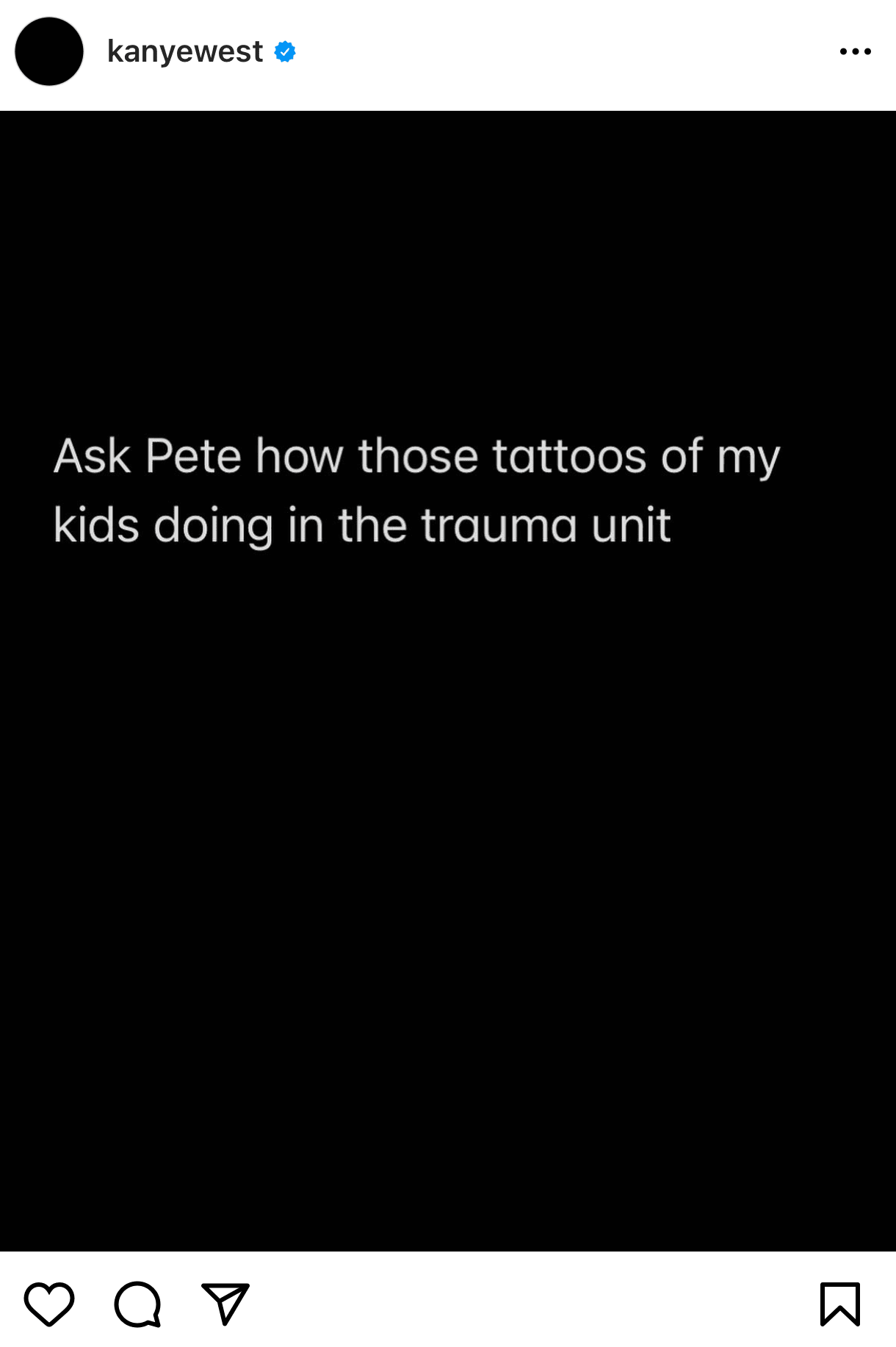 He also said today's messages are "about control."
"My kids. YZY ADI. YZY GAP. It's up on all 3 of these issues. At the same time," he wrote. "Cause it's all the same mentally that makes these people feel they can keep getting away with things."
Other quotes included "it's not up to Calabasas or Hulu where my kids go to school" and "come and get me I'm a man of God The fathers job is to be the bad guy some times So Trevor Noah come speak on my family so I can be the bad guy."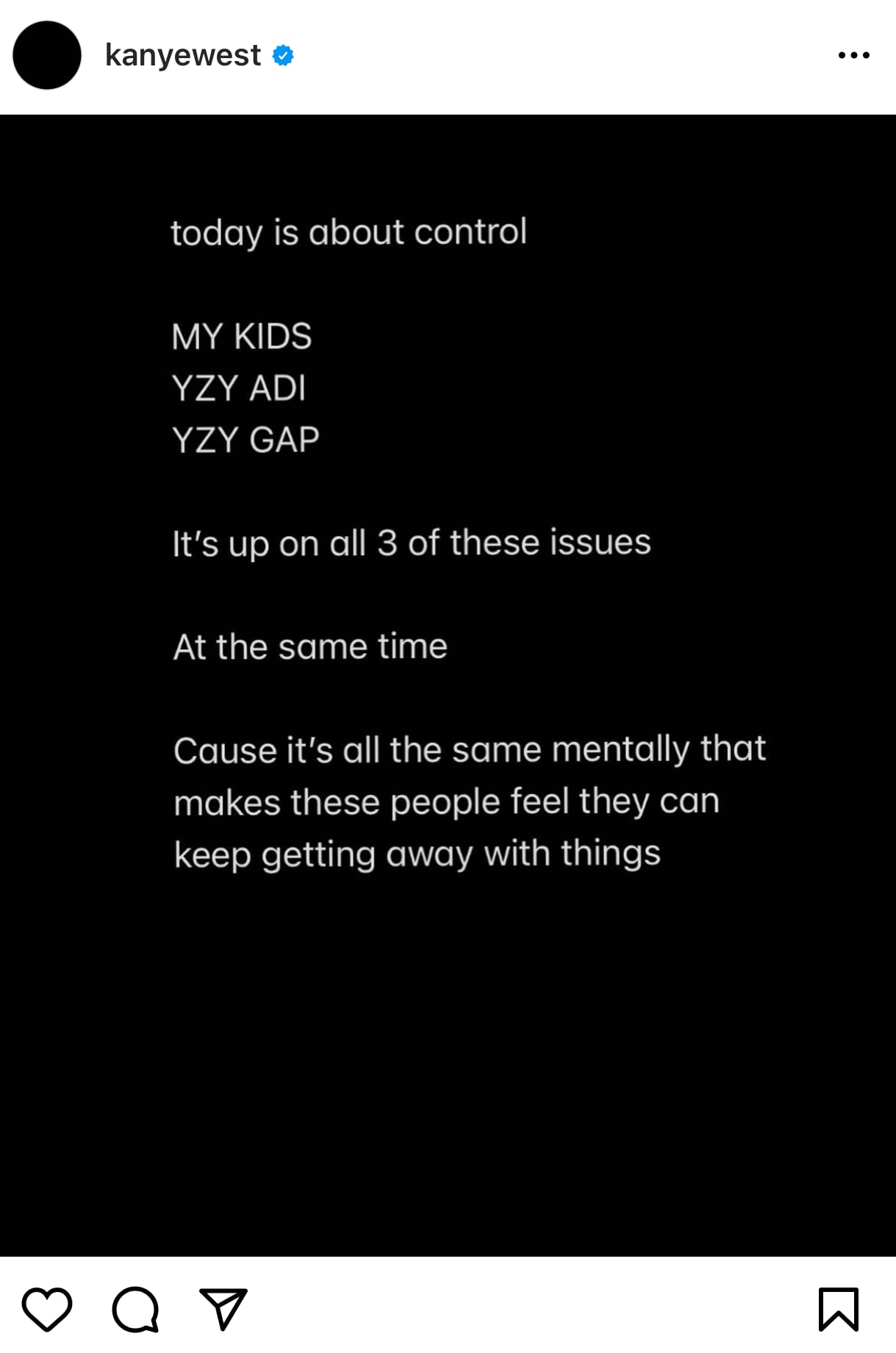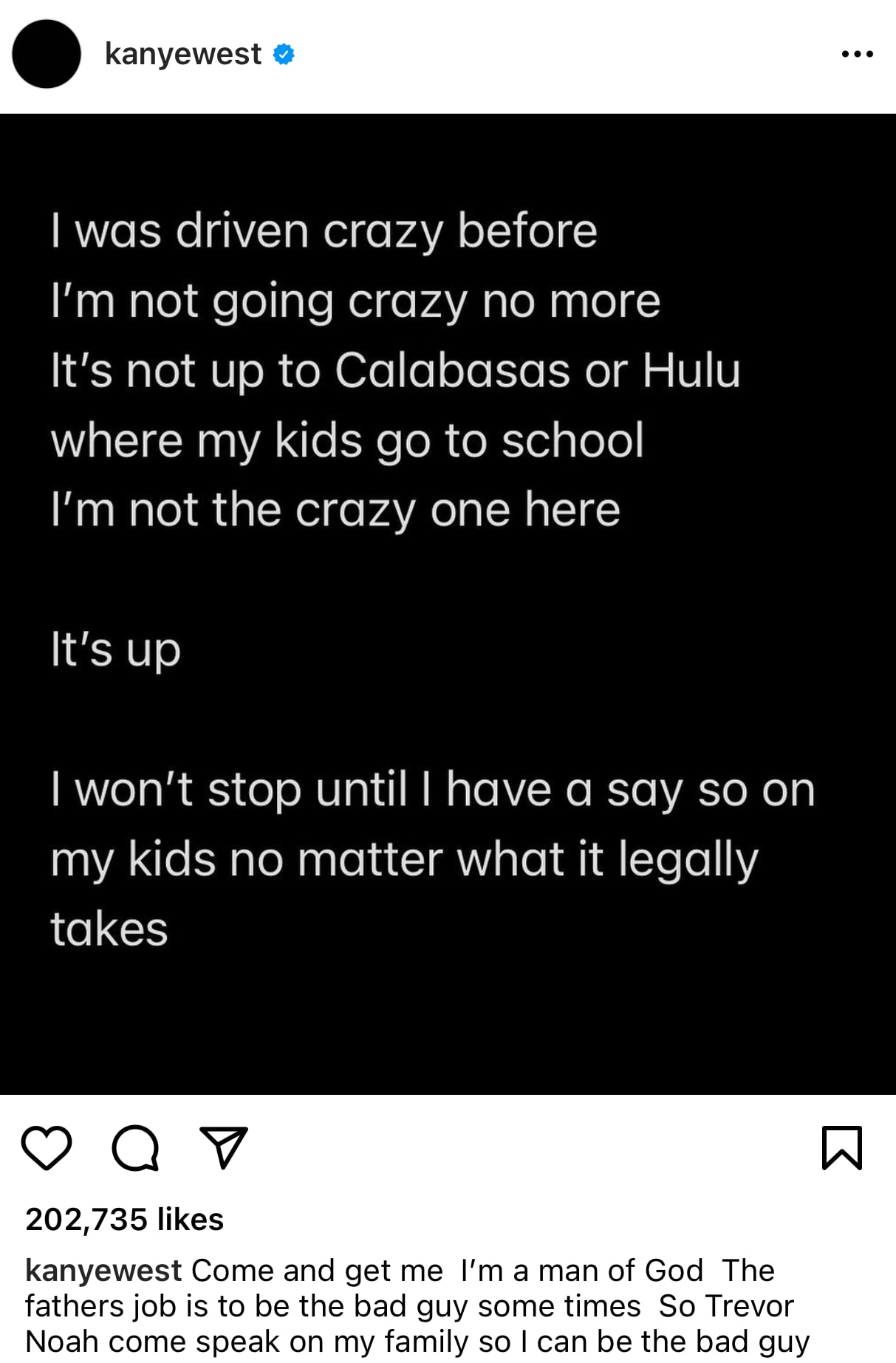 Ye's Instagram feed no longer features any of these posts, with the exception of the Aug. 31 Donda Academy photo. By Friday morning, Ye had shared another update, this time offering a breakdown of what he says is "the through line" to all of this. In the same post, he also said those offering criticism of his recent posts can "call me whatever names you want."