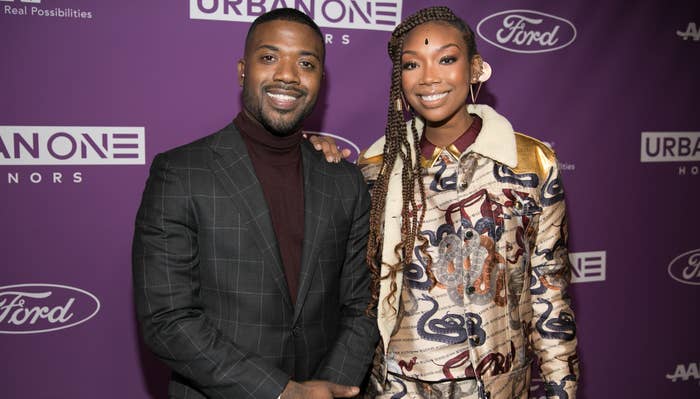 UPDATED 7/15, 1:15 p.m. ET: Ray J is speaking out against critics who ripped the singer's recent tattoo of his sister Brandy.
TMZ caught up with Ray J at LAX, and the R&B star made sure to defend his sister from the haters who had a problem with his new ink.
"It's my leg. It's my sister," he began. "I love my sister and that was just a symbol of me saying thank you...if it wasn't for her I wouldn't be here. I'm humble."
As for the haters, Ray J said, "If you a hater, it's okay...Love is love. Love kills hate. I love my sister," adding, "she didn't like the tattoo either."
Watch his full response below.

See original story below.
Ray J has never shied away from professing his love for his older sister Brandy.
The actor and singer took to Instagram on Tuesday to unveil a new tattoo he got in honor of his sister. The tattoo, which Ray J had inked on his leg, features a portrait of Brandy's face with "Best Friends" written across her forehead and "4 Ever" on her cheeks.
The clip, which was soundtracked with his sister's 1995 hit "Best Friend," features tattoo artist Mashkow inking the singer's right thigh. Ray J captioned the post by revealing plans to get his entire leg tatted with things such as "family," "music," "positive words and themes," "scriptures," and "ghosts," among other things.
It sounds like Brandy supports the ink, as she commented, "Brooooooo" alongside a series of heart emojis.
It isn't the first time Ray J has paid tribute to his sister with a tattoo. Back in 2021, it was revealed that Ray J had Brandy's name tatted on his arm, with the ink noticeably inspired by the font used on the cover of Brandy's 1994 self-titled debut album.
At the time, Brandy appeared to be pleased with her brother's tribute, as she took to her Instagram Stories to post a screenshot of his ink, writing, "This is real love. I couldn't have asked for a better brother. I love you @rayj."