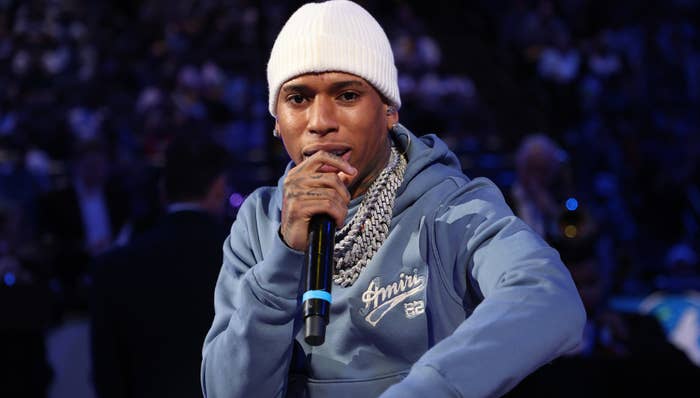 NLE Choppa credits his daughter with changing his life.
The Memphis rapper hopped on Instagram on Saturday to share a tribute to his two-year-old baby girl, Clover. NLE claims she "changed my life," and arrived into the world while he was "contemplating suicide."
"This is my 'ANGEL,'" Choppa wrote. "Clover Literally Changed My Life, The Reason My Spiritual Awakening Happened Cause I Knew Longevity In My Life Was Needed To Be In Yours. So Thank You Clover For Maturing Me Faster Than Anything That's Ever Happened To Me In LIFE.
"You Are The Reason I Want Better, You Are The Reason I Love, You Are The Reason I LIVE. Before You Was Here I Was Contemplating Suicide, When I Found Out You Were Conceiving You Gave Me Something To Not Only Look Forward To, But Something To Live For!"
He added: "Thank You For Saving My Life My Little Goddess, IM FOREVER IN DEBT TO YOU, I Owe It All To You. Your The Reason I'm Still Here. SHE TURNS 3 NEXT MONTH."
Back in April, NLE returned with his latest full-length offering, Cottonwood 2, the long-awaited sequel to his 2019 breakout EP Cottonwood. The 22-track project features guest appearances from Lil Wayne ("Ain't Gonna Answer"), Fivio Foreign ("Dope"), Kevin Gates ("Habits"), Rick Ross ("Cold Game"), and Polo G ("Disability Checks"), among others.
Prior to the release of Cottonwood 2, NLE spoke with BET about his expectations for the project, which he believes will re-soldify himself atop the hip-hop pecking order.
"I feel like I kind of messed up my breakout year because a lot of things got in my head, and by the end of the year, I was kind of in a slump," he explained. "Cottonwood 2 is pretty much letting everybody know that it came back full circle for me. It's giving me another chance with a breakout year and now it's like how do I capitalize? How do I make this project the best foot forward? How do I redeem myself from the last one even though the last one's gold?"