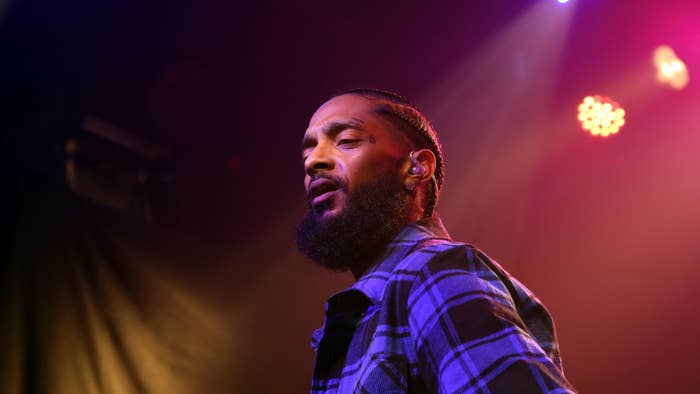 UPDATED 6/29, 2:45 p.m.: Eric Holder's attorney told TMZ on Wednesday that his client was attacked by two people inside his cell and, per the outlet, "cut in the head by what is believed to have been a razor."
Holder reportedly went unconscious in the assault and required three staples on his head.
Prior to receiving that information, TMZ was in court and noted evident stitches on the rear of Holder's head, writing he "appears to have a slightly swollen left eye, plus more stitches cutting their way through his hair."
Police sources told the outlet that Holder was jumped as he was waiting to get his bus to court on Tuesday. TMZ added, "The jury is in the courtroom too, but no one has so far addressed Holder's injuries...the judge, prosecution and defense are just moving forward as if nothing happened.
See original story below.
Nipsey Hussle's alleged murderer was unable to attend his trial on Tuesday, reportedly due to injuries he suffered from being physically assaulted in jail.
Rolling Stonewrites that Eric Holder, 32, a Rollin' 60s gang member accused of fatally shooting Nipsey outside a South Los Angeles shopping center on March 31, 2019, was attacked sometime after leaving a Los Angeles courtroom on Monday afternoon. A source told the magazine Holder "suffered more than a black eye," although the extent of his injuries have not yet been confirmed.
"Based on some unforeseen circumstances that are no fault of parties here, we won't be in session today," the judge told the court. Defense lawyer Aaron Jansen added that the delay was related to something "medical."
Holder, who was indicted on one count of murder, two counts of attempted murder and one count of possession of a firearm by a felon, if convicted, faces life in prison. He has pleaded not guilty.
Jansen, in his opening statement earlier this month, alleged Holder was under the assumption that Hussle accused him of "snitching," which the defense lawyer called "a grave sin in gang culture."
"This is a case about the heat of passion," Jansen told jurors. The lawyer went on to claim that the alleged remark made Holder "so enflamed and enraged" that he opened fire on Nipsey "a mere nine minutes later" before he could regain his composure. 
Court is expected to resume on Wednesday, with Holder's defense scheduled to include two witnesses. Closing arguments could then proceed Thursday.