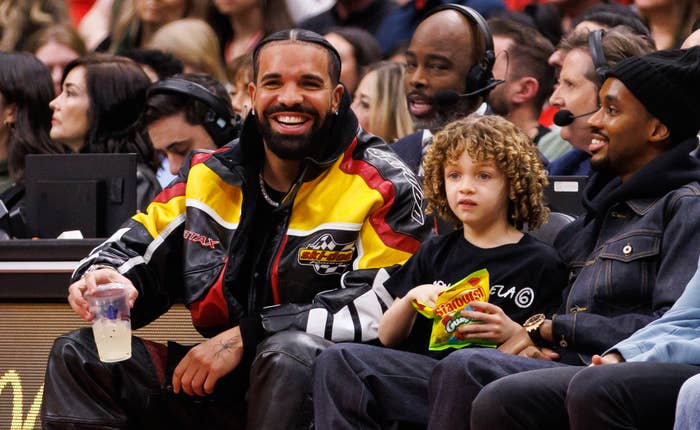 Drake's son experienced quite the Take Your Child to Work Day, as Adonis watched his dad perform on the latest stop of his It's All A Blur Tour.
The presence of Drizzy's 5-year-old son prompted the rapper to remind concertgoers to avoid throwing bras onto the stage at the Kia Forum in Inglewood.
"Hey look to be honest with you, I can't talk about titties tonight and I love you," Drake told the crowd as seen in a video circulating on social media. "'Cause my son is at the show for the first time ever."
"So we are gonna keep it PG tonight, y'all, keep them bras on," he added.
Of course, Drake's comments were warranted, and for good reason.
Back in July, a women became a viral celebrity after throwing her bra on stage. The moment happened during a Drake show at the Barclays Center in Brooklyn, New York, when Drizzy witnessed a 36G-sized bra land on stage.
"36G?" Drake said as he got ahold of the bra. "Locate this woman immediately."
Days later, the woman, Veronica Correia, 21, scored a content deal with Playboy.

"I know I can crush it and make meaningful income," Correia told the New York Post in July. "Other Bunnies are making millions of dollars a year on Playboy, so I couldn't be more excited to tap into that potential. I will be posting exclusive content for my fans and subscribers that makes me feel confident and beautiful."