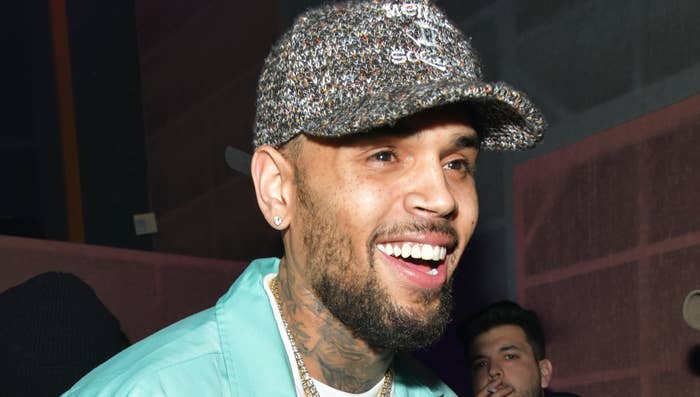 Chris Brown recently enlisted celebrity dentist Thomas Connelly for new gold grills with an added twist on what we're used to seeing.
TMZ reports Breezy dropped $100,000 on 24-karat gold grills covering all of his 28 teeth, outfitted with a magnetic retention design that won't affect his speech. 
Connelly took to Instagram this weekend to show off the new design.
"These grills are 100 percent 24kt gold covering all 28 teeth," the dentist captioned a picture of Brown's new smile. "What makes these grills unique is their magnetic retention design. Breezy had 9 magnetic embedded gold crowns placed on all his back molars. This allows the grills to fit and lock in the magnets with precision on the fronts of all the teeth. The magnets not only make the grills super secure but they allow less metal that usually covers the inside of the teeth. With no metal covering the inside of the teeth, Chris can sing and speak normally while wearing an entire set of grill."
Breezy isn't the first high-end client Connelly has recently treated. Last month, Post Malone commissioned Connelly for some serious reconstruction, dropping over $1 million on porcelain veneers framed with two diamond fangs. Posty's dental work included 28 units of ceramic restoration, with the two diamonds amounting to a total weight of 12 carats.
According to Dr. Connelly, the project was a collaboration between himself and cosmetic dentist Naoki Hayashi, a team of gem cutters at Bichachi Diamonds, and the bling experts at Angel City Jewelers. 
"Post Malone's epic ICE smile has set a new precedent in the music world of who has the most 'Drip,'" he wrote in an Instagram post. 
Aside from Brown and Malone, the superstar dentist has also spearheaded dental work for DaBaby, Shaquille O'Neal, and Odell Beckham Jr.