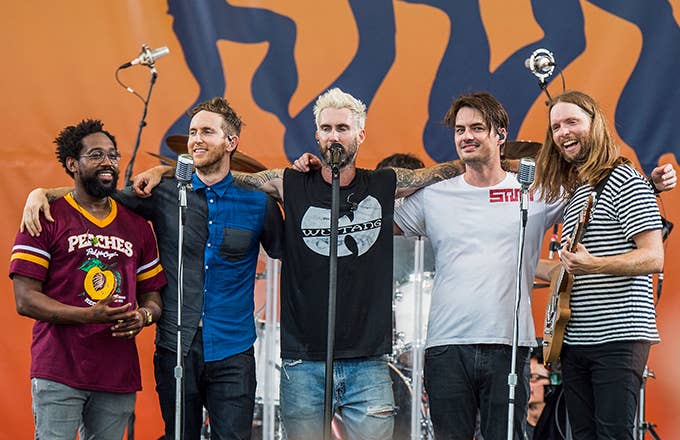 PJ Morton has been an official member of Maroon 5 since 2012, and in a new interview with People, he said he'll be fufilling his "lifelong dream" when he joins the rest of the band during their controversial Super Bowl halftime performance next month. He also talked about the response to the announcement that they'll be performing.
A number of high-profile musicians, including JAY-Z and Rihanna, reportedly turned down the opportunity to perform in support of the NFL's treatment of Colin Kaepernick's protests against police brutality. As such, Maroon 5 have received a lot of criticism for their decision to play the show, but Morton told People that the band still support Kaepernick.
"I think there are plenty of people—a lot of the players, to be honest—who support Kap and also do their job for the NFL," Morton explained. "I think we're doing the same thing. We can support being against police brutality against black and brown people and be in support of being able to peacefully protest and still do our jobs. We just want to have a good time and entertain people while understanding the important issues that are at hand."
A petition has been launched to encourage Maroon 5, Travis Scott, and Big Boi to take a knee during their performances at the Super Bowl. The addition of Big Boi and Travis Scott to the performance has done little to offset the criticism the band has received. Morton has said that him and the rest of the band have chosen not to focus on the critcism right now, however. "You can get bogged down by those things, we're not focusing on the negative now [while] being aware, being open, and definitely not ignoring the voices," he added.
Morton didn't indicate whether Maroon 5 would make some sort of statement during their performance or not: "We got some time before we get there, and whatever we do, I'm going to stand behind [it] and be proud to be up there doing what I do."