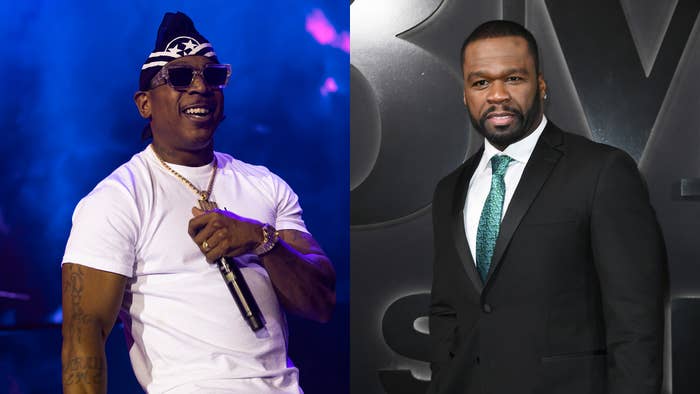 Ja Rule and 50 Cent's long-standing feud is once again simmering after the Minnesota Timberwolves have been dragged into it.
"There's a curse, there's a curse on the Timberwolves because somebody made a mistake and they let Ja Rule perform at [a] halftime show and it was the worst shit that ever happened," said Fif in a recent video with the NBA team. "But what happened is he cursed the Timberwolves. So now we're gonna get rid of the Timberwolves curse. I got a whole ritual planned to break the curse. So everybody get ready to follow it. You will get a chance to see what I do when the curse is broken."
Ja caught on to Fif's latest antagonization and dropped in the comments to offer his response. "#RENTFREE," wrote Ja in the comments. "Only thing Curtis lifting is his skirt… 50 been on my dick he love my style!!! And now the curse has been extended..."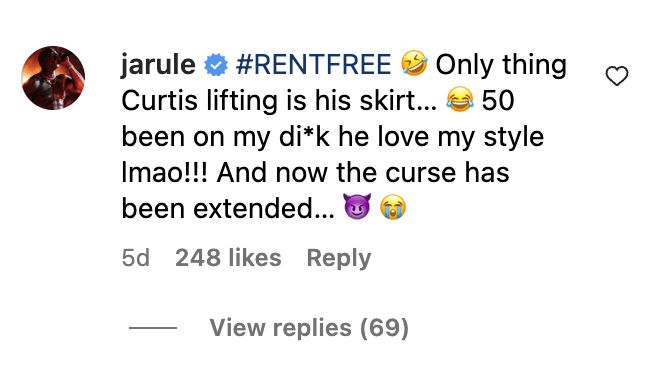 Back in 2019, Ja Rule performed at a halftime show for the Minnesota Timberwolves and was widely criticized for delivering what many saw as a lackluster show. Even the official Timberwolves Twitter account got in on the criticism, which led Ja to issue a purported curse.
"You just jinx yourself talking to the GOD this way," he wrote in a tweet shared in February 2019. "Your CURSED NOW!!! You won't win a championship for the next 30 years… AND KAT IS LEAVING!!! Apologize and I'll lift the curse."
50 Cent recently partnered with the team, in a deal that will bring his Sire Spirits brand into the team's home area, the Target Center. He shared a video from the organization's offices to celebrate the deal, and jokingly referred to Ja's curse. "We had a curse," 50 told the staff in a video. "Somebody fucked up, and they let Ja Rule perform at halftime. Now, what we're gonna do is take the curse off."