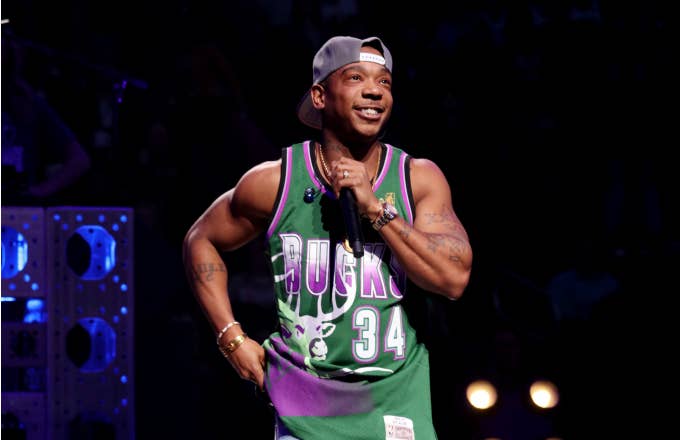 Ja Rule is once again getting roasted thanks to an awkward night in Milwaukee.
On Saturday night, a viral clip showed Ja Rule having some difficulties during the Milwaukee Bucks' 90s Night halftime show. In the clip, Rule is seen trying to set the stage for his performance with a joke that didn't go over that well. 
"They said this is 90s night so they brought out a 2000s artist," Rule said.
He then tried to hit a beat drop into the beginning of his set.
"We ready? Are we ready?!," Ja asked, to very few audible cheers. "I guess not."
But Ja wasn't going to roll over and take the heat. Instead, he blamed technical difficulties for the embarrassing clip.
"Y'all really be on my dick," Ja began. "Let's be CLEAR my sound was f*cked up at first and didn't come on when it was supposed to but I rocked that b*tch... thanks for the love Milwaukee!!! Great win my streak continues..."
The Bucks' opponent Minnesota Timberwolves also tried to come at Ja, who responded with a Lil B-esque curse for their disrespect. (For the record, the Timberwolves did end up losing.)
Ja Rule also defended himself against a clip of Giannis Antetokounmpo disregarding his performance to get some early shots in.
Even with all the noise surrounding his show, Ja Rule seemed to be satisfied with the exposure as he let his followers (and haters) know that he's still getting to the bread.