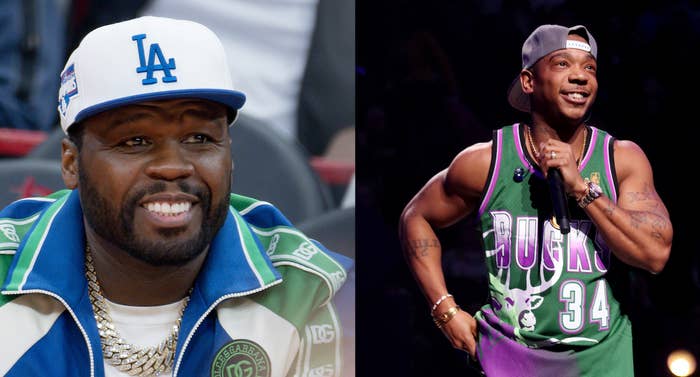 Back in 2019, Ja Rule put a curse on the Minnesota Timberwolves after he delivered a disastrous performance during halftime of a game between the T-Wolves and Milwaukee Bucks.
"Y'all really be on my dick," Ja said at the time. "Let's be CLEAR my sound was fucked up at first and didn't come on when it was supposed to but I rocked that bitch… thanks for the love Milwaukee!!! Great win my streak continues..."
In a subsequent tweet, Ja placed a curse on the T-Wolves, after the team's social media team poked fun at the rapper's performance.
"You just jinx yourself talking to the GOD this way… your CURSED NOW!!!" Ja wrote. "You won't win a championship for the next 30 years… AND KAT IS LEAVING!!! Apologize and I'll lift the CURSE!"
Four years later, Ja's arch enemy 50 Cent has decided to lift that curse.
Fif recently partnered with the T-Wolves, signing a deal that will bring his Sire Spirits brand into the team's home arena, the Target Center. In a video posted to Instagram, 50 Cent made an appearance at the organization's offices to celebrate the deal, while also telling staffers his plan to lift the curse Ja put on the team four years ago.
"We had a curse," 50 told the staff. "Somebody fucked up, and they let Ja Rule perform at halftime. Now, what we're gonna do is take the curse off."
A clip of Ja's 2019 halftime performance played from one of the staff members' computer screens, followed by audio of Undisputed host Shannon Sharpe referencing Ja's infamous Fyre Festival. "Skip, this might be worse than Fyre Festival," Sharp says.
Watch 50's latest troll job up top.