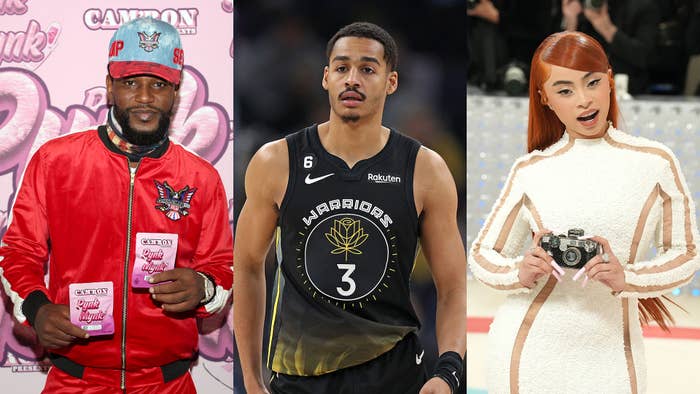 On a new episode of his show It Is What It Is, Cam'ron called Golden State Warriors guard Jordan Poole "a munch" following his rumored date with Ice Spice that supposedly cost him $500,000. Again, all rumors as Poole and Spice haven't confirmed their date whatsoever and it is all speculation.
When the Dipset rapper's co-host Mase brought up Poole at the four-minute mark of the episode, as seen below, Cam'ron said the NBA player was "pissing me off." He said that Poole has been "stinking it the fuck up" and hasn't been playing very well in the playoffs, and suggested there's no reason behind his weak performance.
Jordan Poole, you spent $500,000 on an Ice Spice date," he began. "You're a munch and you're playing like a fucking munch. This is not you from last year, bro. Go back to Milwaukee and figure it the fuck out and get back in the playoffs 'cause you look crazy. 'Cause I had your back last year! You got n****s out here talking 'bout, 'What was all that Jordan Poole you was poppin'?' You fuckin' a munch. Nah, he's a munch, 'cause I had his back."
He then proceeded to highlight how Poole was in the G League before he became a more integral part of the Warriors roster in the 2021-22 season. "Jordan Poole was in the G League and then he had the comeback, and I'm like, 'Yeah, n***a got his just due,'" he continued. "Now, you a munch. I better see a fucking difference. … I'm sicking of that n***a."
Cam'ron said that if he's dating Ice Spice, as rumored, it could have an impact on his performance. "What happens is this: When you start dating the Ice Spices and the people, they say, 'Boo watching, boo watching, let me get all crazy,'" Cam'ron said. "She don't give a fuck, she from the Bronx, bro. Fordham Road, have you been to Fordham Road? Jordan Poole, next time you go to New York, go around Fordham Road, Concourse, Highbridge, South Bronx. You gone see what you spent $500,000 on and be like, 'Yo, I was wilding.'"
Mase added, "You was wilding, you could've got her a pizza." Cam'ron laughed and said "a slice and a soda" would've "been cooler" then the rumored half-a-million date. "I didn't mean to go that deep on Jordan Poole, but I'm sick of this shit with him."
According to the gossip website Media Takeout, Poole is currently dating the Bronx rapper and took her out on a date that cost him almost $500,000. Neither Poole nor Ice Spice have spoken publicly about their rumored relationship, but one source told the publication that the Warriors star was very generous during their first proper date.
"He took her shopping for a full day," the source reportedly said. "They bought clothes from Gucci, Louis Vuitton, and all that." He also supposedly purchased her a Maybach truck.