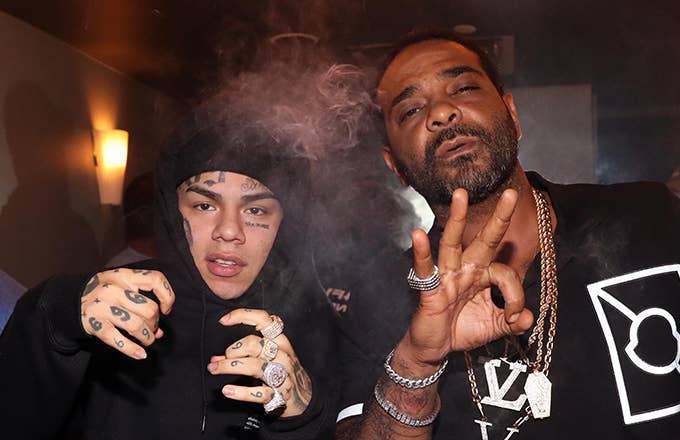 UPDATE 9/19, 6:45 p.m. ET: A rep for Atlantic Records spoke to Billboardand refuted 6ix9ine's testimony that Cardi B was a member of the Nine Trey Gangsta Bloods. Cardi also took to social media to address it all, saying she "never been trey 9 or associated with them," but is affiliated with the Brims. The tweet has since been deleted. 
Bitch I been a big time Blood since I was 16 sooo fuck is you talking bout ..ya just never peep it

https://t.co/TNVa6OPqfl
Court docs now show 6ix9ine never mentioned Cardi B as being a member of Nine Trey.
See original story below. 
As 6ix9ine's testimony continues, the controversial rapper has accused Jim Jones of being a Nine Trey Blood gang member. 6ix9ine has already testified against a number of his former collaborators and friends, and on the third day of his testimony, the prosecution played a phone call between Jim Jones and alleged Nine Trey godfather Jamel "Mel Murda" Jones. 
"He not a gang member no more," Jones said in a wiretapped phone call when the subject of 6ix9ine came up. New York Daily News has published audio of the conversation, which you can listen to below. "He was never a gang member. He was always a money ploy for the gang members. They going to have to violate shorty because shorty is on some bullshit," Jones said.
In the same phone call, Jones, who appears to line up with the unidentified voice previously named 'individual-1' in a transcript that surfaced online last year, allegedly said that Kifano 'Shotti' Jordan should "stalk" the "every move" of 6ix9ine. 
The phone call took place on the same day that Mel Murda spoke with Shotti in a separate wiretapped conversation. Individual-1, believed to be Jim Jones, spoke with the alleged godfather about how 6ix9ine "humiliated" Shotti in a radio interview. They both came to the conclusion that 6ix9ine needed to be "violated" for what he said, in what prosecutors believed is coded language for getting Shotti to take out the rapper in a hit attempt.
Jamel "Mel Murda" Jones has been friends with Jim Jones since the '90s, which seemingly adds credibility to the claims that the voice in the wiretapped call belongs to the rapper. Mel and Jim Jones bonded over "street shit," he said in a 2010 interview. "[He] was running around with Cam. I was in Brooklyn, doing what I was doing," Mel Murda added in the interview. 
Earlier this year, during an appearance on the Cruz Show, Jones publicly disowned 6ix9ine. "[6ix9ine's] history is erased," he said. "We not even gon' say what we liked or what we [don't like]. Screw him. He did some actions that he can't come back from, so his name non-mentionable." Addressing him directly, Jones added, "You a rat, you a rat forever. Ain't no coming back from that."
Additionally, Page Six reports that 6ix9ine also named Cardi B as a member of the Nine Trey Blood gang. He denied copying what the outlet calls her "blueprint for fame," and said that while he was aware of her, he didn't really clock her. 
The New York Daily News has a transcription from the line of questioning involving Cardi B.

"You joined the Bloods to advance your music year?" Alex Huot, an attorney for accused gangster Aljermiah "Nuke" Mack reportedly asked Tekashi, to which he replied "Yes."
"You knew Cardi B was a Blood?" Huot asked, which Tekashi also confirmed. 

"You knew Cardi B made music videos with Bloods in the background?" Huot continued.

"Correct. I didn't pay attention," Tekashi said.