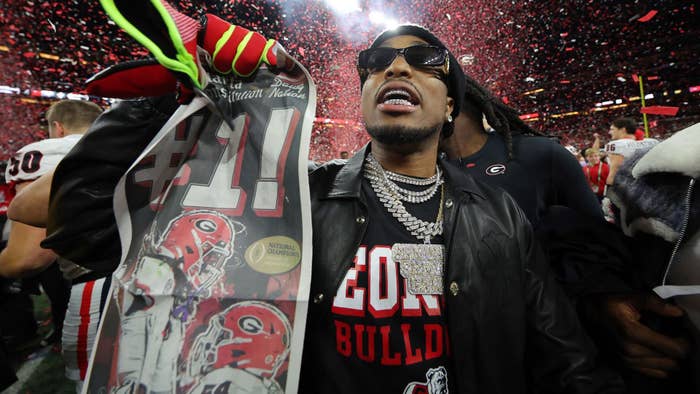 Just like their collab insists, Quavo is ready for Drake to walk it like he talks it. 
The Migos MC called out the Certified Lover Boy—jokingly, of course—on Instagram Stories on Monday night after the Georgia Bulldogs beat out the Alabama Crimson Tide 33-18 at the College Football National Championship.
That victory, for Quavo, meant a victory against Drizzy after the two put up apparent bets on the game. 
"He ain't answer the phone," Quavo said in a video he uploaded from the stadium in Indianapolis. "I need my chips with dip, baby. I need my chips with dip. My boy."
Quavo's post followed a friendly back-and-forth with Drake earlier in the day, when he shared a picture with Drizzy and wrote "U kno why I'm here @champagnepapi we are locked in we are down."
Drake quickly responded, asking Quavo to "run me my bread right after nice and slow no sudden movements." The "Knife Talk" rapper won't be getting any bread from the bet, but Quavo did use the opportunity to dunk on YK Osiris, who seems to continually lose bets to his hip-hop peers like Drizzy.
"[DRAKE] GON PAY THO," Quavo joked in a Shade Room post's comment section. "HE'S NOT YK OSIRIS."
As it turns out, their latest bet played out entirely differently four years ago when Alabama beat out Georgia in the championship game. That time around, Drake won it big, yelling, "Quavo, I need my chips with the Huncho Jack dip, my boy!" It looks like Quavo, who claimed he didn't actually lose any money to Drake in 2018, finally got some payback. 
This isn't the only event Drizzy and Quavo have risked a little cash on, either. Also in 2018, the pair went at it over less-important sporting events for financial gain—like a bet over Quavo making a half-court shot during their run on the Aubrey and the Three Migos Tour. In that case, Quavo also took home the $10,000 prize after he made the bucket, while Drizzy only made it to the rim.